Police say they don't know why Gavin Eugene Long targeted police officers in Baton Rouge, Louisiana, on Sunday, but public records and social media profiles paint a portrait of a troubled former Marine who advocated for violence against authorities and rejected the peaceful calls of the Black Lives Matter movement.
On his 29th birthday, Long carried out what officers are calling a deliberate "ambush-style" attack on officers in Hammond Aire Plaza, killing Baton Rouge Police Officers Montrell Jackson, 32, and Matthew Gerald, 41, along with East Baton Rouge Parish Sheriff's Deputy Brad Garafola, 45. Three more officers were hospitalized, one with critical injuries. Police shot and killed Long on the scene.
In a press conference Monday, authorities declined to comment on details of Long's background beyond confirming that he was from Kansas City, Missouri, and had likely been in Baton Rouge for "several days" before carrying out the attacks. They are reviewing his cellphone records and investigating whether he had any co-conspirators.
Public records reveal that Long was a student at the University of Alabama in 2012 and served as a Marine for five years until retiring as a sergeant in August 2010 with an honorable discharge and no records indicating disciplinary actions against him. While serving, he trained as a data network specialist and attended the Marine School of Infantry, indicating that he received infantry training. He also served as a communications specialist in Iraq from June 2008 to January 2009 and served in Okinawa, Japan, with the 3rd Marine Air Wing.
Other Missouri court records obtained by The Associated Press reveal that Long filed for divorce from his wife in February 2011, that the couple did not have any children and that he represented himself in court.
But online, Long went by a different name: Cosmo Setepenra. Police would not confirm the pseudonym Monday, but videos posted to a YouTube account using that name feature Long calling for "bloodshed" as a way for the black community to be freed from its oppressors.
In a video posted July 10, three days after Micah Xavier Johnson fatally shot five police officers in Dallas, Long rejected peaceful protests ― such as those that followed the deaths of Philando Castile and Alton Sterling ― as a way to end systemic racism:
One hundred percent of revolutions, of victims fighting their oppressors, from victims fighting their bullies, 100 percent have been successful through fighting back, through bloodshed. Zero have been successful over simply protesting. It doesn't ― it has never worked and it never will. You gotta fight back. That's the only way a bully knows to quit. He doesn't know words. He can't understand words, I promise you. He doesn't understand protests. If y'all want to keep protesting, do that, but the serious ones, the real ones, the alpha ones, we know what it's going to take. It's only fighting back or money. That's all they care about: revenue and blood, revenue and blood, revenue and blood, nothing else. Don't even think about it.
Later in the video, Long suggests he'd rather be killed than be arrested and that police are afraid of him:
If I'm peaceful protesting, and they come up ― that's why I don't go to protests, because I know I speak well, I'm articulate, I can motivate, I can inspire. And those are the ones they arrest. So I know they would try to arrest me, and I know I would die right there because you're not gonna kidnap me. I know my rights but I stand on my rights. That's what separates me. That's why they're so afraid of me.
Court documents in Kansas City obtained by The Kansas City Star reveal that in May 2015, Long requested a legal name change to Cosmo Setepenra and claimed his nationality as United Washitaw de Dugdahmoundyah Mu'ur, a separatist movement whose members believe their ancestors were the original inhabitants of the New World.
"This group believes that they are indigenous to the continent and therefore above all federal, state and local laws," J.J. MacNab, a fellow at George Washington University's Center for Cyber and Homeland Security, told the Star. "These documents show Long's attempt to separate his flesh and blood 'indigenous' self from his legal entity self."
A California-based support group for people who think they're being electronically tracked and harassed by military or government officials told the Star that Long got in touch with them in April 2015. The group, People Against Covert Torture & Surveillance International, or PACTS International, said he deactivated an account with them a month later.
Long's autopsy is scheduled for Tuesday.
This is a developing story. Check back for updates.
Before You Go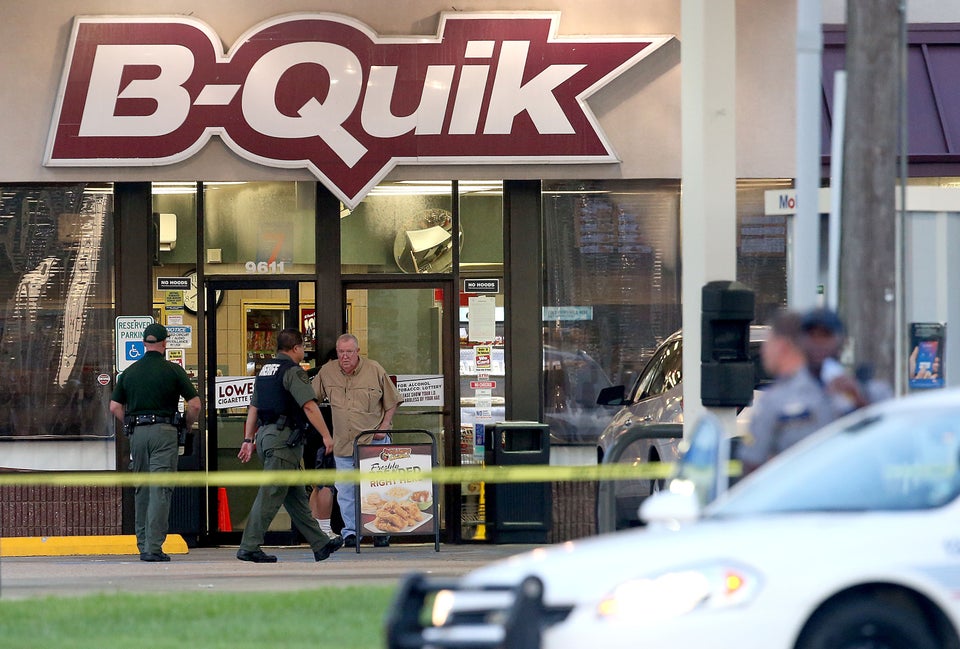 Multiple Officers Shot In Baton Rouge
Popular in the Community