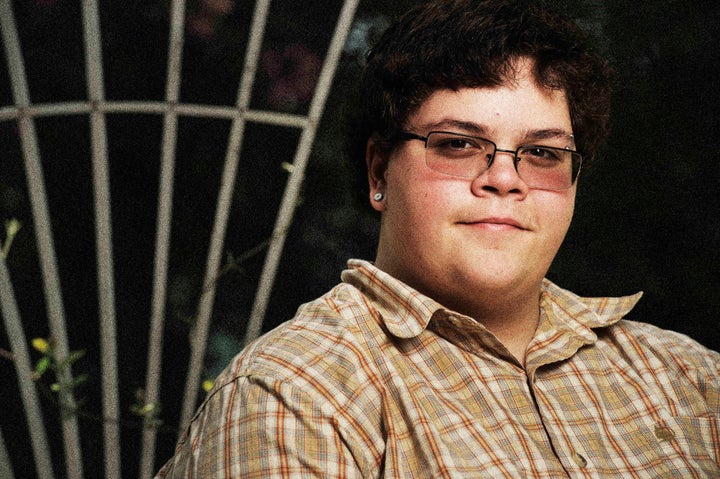 No one is allowed in Gavin Grimm's room, under any circumstances. Even when he's away. Even when a family member is dropping something off for him ― they should leave it at the door. It's like "Fort Knox," he says.
Grimm never meant to become a public figure. He only wanted to use the school restroom that corresponded with his gender. But in the past year, Grimm has become the face of one of the country's most polarizing issues ― whether or not transgender students should be allowed to use the correct bathrooms and locker rooms.
It's a role he has embraced, but it comes with intense pressure. Grimm receives messages everyday from struggling transgender teens who are looking for advice, and he stresses over whether or not he says the right thing in return. At the same time, he still has to wake up every morning and go to the same school that has singled him out.
"There are positives and negatives to being recognized in Walmart," Grimm said ― especially when you are someone who considers themselves to be deeply private.
"I was hoping that I would just be Gavin Grimm, no more remarkable or less remarkable than any other peer."
Amid all this, the 17-year-old has been featured in countless newspaper stories and television segments. He has led protests and spoken to raucous crowds in Washington, D.C.
But when the cameras aren't around, he still gets up every morning at 6:35 a.m. and takes the bus to school. He spends first period in a personal business and economics class, which teaches students "how to balance a checkbook" and "do things adult should know how to do," Grimm said. He admits that he struggles to stay awake during the classroom's dim lights and "boring" material.
"I'm like, 'Good lord, what have I done to deserve this?'" Grimm jokes.
He spends second period ― which is his last period ― in government class. Because he will graduate in a few months and has completed all other necessary credits, he gets to go home early. Grimm has friends drive him because he doesn't yet have a license. He failed the driver's test three times.
At home, in the hours between when the rest of his family arrives from school or works, he soaks up more silence. He plays with his pet pig, Esmerelda, and makes himself lunch ― last Wednesday oatmeal was on the menu.
These relaxed stretches of time are what Grimm imagined his senior year of high to look like. All the public attention has taken him by surprise.
"I was hoping that I would just be Gavin Grimm, no more remarkable or less remarkable than any other peer in the school and going about my business without it being an issue," said Grimm of his high school experience. "There's something to be said for the sort of obscurity being one of many kind of affords you."
When Grimm graduates in a few months, his case will not yet be resolved. But he says he will keep fighting with all his might to expand the rights of transgender students who will come after him.
"Is this necessarily the path I would have actively sought for myself? Not necessarily," Grimm said. "I would do it a thousand times without hesitation ... I'll stick to it 10 years if that's what it takes."
Sign up for the HuffPost Must Reads newsletter. Each Sunday, we will bring you the best original reporting, long form writing and breaking news from The Huffington Post and around the web, plus behind-the-scenes looks at how it's all made. Click here to sign up!
Popular in the Community