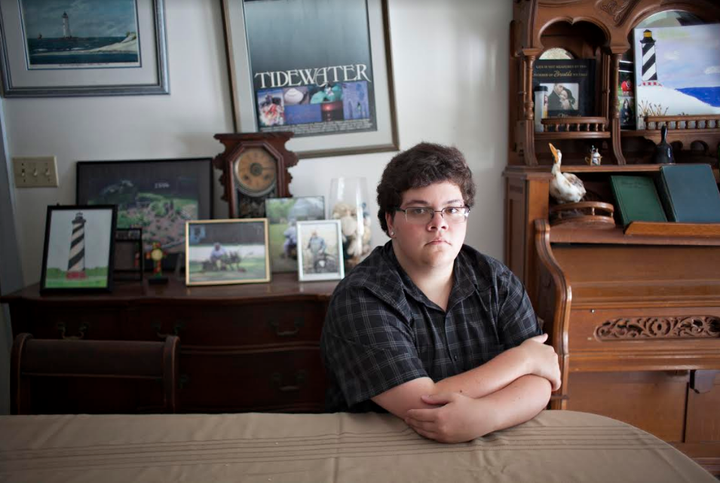 Gavin Grimm never expected anyone outside his small town of Gloucester, Virginia, to take interest in which bathroom he uses, never mind the nation's highest court. On Sunday evening, he was further thrust into the national spotlight when actress Laverne Cox gave him a shoutout at the Grammys.
"Everyone, please Google Gavin Grimm," Cox said before introducing Lady Gaga. "He's going to the Supreme Court in March."
Grimm's case could have major implications for transgender students throughout the country, as the justices will determine whether anti-discrimination laws that forbid sex discrimination in schools should be interpreted to allow Grimm to use the restroom that corresponds with his gender identity.
In October, right before the Supreme Court decided to take up the case, Grimm spoke with The Huffington Post. He said that if he had a choice in the matter, he'd tell the justices to not bother with it.
"I hope they say we don't want to hear this case," Grimm said. The teen is one of the biggest victors in the so-called "bathroom wars" ― a recent wave of legislation, lawsuits and public outcry over transgender access to public facilities, particularly at schools and universities in more conservatives parts of the country.
Last April, the U.S. Court of Appeals for the 4th Circuit, in Richmond, Virginia, sided with Grimm in a first-of-its-kind ruling that told the Gloucester County School Board that federal civil rights law more or less requires it to allow Grimm to use the bathroom that corresponds with his gender identity.
In a way, the Grimm case is a small slice of these larger controversies ― which together make up a complex national conversation where the rights of transgender students intermingle with issues of federal policymaking and concerns about privacy and public safety.
"I'll certainly be very glad and relieved," Grimm said of his case, which could be over soon if the Supreme Court declines to review the school district's appeal of the 4th Circuit's ruling. "I'll be able to take a nice big deep breath and feel like I have my life – to some extent – back. It's felt very much like it's been put on hold for this case."
Grimm's ordeal began during his freshman year, when he formally came out to his parents as transgender. They took him to see a psychologist, who diagnosed him with gender dysphoria and noted in a treatment letter the kind of therapy he needed and that he ought to be dealt with as a male in all areas of his life. That, naturally, included bathroom use.
Grimm has found the attention paid to his situation surprising. The 17-year-old boy considered the details of his situation to be "a bit of a private matter." People don't often discuss where and when they have to go, so why should the public eye follow which bathroom a random high school student uses in-between classes?
"All I want to do is be a normal child and use the restroom in peace"
Grimm's school was receptive to this transition at the start of his sophomore year. It initially made accommodations for him to use the bathroom in the nurse's office. But Grimm soon grew weary of this separate treatment and, with the principal's blessing, he began using the same bathroom as all the other boys at the high school. By then, he had begun receiving hormone therapy.
For several weeks and much like in every other public setting, like restaurants and shopping malls, Grimm's use of the men's room at the school went unnoticed and without incident. But some of the adults were alarmed by the arrangement and complained to the Gloucester County school board, which succumbed to the pressure and in a matter of months approved a policy effectively relegating Grimm to single-stall restrooms that were created just for him.
"All I want to do is be a normal child and use the restroom in peace, and I have had no problems from students to do that ― only from adults," he told the board before its vote. "No one has given me any problem, and I have never been happier exercising my right to be who I am."
Grimm eventually sued the school board with the help of the American Civil Liberties Union. That led to the battle that is now before the Supreme Court. His attorneys have already made their case and hope that the justices on Friday will decide the dispute is not worth their while.
But if Grimm could tell the court anything about who he is, beyond abstract legal jargon, he would want them to know that, as an everyday student, he is really, really stressed.
"I'd like them to know what kind of mental duress the situation has put me under," Grimm said. "And how positive it would be for my mental health to go back to using the correct restroom."
The Supreme Court caused some of this pressure. Shortly before the start of his senior year in September, five members of the court agreed to temporarily put on hold his court victory at the 4th Circuit. Justice Stephen Breyer, who often votes with the court's liberal bloc, wrote separately to explain he joined the court's four conservatives "as a courtesy" and "to preserve the status quo" for Gloucester county's coming school year.
The high court only reviews a tiny fraction of the thousands of appeals it receives every year, and here there is a strong possibility that the justices may choose to not get involved. They may decide it's too soon to review the legal issue at stake ― an administrative doctrine the U.S. Department of Education has applied aggressively in similar cases. They may want to wait for other courts to weigh in on similar litigation.
Or they may simply feel that they need one extra member to decide the matter conclusively ― the Supreme Court has been short-staffed since the death of Justice Antonin Scalia, and the potential for a 4-to-4 split wouldn't help anyone.
If that's the route the court takes, that would be a relief for Grimm, not only because he would get to finish his senior year using the mens restroom, but he would be free from the national spotlight.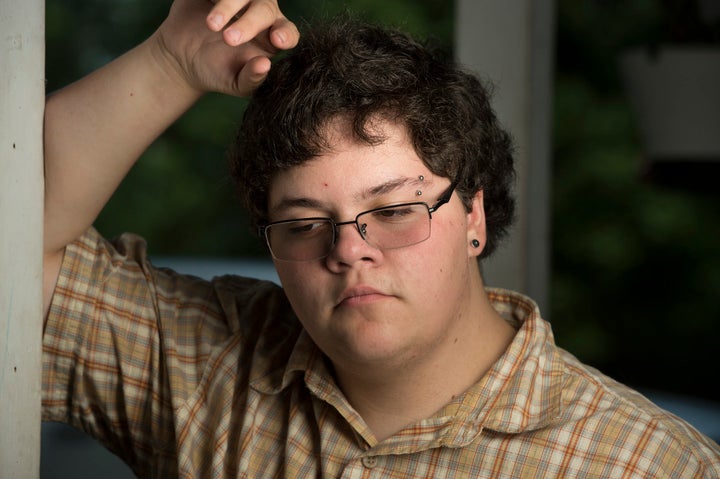 For a teen who describes himself as a "relatively private person," the pressure and publicity from the case has been tough. Most teens spend their senior year planning for college and soaking in the final months of carefree days with friends, but Grimm is now the public face of a polarizing issue. He still faces cruelty from other students at school. Not everyone in his family has been supportive him. On top of all that, he has homework.
If it weren't for his school's anti-trans policy, Grimm's life might look like that of any other teenager. While he doesn't get along with many of his peers ― some of them express outright contempt for him ― he has a small, tight-knit group of friends who accept him unabashedly. With them, his gender identity is a non-issue; when the subject does come up, his friends express frustration that so many others fail to accept him.
"I do feel that a lot of my peers are ― since this gone as blown up as big as it has ― they've been a bit more standoffish and maybe a bit more unkind," Grimm said of fellow students and people in his community. "I'm sure they have these preconceived notions of me. I think that I definitely understand where they're coming from. I absolutely do. I wish less people would treat me poorly because of those notions."
But when he is not thinking about lofty issues surrounding how the world perceives him or the intolerance he faces, Grimm focuses on the day-to-day. Next year, he plans to go to community college, but doesn't have many plans beyond that. And as far as end-of-year, over-the-top senior year events, like prom, Grimm would like to go, but he has his concerns.
"A lot of it has to do with – will I have money at that point? Will I have anything saved up? Or will I have blown my money on some stupid impulse purchase?" Grimm said.
This article has been updated to include references to new developments in Grimm's case, and a mention by actress Laverne Cox at the Grammy Awards on Feb. 12, 2017.
Support HuffPost
The Stakes Have Never Been Higher
Popular in the Community