The ABC Family series "The Fosters" has been applauded for highlighting important social issues and breaking down barriers as a way to educate its viewers. It has also been a learning experience for the actor behind one of the show's beloved characters.
Gavin MacIntosh, who plays Connor, explained that the show has helped him dig deeper into the social topics it frequently covers.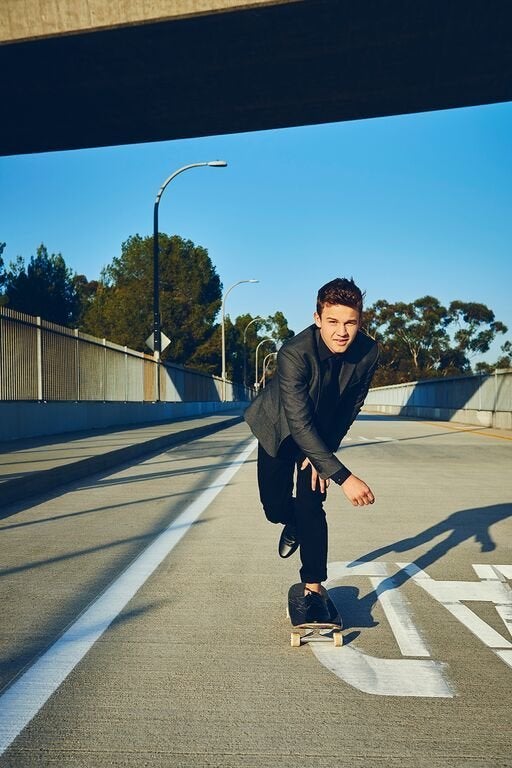 "I learn more and more and become more educated on these issues," the 16-year-old told The Huffington Post. "The show has taught me as a person so much about the struggles and also the positives that are going on regarding LGBTQ issues."
The television drama, which is now in its third season, tells the story of a lesbian couple and their family of biological, adopted and foster children. In March, it broke new ground when an episode featured a same-sex kiss between MacIntosh's character Connor and Jude, played by Hayden Byerly. The scene between the two 13-year-old characters may be the youngest same-sex kiss in U.S. television history.
"It's amazing to see the impact that it has on people," MacIntosh said of his role. "The power of Connor and Jude's relationship just astonishes me."
MacIntosh said he knew when he first signed on to play Connor  that "Jonnor" would make an impact. "From the get-go, I kind of knew that it was something that was different," he said. "There's no other TV program that takes what's going on like the way that 'The Fosters' does."
And he was right -- the response has been huge. Entire Twitter and Tumblr accounts are dedicated to the characters, better known collectively as "Jonnor," and every week fans share their support on social media. 
"It's very important for LGBTQ relationships to be portrayed on TV because you know there are kids that their parents may not support them or their parents may not accept them for who they are," MacIntosh said. "They think they put labels on someone and say that they're gay or they're straight or whatever they are. But the fact is it really doesn't matter."
MacIntosh, who identifies as straight, said that playing a gay character has come with feedback that's been "pretty much just mostly positive," though he sees no reason to label people -- in true "Fosters" fashion.
"I really don't think that it matters too much if you're straight playing a gay character or if you're gay playing a straight character," he said. "I don't really think that it matters. That's always been kind of the philosophy of 'The Fosters.' Or at least Jonnor -- it's not labeling people."
That's just one of many lessons MacIntosh has learned while being a part of "The Fosters." He credits the show to giving him "better perspective" and helping him become the person he is today.
"I count myself really lucky to be cast in this role. It's made me a different person, it really has."
PHOTO GALLERY
Gay Pride Around The World
REAL LIFE. REAL NEWS. REAL VOICES.
Help us tell more of the stories that matter from voices that too often remain unheard.