Democrat Gavin Newsom has won California's gubernatorial race, defeating Republican John Cox in the race to lead the most populous state in the nation.
Newsom, who has served as the state's lieutenant governor since 2011, was widely anticipated to win Tuesday's contest. Cox, a businessman who had the support of President Donald Trump, trailed Newsom in the polls by double digits for most of the race.
The lieutenant governor, who previously served as mayor of San Francisco, was viewed as the inevitable front-runner as soon as he announced his candidacy in February 2015. Several challengers entered the race over the next couple of years, including Cox, former Los Angeles Mayor Antonio Villaraigosa (D), state treasurer John Chiang (D) and state Assemblyman Travis Allen (R).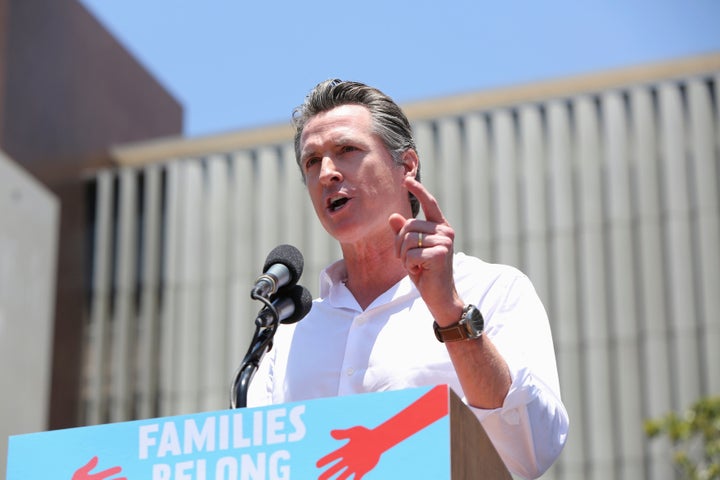 Of those challengers, Villaraigosa was initially seen as the most viable. The former mayor had a strong support base in Southern California, where Bay Area native Newsom's ties were weaker, as well as the backing of many Latino voters. But Cox's candidacy surged in the waning days of the primary, thanks in part to Trump's endorsement lifting him out of political obscurity. Newsom also boosted Cox's candidacy by promoting his Trump endorsement in ads and text messages to voters, a strategy seen by some Democrats as a cynical calculation to avoid a costly intraparty general election.
Regardless of whether that tactic made a difference with Republican voters, Cox did advance along with Newsom to the general election. The ensuing race drew little attention outside of the state, as most political observers anticipated Newsom's dominance in solidly blue California.
The race, like many across the country, was largely a referendum on Trump. Newsom frequently mentioned the president on the campaign trail and pitched himself as the best person to lead the state in challenging his policies. Cox, meanwhile, touted himself as the choice for the "forgotten Californian," echoing the message the president gave white, working-class voters in 2016. But while the Republican did embrace the president's messaging during the primary, he kept him at arms-length during the general election. Trump didn't campaign in California for Cox, despite holding large rallies for many other GOP candidates across the country over the last few weeks, and Cox publicly kept his distance from Trump on some issues, such as when he declined to say whether he supported Supreme Court Justice Brett Kavanaugh's confirmation.
Newsom and Cox also sparred over the state's controversial new gas tax, as well as California's immigration policies and how to address the state's housing crisis. The two candidates tussled over those issues during an early October debate, the only one scheduled during the general election campaign. As The Associated Press noted, that debate — held on a weekday during working hours — "appeared to do little to change the trajectory of the race."
Popular in the Community