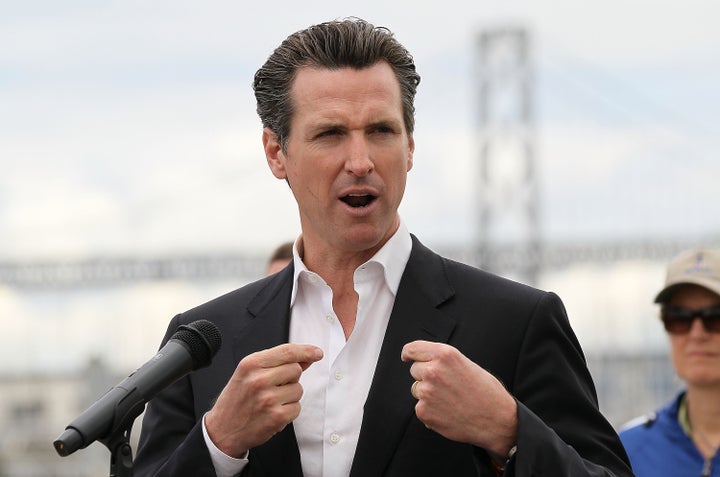 It didn't take long after vacating City Hall for former mayor Gavin Newsom to hightail it out of San Francisco. Wife, daughter and newborn son in tow, the lieutenant governor crossed the Golden Gate Bridge and set up camp inside his in-laws' five bedroom, five bath Marin County estate.
Both Newsom and his wife, Jennifer Siebel Newsom, grew up in Marin, so this move must doubtlessly feel like a homecoming for the couple. Newsom went to Redwood High School in Larkspur and his wife attended the Branson School, only a few short steps from her childhood home in Ross.
Even though Gavin will have to navigate the ever-thorny dynamics of living under the same roof as his wife's parents, decamping from his old multimillion-dollar Upper Haight abode for the greener pastures of Marin Country certainly has its advantages. For example, better odds that an anonymous defecator won't leave the Lieutenant Governor a smelly present on his doorstep, which happened only days after he moved into his prior home at 1581 Masonic in 2009.
Inappropriately disposed-of excrement notwithstanding, the $2.75-million mansion is a San Francisco dream home. Technically located in the Ashbury Heights neighborhood, the four bedroom, three-and-a-half bath pad clocks in at a staggering 3,051 square feet.
Despite the formidable business acumen Newsom displayed in the 1990s, when he turned boutique wine shop Plumpjack into a restaurant/hotel empire, the San Francisco Business Times reports that the sale of the Masonic Street property is likely to be a money loser. The home's list price is only $12,000 more than what Newsom originally paid for the property when he purchased it in 2009. These profits likely won't be nearly enough to cover the taxes and broker's fees that inevitably come with selling a home of this size.
With the impending retirement of the longtime Marin Country Congresswoman Lynn Woolsey (D), there's been some speculation that Newsom's move to the North Bay is a precursor for his making a run at her soon to be vacant congressional seat. As the Chronicle's Joe Garofoli mused, "[Newsom] wants to be in Congress so bad that [the] dude is WILLING TO LIVE WITH HIS IN-LAWS, EVEN WHEN HE CAN AFFORD NOT TO."
Former San Francisco Mayor Willie Brown did his part to tramp down the chatter about Newsom's ambitions for Woolsey's seat in a recent installment of his SFGate column: "If I were a betting man," wrote Brown, who is one of Newsom's closest political allies, "I'd say Lt. Gov. Newsom would eventually like to wind up in the U.S. Senate, where his talents as a thinker and policy wonk would be put to their best use."
Future political aspirations aside, Newsom's move outside the city limits comes on the heels of the birth of Hunter, his second child. Couples fleeing San Francisco after having children is a problem that's consistently vexed local leaders.
According to the U.S. Census Bureau, the number of San Franciscans under 17 years old has plummeted from 181,532 in 1960 to just 107,524 this year. Late last month, Supervisor Mark Farrell proposed a hearing to look into what city officials can do to stem the tide.
Even so, it looks like San Francisco has already lost the Newsoms.
REAL LIFE. REAL NEWS. REAL VOICES.
Help us tell more of the stories that matter from voices that too often remain unheard.