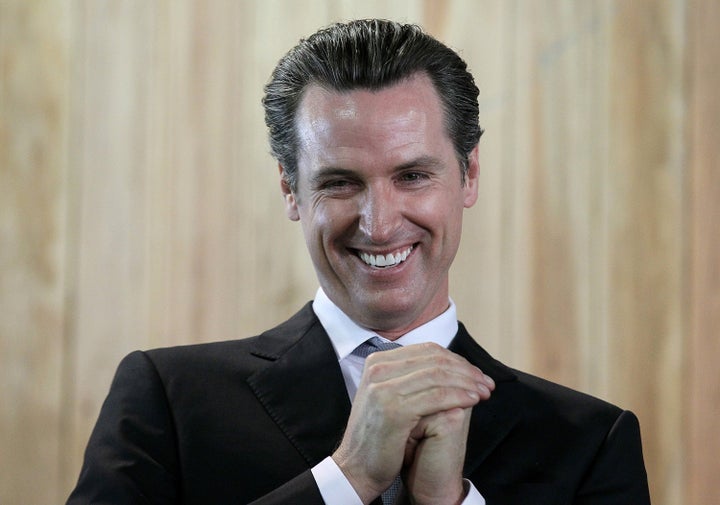 The semiannual state campaign filing deadline passed this week, and Lt. Gov. Gavin Newsom isn't being shy about his future ambitions. The onetime gubernatorial candidate raised nearly $300,000 in the first six months of this year, far outpacing the state's other major officeholders as they begin to look toward their next moves in 2014.
Both Newsom and Attorney General Kamala Harris have been mentioned as gubernatorial candidates-in-waiting if Gov. Jerry Brown decides against another run in 2014. For her part, Harris raised about $112,000 for her 2014 campaign committee so far this year.
With three years to go before the statewide campaigns heat up again, such early fundraising totals often represent little more than a show of strength from a candidate as he or she begins to build momentum for a run for higher office.
Dozens of candidates already have begun fundraising for 2014 by establishing what are ostensibly re-election committees. However, if they ultimately choose to pursue a different office, candidates typically take their "re-election" cash with them to the new campaign.
Despite rumors and speculation to the contrary, neither Newsom nor Harris has formally declared any ambitions for another office. And if the 73-year-old Brown decides to stay put for another term, the governor's office likely would be off-limits to another Democrat until at least 2018. A lot can happen between now and then.
Both Newsom and Harris far outraised Brown, who has pulled in just $45,000 this year. Instead of giving to his campaign, Brown's donors have given nearly $2.5 million to two Oakland charter schools he founded. Brown has long raised money for the schools, bringing in millions from monied interests with a stake in state government.
Other statewide officeholders have had a relatively quiet year so far. Secretary of State Debra Bowen, for example, hasn't raised any money. State term limits will force her from office in 2014. However, Assemblywoman Cathleen Galgiani, D-Merced, has raised more than $57,000 for a 2014 bid to succeed her.
State Treasurer Bill Lockyer, a longtime officeholder with a healthy surplus of campaign cash, also did not raise any money. However, he and state Controller John Chiang already have created committees to run for each other's offices in 2014, when they will both be forced by term limits to give up their current posts.
Board of Equalization member Betty Yee, a Democrat, reported raising $320,000 for a 2014 bid for the controller's office as well. Democrat Ron Calderon, a senator from Montebello, also has raised about $108,000 for a shot at the controller's office.
Fundraising reports for the state's major constitutional officeholders follow:
Chase Davis is an investigative reporter for California Watch, a project of the non-profit Center for Investigative Reporting. Find more California Watch stories here.
Popular in the Community