Newsom wanted to crowdsource the speech and had posted on Facebook to publicly solicit suggestions for topics. From among the suggestions he received -- which, he noted in his speech, included a few gibes, for example that no one would remember the speech anyway -- he picked three to be the themes of his address: diversity, leadership and anxiety.
Newsom told graduates to "celebrate our diversity," because that's the quality that makes places like SFSU and the city of San Francisco so great.
He suggested that students not fixate on formal titles in their search for leadership, noting that leaders like Martin Luther King Jr. and Nelson Mandela didn't have such titles at the peak of their influence.
"They exercised their moral authority," Newsom said. "They didn't wait around to be something to do something."
Newsom went on to say that "society becomes how we behave," so it's up to graduates to make the change they want to see.
"You don't have to be something to do something," Newsom said. "Take responsibility. Step up and step in. Because at the end of the day, folks, we are our behaviors."
As for anxiety, Newsom told graduates not to fear failure, but instead to "start failing forward fast." He said that success often involves taking initiative, being accountable, and not waiting for someone to come in and save you when you mess up.
Newsom concluded his speech with a classic graduation exhortation: "And remember, all of you, to call your mother."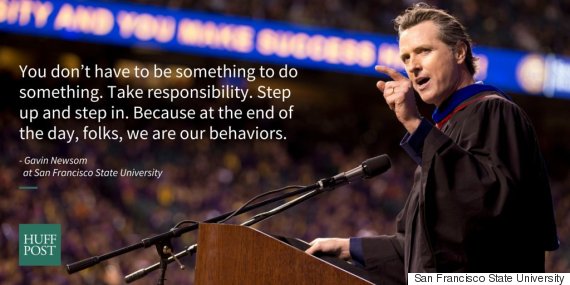 REAL LIFE. REAL NEWS. REAL VOICES.
Help us tell more of the stories that matter from voices that too often remain unheard.