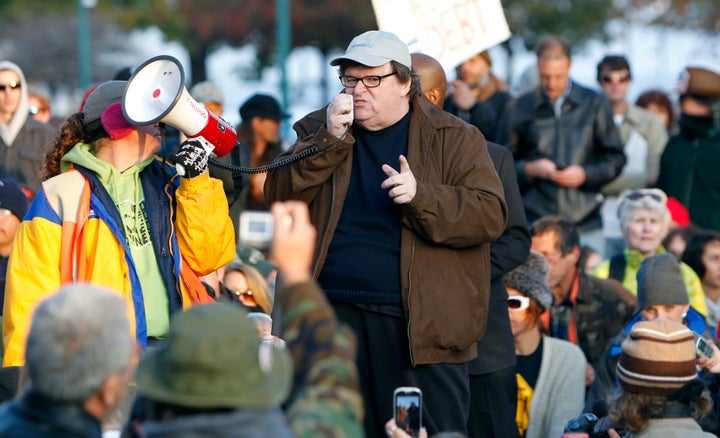 Michael Moore has been a vocal supporter and participant in the Occupy Wall Street protests since their inception, helping bring a megaphone to the residents of Zuccotti Park and its global offshoots. But as the most financially successful documentary filmmaker in Hollywood, he inevitably has business ties to money he might otherwise call un-pure, which has led one major film executive to label the director a hypocrite.
In a guest op-ed for The Hollywood Reporter, Gavin Polone, the producer behind such films and shows as "Zombieland," "Curb Your Enthusiasm" and "Gilmore Girls," calls Moore the leading "phony" of those in the entertainment industry who "claim to be liberal, caring, green and unaffected by their wealth and fame but in reality are just as self-centered and addicted to their huge, over-air-conditioned living spaces and private planes as those at whom they point their fingers."
Polone points to Moore receiving funding for his various films from the Weinstein brothers, including 2007's "Sicko," which was financed through a Weinstein Company fund set up by Goldman Sachs. Moore also received financing for "Fahrenheit 9/11" from the Weinsteins, who took on the film after Disney refused to release it through their Miramax banner.
"Fahrenheit" came out in 2004; in 2005, The Weinstein Company, the brothers' new company, independent of Disney, was established. It was alleged that Disney did not want to release "Fahrenheit" because of the film's critical look at the Bush administration, which could put Disney's tax breaks at risk.
Moore wrote that, in the wake of his first film success with 1989's "Roger and Me," he laid out personal guidelines to govern both his life and career. Included were paying his taxes, giving a large chunk of his money to charity and avoiding ownership of stock on the principle that he'd make money from work, not on the financial wrangling of Wall Street that hurt so many members of the middle class.
Polone, for his part, signed a first look deal with Columbia in 2005, which put out his "Zombieland" in 2009, and is putting out his upcoming film, "Premium Rush," in August of next year.
Support HuffPost
The Stakes Have Never Been Higher
Popular in the Community