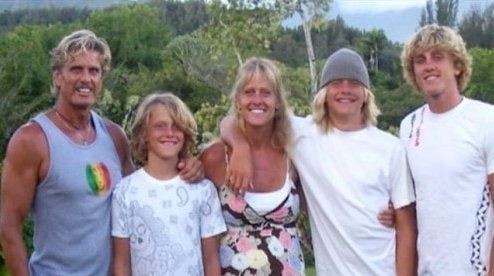 Twentieth Century Fox Executive Gavin Smith has been missing for more than a week now, and his family is beginning to open up about the stress of the search.
Smith's three sons spoke with Inside Edition about the investigation, vowing to keep looking until they found him. Because they're worried he may have accidentally driven off a steep cliff on the canyon roads, all three of them have been skipping school to take part in the search, doing their part to cover the city with posters about their father.
"The problem here is that time is of the essence in these things," said Evan Smith, a sophomore at USC. "My gut feeling is that he is out there and we just have to go find him."
Evan has also been tweeting about the case continuously since his father's disappearance. He shared that the authorities have "combed the canyons" looking for Gavin, and that police have received a lot of tips. Evan is also being honest about the toll the investigation has had on his family's wellbeing.
On Wednesday, he tweeted, "My family and I are not available for interviews. We are drained. Thank you so much for ur help WERE STILL LOOKING!!!" The day before that, he tweeted:
Smith's family launched the website Find Gavin Smith Monday to aid in the investigation. The site has a physical description of Smith, contact information in case he's spotted and a blog that posts updates about the search. It also includes a forum for volunteers who want to pass out posters and join search parties.
Steve Whitmore, spokesperson for the Los Angeles Sheriff's Department, told The Huffington Post Thursday that the department has not encountered any evidence of foul play thus far. The only change to the investigation came Monday, when more resources (like detectives) were added to the case.
"We're doing everything in our power to try to locate this individual," continued Whitmore. "I can't get into specifics, but we're utilizing every resource available and following every lead."
Still, he conceded, just because the LASD hasn't found any evidence of foul play, the possibility "obviously" can't be ruled out.
Deadline and other outlets reported earlier in the week that the case had been elevated from a "missing person's probe" to a criminal homicide investigation, but Whitmore explained to HuffPost there was no departmental distinction between the two.
"It's still a missing persons case," he said. But since "missing persons" is part of the homicide bureau, homicide detectives have been involved from the start.
Smith is a distribution executive for 20th Century Fox who has worked on films like "Avatar" and "Star Wars." In 1975, he played on UCLA's championship basketball team under legendary Coach John Wooden.
The LASD released a description of him as 6-foot-6, 210 lb. man with green eyes, gray hair with blond streaks and a goatee. Other physical markers include a 5-inch scar on his calf and a 4-inch scar on his wrist.
Smith was last seen May 1 at the home of a family friend in Oak Park, Calif. He was wearing purple workout pants and black and gray shoes, and he drove off in his black Mercedes at around 10 p.m. that night. His car is a black 2000 Mercedes 420E with padded storage racks on the roof and tinted windows.
"Thoughts and prayers out to my amazing Mom and my bros plz," Evan tweeted in April. "My Dad decided to leave the family last night. Real Family sticks together."
Evan later deleted the message (see a screenshot) and told E! Online that his parents have never separated.
"They were just going through normal stuff couples go through," said Evan.
REAL LIFE. REAL NEWS. REAL VOICES.
Help us tell more of the stories that matter from voices that too often remain unheard.
BEFORE YOU GO
PHOTO GALLERY
Gavin Smith Missing: A Timeline