Is Gavin Smith really missing?
The 20th Century Fox executive who was last seen May 1 in Oak Park, Calif., has reportedly been spotted at a restaurant on the central coast.
Locals and a frequent visitor in Morro Bay told NBC LA in exclusive interviews that they remember seeing Smith and a tall female companion at Taco Temple, a popular restaurant on Highway 1.
"They were kind of quiet when they first came in and then once I got them talking, they seemed real friendly," said waitress Marcy Carney, who remembers the pair because of the big tip she received at the end of the meal.
"I'm pretty sure they said they were headed north," Carney recalled.
David Brill, a businessman from Madison, Wis., told NBC LA he noticed Smith because of his height and unusually white teeth. The next morning at the office, said Brill, he read a news story about a missing Hollywood executive and recognized Smith in the accompanying photo.
Brill said he contacted the Los Angeles Sheriff's Department after making the connection, but claims they have not called him back yet.
The Huffington Post reached out to the LASD for comment and will update this story when we get a response.
Last week, Smith's family organized a weekend search but canceled it two days beforehand. In a statement, family spokesman Howard Bragman explained, "There is not a specific area of defined interest to make this effort productive at this time."
A family website dedicated to the search, findgavinsmith.com, has not been updated since the cancellation announcement.
Smith is a distribution executive for 20th Century Fox who has worked on films like "Avatar" and "Star Wars." In 1975, he played on UCLA's championship basketball team under legendary Coach John Wooden.
He was last seen May 1 at the home of a family friend in Oak Park, Calif. Smith was wearing purple workout pants and black and gray shoes, and he drove off in his black Mercedes at around 10 p.m. that night. His car is a black 2000 Mercedes 420E with padded storage racks on the roof and tinted windows.
The LASD released a description of him as 6-foot-6, 210 lb. man with green eyes, gray hair with blond streaks and a goatee. Other physical markers include a 5-inch scar on his calf and a 4-inch scar on his wrist.
"Thoughts and prayers out to my amazing Mom and my bros plz," his son Evan tweeted in April. "My Dad decided to leave the family last night. Real Family sticks together."
Evan later deleted the message (see a screenshot) and told E! Online that his parents have never separated.
"They were just going through normal stuff couples go through," said Evan.
Before You Go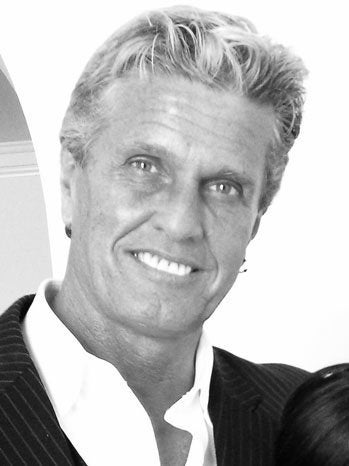 Gavin Smith Missing: A Timeline
Popular in the Community