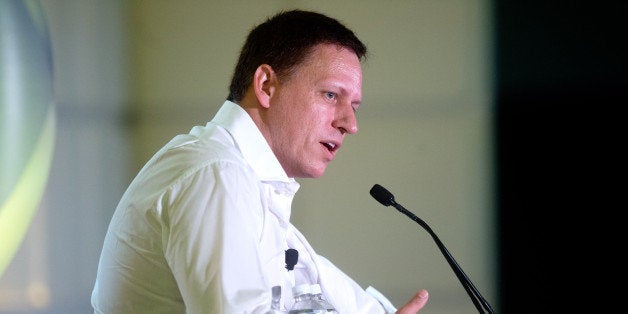 Billionaire Paypal co-founder Peter Thiel tells the New York Times that he secretly bankrolled the lawsuit brought against Gawker Media by Hulk Hogan as a "deterrence" in the name of the "victims" -- including himself -- of Gawker's "bullying people even when there was no connection with the public interest."
He's been plotting this for years, hiring a team of lawyers to look for cases to bring against Gawker (and spending roughly $10 million) ever since Gawker's now-defunct Valleywag blog ran a post in 2007 with the headline, "Peter Thiel is totally gay, people." The post, written by Owen Thomas, now business editor at the San Francisco Chronicle, reported on what Thomas said was common knowledge about a prominent public figure in Silicon Valley. "As I've said before, I did not 'out' Peter Thiel," Thomas told the Times:

I did discuss his sexuality, but it was known to a wide circle who felt that it was not fit for discussion beyond that circle. I thought that attitude was retrograde and homophobic, and that informed my reporting. I believe that he was out and not in the closet.

There's little sympathy in the world right now for Gawker, which has engaged in questionable and egregious reporting -- including the 2015 story it took down that reported on a Conde Nast executive (hardly a public figure), who was married to a woman but allegedly offered a gay male porn star money for sex. And the Hogan story itself is about private sexual activity: a snippet of a video of him having sex with a friend's wife which Gawker posted and which has now resulted in a jury awarding Hogan $140 million (Gawker is appealing the verdict).
But Thiel has a lot confused here. Simply saying that a public figure who's out and open to many people is gay is not wrong -- nor is it even considered legally libelous, defamatory or an invasion of privacy in 2016 -- or comparable to these cases. Claiming otherwise is, as Thomas says, just plain homophobic. Reporting on a public figure who has been open to many people as gay, and is out in public as such, is not the equivalent of reporting on private sexual activity, but rather is equivalent to reporting on a characteristic akin to religion or ethnicity, and certainly if someone has not gone to great lengths to hide such facts. And that's why Thiel had to go and find other cases, such as Hogan's, in order to take action against Gawker. If he tried to sue Gawker himself for his supposed "outing" it would surely be thrown out of court.
Not only has the Supreme Court for decades given wide latitude under the First Amendment to reporting of simple truths such as sexual orientation about public figures --- the distinction being public figures, not private citizens who do not seek public life -- but as homosexuality itself has become more accepted, so has the reporting on it. In 2012 a New York court ruled that even falsely saying someone is gay is not "per se defamation." The court ruled that earlier cases were "inconsistent with current public policy and should no longer be followed," since they were "based on a false premise that it is shameful and disgraceful to be described as lesbian, gay or bisexual." The Associated Press reported:
The decision wiped out decades of rulings, saying that society no longer treated such labels as defamation. Without defamation, there is no longer slander, the court ruled unanimously.

The New York ruling followed similar rulings in states across the country, including North Carolina. But beyond the legal issues, was it ethically and morally wrong for Thomas to report on Thiel's sexual orientation? From a journalistic perspective, I've maintained that reporting on someone's sexual orientation should be relevant to a larger story, and I'd like to have seen that relevance in the post, such as Thiel's support for politicians and institutions that have backed horribly anti-gay positions. (A long-time conservative libertarian, Thiel backed virulently anti-gay Ted Cruz, for example, giving him $250,000 for a possible run for attorney general in Texas in 2009, and donated to his Senate run as well.) But Valleywag was a gossip blog about Silicon Valley's movers and shakers. And if you're gossiping about straight public figures and their relationships, and thus their orientation, then gay public figures should be treated equally.
Thiel told the Times that, "If America rallies around Gawker and decides we want more people to be outed and more sex tapes to be posted without consent, then they will find a way to save Gawker and I can't stop it."
At once he conflated posting a sex tape with reporting on someone being gay. But on the latter, if attempting to "stop it" relies on what "America" may "want," then he's not been paying attention, because websites and social media have been reporting on the sexual orientation of public figures -- including when the've not wanted it out there -- for years, and judging by the interest and traffic (and little outrage), America has wanted it. Often the public figures eventually confirm what is reported -- as Thiel did, and as did many, many others, from Ellen DeGeneres to Tim Cook -- and life goes on. Or they don't, and the speculation continues. But it's less and less treated as a dirty little secret, which is a good thing for all of American society.
That doesn't necessarily mean people should rally around Gawker and its array of reporting. But it should concern you if Hogan's Thiel-backed lawsuit regarding private sexual activity results in hushing writers and reporters from even discussing the sexual orientation of public figures, even in a positive light, and especially when it's journalistically relevant.
As Jordan Frieman at Death and Taxes notes, the question to be asking, is "Do we feel comfortable with a system where one mega-rich (Forbes estimates Thiel is worth $2.7 billion) person with a grudge can destroy a media company they dislike?" Thiel will be attending the Republican National Convention as a Donald Trump pledged delegate. And Frieman also makes the point that Thiel, despite his support for the Committee to Protect Journalists, is backing a presidential candidate who publicly expressed support for limiting the First Amendment and making it easier to file libel suits.
It appears that on that score -- what the press can write about them and other powerful individuals -- Trump and Thiel are in complete agreement. That should give us all pause.
Popular in the Community