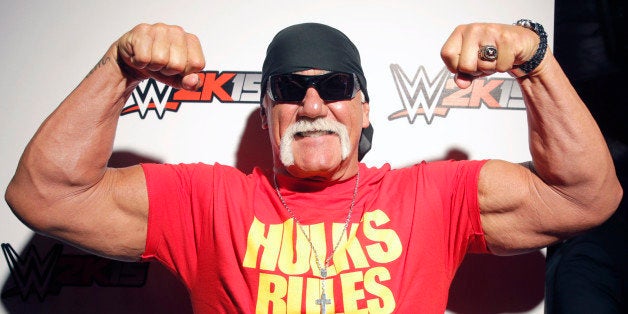 NEW YORK -- When Gawker founder Nick Denton treks to St. Petersburg, Florida, to fight a $100 million lawsuit brought by Hulk Hogan, he'll argue that the wrestler-turned-reality-star's sex life is a newsworthy subject and that publishing a story and accompanying video clip of the act itself was, as he puts it, "good journalism."
It's easy to get bogged down in the salaciousness of the content. But Denton and Gawker's defense team want jurors to conclude that publishing an edited clip of the 30-minute sex tape falls in line with what journalists do every day: provide verifiable information in response to rumors and reveal contradictions related to a celebrity's public claims. The wrestler's sex life was a newsworthy subject, they argue, because Hogan spoke graphically in interviews and books about his prowess and because the existence of the sex tape was covered in the media, complete with grainy screen shots online.
The Gawker-Hogan trial has been much anticipated in media circles given both the First Amendment issues and the reality show vibe. It was scheduled to begin in state court this coming Monday, until an appellate court ruled Thursday to postpone the trial over a legal technicality. A new start date hasn't yet been decided.
In an interview with The Huffington Post, Denton said that "this is a trial that we're actually happy to go into."
"This is a story we're happy to defend because, despite two-and-a-half years of digging and examination, nobody has yet pointed out any holes in the story," Denton said. "There are no vulnerabilities in this story at all."
The long-running dispute, which has wound its way through state and federal courts, began on Oct. 4, 2012. Then-Gawker editor A.J. Daulerio published a story and a 1.5-minute clip of the tape, which was provided by a source. Daulerio's post noted previous coverage of the sex tape and suggested that the woman appearing in it was Heather Clem, wife of DJ Bubba the Love Sponge Clem, a friend of Hogan's who can be heard off camera early in the tape. Hogan had publicly claimed he didn't know the woman in the tape, which was shot in 2006, and had said he wouldn't have sex with Heather Clem.
"Others used screenshots, and in that muck and confusion, lies and rumors and speculation proliferated," Denton said. "We wrote a story which did not simply add another rumor to an already large pile of rumors, but actually sorted through those rumors and tried to establish some truth. That is the definition of good journalism, whatever you think about the subject matter."
Heather Dietrick, president and general counsel of Gawker Media, told HuffPost that the site "wouldn't be doing our job if we'd gotten this tape and it shows something, reveals new information and clears up a lot of misinformation out there, if we would have just taken a pass on it."
Dietrick defended Gawker's decision to show readers a video excerpt rather than merely telling them what was on the tape. As a result, she said, readers could make their own judgments based on the evidence. Dietrick said the principles behind publishing are "rooted in the First Amendment" and also "common sense."
"This particular case is about a few seconds of a sex tape," she added, "but the principles that underlie it apply to almost every major news story that I can think of where there is some information that a celebrity or public figure doesn't want to get out that becomes the basis of the story."
Hogan's attorneys, however, argue that Gawker violated their client's right of privacy in publishing a tape of a sex act that they claim the wrestler didn't know was being filmed.
Charles Harder, lead trial counsel for Hogan, whose real name is Terry Bollea, said in a recent statement that "the First Amendment does not allow a website to post secretly-filmed footage of nudity and sex, without the subject's consent."
Despite Gawker's contention, Harder also argued that the site could have written about the sex tape, as other outlets did, without playing video from it.
"The video is private," Harder said. "It does not become a 'public concern' just because Gawker and Denton want to play it (and profit from it) or because it might appeal to the morbid curiosity of a segment of the population. If that were the test, then no one would have privacy, so long as certain people have an interest in watching them naked or having sex."
The question of privacy versus publication is still up to a jury to decide. The trial is expected to last about two weeks, with Denton, Daulerio and several other Gawker staffers taking the stand. Some journalists will surely flock to Florida to cover the proceedings, while others will be glued to the Courtroom View Network, which is making its gavel-to-gavel webcast available to members of the media.

Even preliminary judgments in the Gawker-Hogan case have received ample media attention this past week, from the decision to block the public and the press from viewing the tape when it is shown in court to Hogan's being permitted to wear only a plain bandana in the courtroom.
Gawker also recently won a Freedom of Information Act lawsuit against the FBI related to its investigation into the tape, which could have ramifications on the trial. Dietrick said in a Thursday statement that the delay of the trial will allow Gawker "to find out more about the three Hulk Hogan video recordings obtained by the FBI that appear highly relevant to the facts of the case." She said one of the tapes provided that day by the FBI is "incomplete" and "there is a serious irregularity in another tape."
The media company -- which includes sites like Deadspin, Jezebel and Gizmodo -- is understandably determined to get all the evidence possible, given that a financial settlement in the realm of what Hogan is seeking could financially cripple it. "It's a $100 million lawsuit," Denton told The New York Times. "We don't keep $100 million in the bank, no."
The upcoming trial has also troubled media law experts like Lynn Oberlander, general counsel for First Look Media and part of a media coalition that recently argued for full press access to the trial.
"The biggest issue is that the jury could say, 'No, this wasn't newsworthy,' and put the jury into the newsroom, making determinations after the fact what constitutes newsworthiness and what doesn't constitute newsworthiness," Oberlander told HuffPost.
Denton considers the Hogan tape not only newsworthy, but in keeping with Gawker's long-running editorial ethos. "Why does this company exist?" he said. "This company exists because journalists kept secrets amongst themselves. They passed them around as gossip."
For instance, he noted that it had been widely known in Manhattan's media world that CNN anchor Anderson Cooper was gay and yet, unlike Gawker, other news organizations didn't disclose that detail of the journalist's life.
"If we have information, if it's true and it's interesting and it's legal to put it out there, we will publish," Denton said. "We have this catchphrase, 'Whatever We Know, Whatever We Think,' and we try to share that as much as we can."
Related
Popular in the Community