The Wikipedia entries for Gawker and Gawker Media were trolled Friday night with mocking imagery, links and text following a Florida jury's $115 million verdict against the publisher in Hulk Hogan's sex tape lawsuit.
The photo on the Gawker Media entry was briefly changed to the photo that appears atop the Wikipedia entry for Hogan, the ex-wrestler and media personality. "Gawker Media" was changed to "Cuckold Media," and the Web address that usually links to Gawker Media's front page instead took users to Hogan's website, HulkHogan.com. The "current status" field, which usually reads "active," was changed to "BTFO," slang for blown the f*** out, and later to "Completely destroyed."
Here's a screenshot of one of the revisions: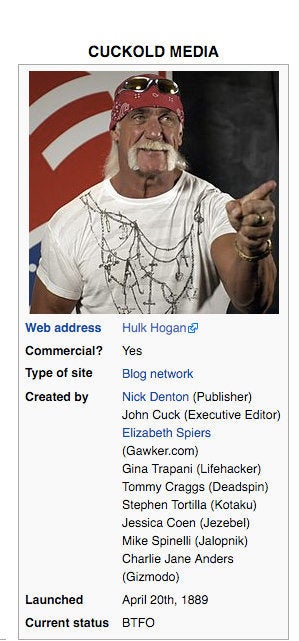 In Gawker's Wikipedia entry, the owner field was changed to "Hulk Hogan," with a link to his website. "Current status" was changed to "Cucked."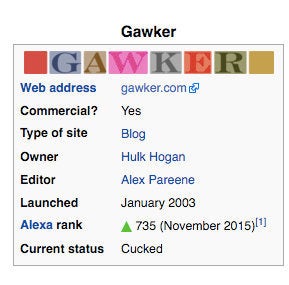 The changes were visible for about 20 minutes following the jury's verdict in the invasion of privacy trial.
The content of both Wikipedia entries was restored later Friday.
Popular in the Community