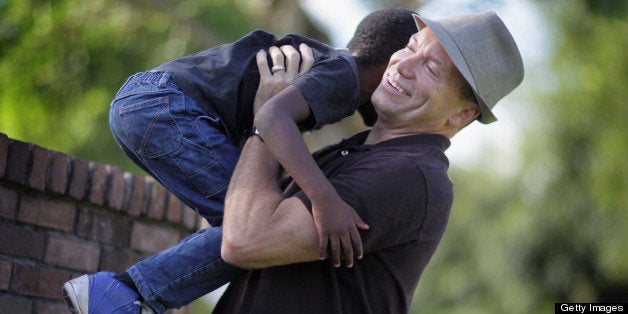 WASHINGTON -- A bill legalizing adoption and foster parenting by same-sex couples is set to be reintroduced on Tuesday, with supporters hopeful that momentum around the Supreme Court's oral arguments on marriage equality and recent pro-LGBT comments from Republican lawmakers will give their legislation a boost.
The Every Child Deserves A Family Act would prohibit programs that receive federal funding from discriminating against potential foster and adoptive families based on sexual orientation, gender identity or marital status.
Seven states currently ban a person in a same-sex couple from adopting his or her partner's children, and gay couples face legal restrictions when petitioning for joint adoption in five states. In all, according to the Family Equality Council, LGBT people face barriers to adopting or fostering children in 39 states.
In the past, Sen. Kirsten Gillibrand (D-N.Y.) and former Rep. Pete Stark (D-Calif.) have taken the lead on the legislation. But now that Stark is no longer in Congress, the bill has the backing of a bipartisan duo in the House: Reps. John Lewis (D-Ga.) and Ileana Ros-Lehtinen (R-Fla.). Gillibrand is still the lead sponsor in the Senate.
The lawmakers will hold a press conference at the Capitol on Tuesday, accompanied by same-sex families.
"Why...should more than 400,000 children remain in foster care -- 104,000 of whom are eligible for adoption -- when they could receive this support from loving, capable, and qualified lesbian, gay, bisexual, and transgender parents?" said PFLAG National Executive Director Jody M. Huckaby in a statement. "This is truly discrimination at its worst: hurtful to the people who are being denied the opportunity to become parents, and harmful to thousands of vulnerable children being denied the opportunity for stable, loving, permanent homes."
The push to allow same-sex couples equal adoption rights gained a new supporter last week, when Rep. Paul Ryan (R-Wis.) told his constituents at a town hall meeting that he regretted voting in 1999 to ban same-sex couples in Washington, D.C., from adopting children.
"I do believe that if there are children who are orphans who do not have a loving person or couple, I think if a person wants to love and raise a child they ought to be able to do that. Period. I would vote that way," he said.
"His statements demonstrate that the best interests of children isn't a partisan issue," said Emily Hecht-McGowan, director of public policy for Family Equality Council. "We welcome support of the Every Child Deserves a Family Act by lawmakers on both sides of the aisle."
Ryan's office did not return a request for comment on whether he would back the bill.
In late March, the American Academy of Pediatrics came out in favor of same-sex marriage, as well as full adoption and foster care rights for all parents, regardless of sexual orientation. It concluded that there is no scientific evidence to suggest that children raised by same-sex parents are any worse off than those raised by heterosexual parents.
"Children thrive in families that are stable and that provide permanent security, and the way we do that is through marriage," said Dr. Benjamin Siegel, chair of the AAP Committee on Psychosocial Aspects of Child and Family Health and a co-author of the policy statement.
Popular in the Community