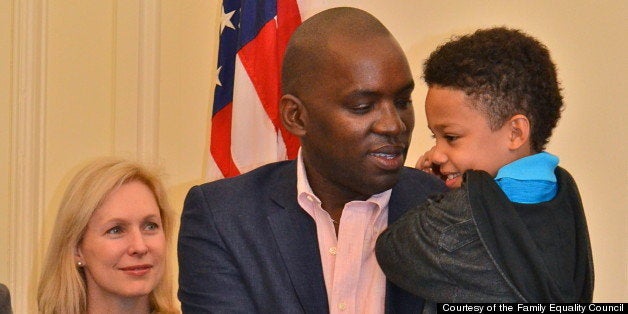 WASHINGTON -- Philip McAdoo and his partner Sean Cavenaugh talked about starting a family on their very first date, at a barbecue joint in New York City. Both men had been ready to leave New York, and they talked about moving to the suburbs to raise a family in a real house. What they didn't talk about was the difficulty they might encounter trying to adopt a kid as a same-sex couple.
Now, McAdoo says the issue should be at the forefront of the gay rights movement. "If we never get married, that's fine," he told The Huffington Post in a recent interview. "When we're about the livelihood of a child and two people coming together to really step up and advocate for that child, we think that takes highest priority."
On Tuesday, McAdoo, along with his recently adopted son Zadan, joined a handful of senators and other same-sex families gathered at the Capitol to make the case for the reintroduction of the Every Child Deserves a Family Act, legislation that would lower some of the barriers faced by same-sex couples who want to adopt children from foster care.
The legislation will be sponsored by Democrats Sen. Kirsten Gillibrand (N.Y.) and Rep. John Lewis (Ga.), with Republican Rep. Ileana Ros-Lehtinen (Fla.). At Tuesday's event, the group framed the proposal as both a key to solving America's foster care crisis -- there are currently 400,000 children in the foster care system, according to a news release from the gay advocacy group the Family Equality Council, which helped organize the press conference -- as well as a critical measure to fight back anti-gay discrimination.
"This bill highlights why discrimination in any form is unreasonable in a civilized society. You do the math," Lewis told the group on Tuesday. "Our society has the chance to eradicate the foster care adoption problem entirely, if we pass this bill. The persistence of discriminatory policy robs us of that opportunity."
Thirty-nine states have some kind of barrier to lesbian, gay, or transgender people fostering or adopting kids, according to the Family Equality Council.
When McAdoo and Cavanaugh moved to Atlanta and started the adoption process, they still thought they would have no trouble finding a child. "Maybe we were naive, but my partner is a doctor and I'm an educator, and we thought that would be a home run," McAdoo said. "We thought they'd be throwing kids at us."
But after nearly two years, they still hadn't been matched with a kid, even as they watched straight couples adopt ahead of them. At last, they were matched with Zadan, a 5-year-old from Texas who had already been in five different foster homes. They were thrilled and relieved, but also concerned, after their lawyer informed them that Texas would not allow two fathers on the birth certificate.
"That is something that's going to follow our son for the rest of his life, long after we're gone," McAdoo said, adding that even Zadan's Little League team asked for a copy of the birth certificate. Now, McAdoo and Cavanaugh face the complicated -- and costly -- process that most same-sex couples wishing to raise a family must deal with -- to patch together the same level of legal security that straight couples have automatically once they are wed.
"The fact that we have to above and beyond to take these measures to protect our family, really to justify our family, that's frustrating," McAdoo said. But the biggest frustration, he added, is how many children remain in the foster care system despite surveys showing that as many as 2 million LGBT people would consider fostering or adopting if existing legal barriers were eliminated. "There are willing and capable and loving folks out there who want to open up their homes and lives to these kids," he said.
After the press conference, Lewis showed McAdoo and Zaden, now 7, around the Capitol. At the airport, on their way back to Georgia, Zaden told The Huffington Post that his favorite part of the whole day was seeing the couch that John Adams died on. "We got to actually see it, it's creepy isn't it?" he said excitedly. He also said he thought the press conference was "good."
"If a kid doesn't have a family, it's very sad," Zaden said. "I'm happy now because I have parents to play with, and I'm safe."
Popular in the Community