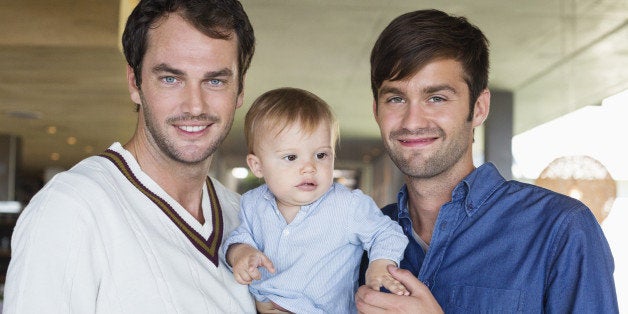 With gay marriage now being legal throughout the United States, more and more couples have decided to have a family of their own through domestic adoption. While it is easy to collect information about the adoption process, books and websites do not always tell the full story. Recently, my husband and I went through what industry experts called one of the most difficult adoptions in U.S. history. Thankfully, our adoption ended the way we had hoped and we are now blessed with a happy, sweet, and bouncing baby girl. We are two of the most proud parents in the world.
That being said, I do not ever want other couples to have to endure what we did for almost a year. For that reason, I am hoping to shed some light on the adoption process with the hopes that others can learn from our mistakes. By following these guidelines, your adoption is much more likely to be an enjoyable experience from start to finish.
Determine if you are ready:
Are you ready to become parents? It may be easy to quickly answer yes to the question but have you honestly thought it through? Are you prepared to complete a home-study? A home-study is a process where you get approved by the state to adopt. You have to pass background checks and drug screenings as well as have your home inspected. In addition, you will need to take several parenting and first aid classes. The last step is having in-home interviews of you and your spouse. Next, you have to answer if you are financially ready. Domestic adoption costs can range from $20,000 to as high as $80,000. There are many variables that determine costs but you should be prepared to spend $30,000 or more.
Selecting an agency:
Selecting an agency or facilitator is probably the most important part of the process. You will be investing a ton of time and money in your agency and you want to be sure you do your homework. If using an agency, be sure they have a good track record with gay couples. Another option is to use an adoption facilitator. An adoption facilitator acts as an independent third party to match adoptive families with birth mothers. Either way, be sure you do your research to ensure you make the right selection. We opted to use a facilitator over an agency because the wait times were more favorable.
Do not rush to match:
The single biggest mistake that we made was rushing into the matching process. We were so excited that a birth mother had selected us, that we lost sight of the need to do our own homework and vetting. Our best piece of advice would be to take your time before you agree to a match. While your instincts would tell you to match right away, we would suggest taking the time to get to know your birth mother (before you agree to a match). That would involve reviewing her records, asking the agency questions about her background and history, and scheduling time to meet with her (and her family) live or over the phone. Be sure you are both comfortable with the match before proceeding.
Create a plan:
Once you have determined that you are financially read, you have selected an agency, and you have now matched with a birth mother -- it is now time to create an adoption plan. During this critical step, you will discuss everything from how you want to communicate on an ongoing basis to who will be in the hospital room during delivery. Do you want to have a weekly call with her? Do you prefer texts? Will you be allowed to attend doctor appointments? Does she want you present during delivery? Will she breastfeed during the waiting period? What are the visitation and communication expectations after the adoption? Essentially, this is the time to discuss anything and everything about the adoption and post-adoption. By covering these topics early -- it is less likely that you will have any surprises.
Never talk about money:
Finally, never talk about money or finances with your birth mother. Never! Not under any circumstances. All conversations about money, finances, or gifts should be directed through your agency and adoption attorney. The only thing that a discussion about finances will do is bring both sides more problems and headaches.
By following some of these suggestions and tips -- your adoption is much more likely to be a smooth and problem-free process. Be sure you focus your time and energy on bonding with your birth mother so that you, your family and her family can have a long and lasting relationship. Adoption is a beautiful experience and something you will cherish forever.
For more information and to read our full story you can read my new memoir, Anything for Amelia. It is available at all online retailers.
REAL LIFE. REAL NEWS. REAL VOICES.
Help us tell more of the stories that matter from voices that too often remain unheard.