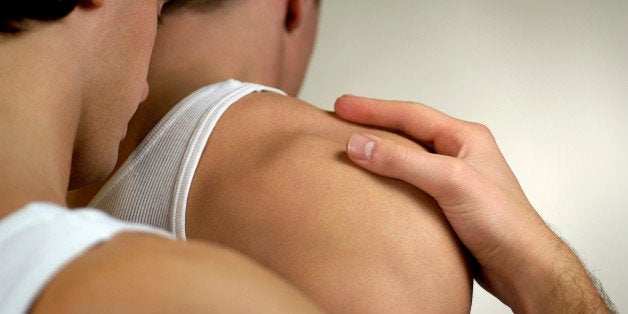 A Kaiser Family Foundation survey of what gay American men know and how we behave when it comes to HIV shows a stunning level of ignorance and denial 33 years since the virus began to kill extraordinary numbers of us.
More distressing than the profound lack of knowledge about HIV/AIDS among the 431 adult men who participated in the survey is the fact that it reveals a startling failure -- even an absence -- of HIV education among gay and bisexual men, despite the fact that we account for the nation's highest number of those living with or at risk for HIV.
The survey found that only a third of the men knew that HIV infections are increasing among gay men. Meanwhile, the Centers for Disease Control and Prevention (CDC) estimates that one in five people who are already infected doesn't know his or her HIV status.
Gay men of color were the most informed. Not coincidentally, they are also more likely than white gay men to see HIV/AIDS as a personally significant issue. This makes sense, since there is a far higher rate of HIV in African-American and Latino communities than among Caucasians. Men of color also are far more likely than white men -- 61 percent vs. 39 percent -- to consistently use condoms in anal intercourse.
A quarter of the survey respondents said they never use condoms at all.
Not even half the men (46 percent) knew that doctors recommend that people who are newly diagnosed with HIV begin antiretroviral therapy immediately. Research shows that suppressing HIV as soon after infection as possible is key to successfully managing it over a potentially normal lifespan. On the other hand, untreated HIV is still deadly -- as more than 1 million AIDS deaths worldwide demonstrate each year.
Yet, according to the CDC, only an estimated 28 percent of Americans who know they have HIV are on antiretroviral therapy.
It's startling to realize that 56 percent of the men surveyed said a doctor has never recommended that they get tested for HIV. But then it's not so surprising when we also find out that 47 percent of the men said they've never discussed their sexual orientation with a doctor or other healthcare professional.
Dear gay and bisexual men, how do you expect your doctor to be able to protect your health if you don't provide him or her with this essential piece of information?
Dear doctors, why are you not proactively and non-judgmentally inquiring about sexual or substance-using behavior that could be undermining your effort to support your patient's health?
The level of ignorance and denial among American gay men is the result of the federal government not targeting the bulk of public HIV-prevention funding for programs aimed at those who are at greatest risk: gay and bisexual men.
It's the result of the LGBT community's leadership "moving on" to marriage equality and forgetting that the right to good personal and public health is even more fundamental than the right to marry.
Finally, it's what happens when individuals don't bother to inform themselves, don't "bring it up" with their friends, don't think it's "relevant" to let their doctors know they have sex with men -- let alone discuss specific sexual practices that could put them at risk.
HIV/AIDS has been a massive issue for gay America for 33 years. There is no excuse not to be up-to-date on what has been done, what needs to be done, and how to do your own part to protect your health and the health of our community.
The Kaiser survey suggests that three important changes need to be made if we are going to see HIV rates among American gay men drop:
The feds must shift the bulk of taxpayer-supported HIV-prevention dollars to support targeted and explicit programs aimed at gay and bisexual men -- those at greatest risk for HIV -- including campaigns focused on motivating men to get tested and know their HIV status, stay HIV-negative, and get treatment immediately if they are HIV-positive.
It's time for gay America to reclaim our powerful history of leading the way on HIV/AIDS. This means making educating gay and bisexual men of all ages and colors a priority, equipping us with the information we need -- in terms we understand -- to support our health.
We are responsible for our own health. If equality means anything, it has to start within ourselves. This means believing, and behaving as though we believe, that we are equally entitled to good health.
The most powerful gay liberation movement we could ever launch would be to liberate ourselves from the many harms that ignorance can inflict on us. The movement's success starts with each one of us making healthful choices. The first step forward is to know your own HIV status.
Knowledge is power, and silence -- ignorance -- still can mean death.