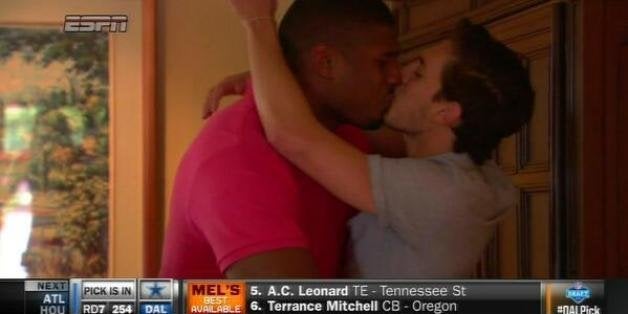 Americans say they're ready for openly gay players, according to a HuffPost/YouGov poll conducted after Michael Sam became the first openly gay player to be drafted by an NFL team. But the survey also found lingering discomfort with gay athletes publicly celebrating in a way that straight athletes routinely do.
According to the new poll, 60 percent of Americans said they would approve of their favorite sports team signing an openly gay player, while 20 percent said they would disapprove. Among NFL fans in particular, 65 percent said they would approve and 21 percent said they would disapprove.
Forty-four percent of Americans, and 47 percent of NFL fans, said they would strongly approve.
Majorities of Democrats (80 percent) and independents (56 percent), as well as a plurality of Republicans (42 percent), said they're ready to cheer on their teams with openly gay players.
But although most Americans approve of gay players in theory, many are less comfortable with the reality. Male athletes kissing their wives or girlfriends is routine territory for networks covering victory and other sporting celebrations, but coverage of Sam's kissing his boyfriend after he was drafted has generated controversy. Forty-seven percent in the new poll said it was "inappropriate" for networks to show the kiss, while only 36 percent said it was "appropriate." Seventeen percent said they weren't sure.
The poll found an ideological divide over the celebratory kiss. Democrats tended to say it was appropriate to show (53 percent to 32 percent), but a plurality of independents (45 percent to 36 percent) and a large majority of Republicans (69 percent to 16 percent) said it was inappropriate.
The survey likewise found a major generational divide. Americans under age 30 had no problem with coverage of the kiss, by a 55 percent to 29 percent margin. Those between ages 30 and 44 were evenly divided: 40 percent said it was appropriate; 39 percent said it was inappropriate. And a majority of older Americans said it was inappropriate, including 52 percent of those between ages 45 and 64, and 69 percent of those 65 and older.
The kiss between Sam and his boyfriend may have been particularly heartfelt because they had to wait for it: He was the 249th pick in the seventh round of the draft. But those who said they follow the sport were more likely than not to say that Sam got a fair shake. Thirty-four percent of NFL fans said he was drafted at about the right time based on talent alone. Nineteen percent said he was drafted later than he should have been. Only 9 percent said he was drafted earlier than he should have been, while 38 percent said they didn't know enough to judge.
The HuffPost/YouGov poll was conducted May 13-14 among 1,000 U.S. adults using a sample selected from YouGov's opt-in online panel to match the demographics and other characteristics of the adult U.S. population. Factors considered include age, race, gender, education, employment, income, marital status, number of children, voter registration, time and location of Internet access, interest in politics, religion and church attendance.
The Huffington Post has teamed up with YouGov to conduct daily opinion polls. You can learn more about this project and take part in YouGov's nationally representative opinion polling. Data from all HuffPost/YouGov polls can be found here.
Popular in the Community