I know dementia. My father and grandmother both died with it. But they had both resources and families to protect them - and neither were living cultural and historical treasures. None of which can be said for the civil rights activist who probably threw the first punch in the Stonewall Riot that sparked Gay Rights.
It is sad for any elderly to be poor in New York City, with no family and few friends. It is especially sad to have historic figures languish with little support from their own communities, in this case my own community - the LGBT community.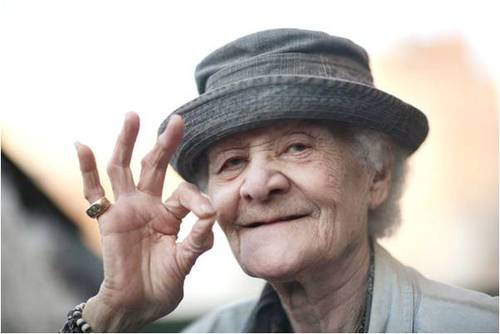 Storme DeLarverie lived at the Hotel Chelsea for decades. Photo by Sam Bassett.
After a fall in the Hotel Chelsea, the Rosa Parks of my community -- Storme DeLarverie -- is now in a public nursing home in Brooklyn. I am particularly saddened by this situation and have reached out to leaders in the GLBT community to see how they can help Storme. And how they can help protect others who have paved the way for Gay Rights.
I also reached out to gay and gay-friendly elected officials to hear their thoughts and ideas on safeguarding leaders like Storme when they become impoverished and incapacitated. Would declaring such aging leaders official "Living Treasurers" make a difference?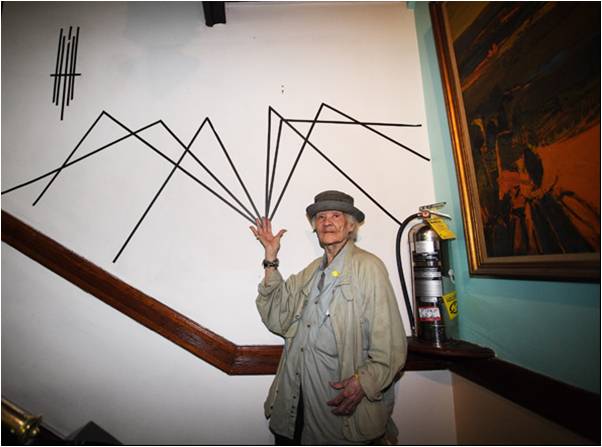 Storme DeLarverie thrived on the atmosphere created by the many writers, musicians, artists, and actors at the Hotel Chelsea. Photo by Sam Bassett.
The New York Times covered Storme's plight in an article June 27 entitled, "A Stonewall Veteran, 89, Misses the Parade," when she was not allowed out to ride in the lead car of the Pride parade last month. The Times reported:
At noon on Sunday, thousands of marchers filled Fifth Avenue for New York City's annual gay pride parade. Nearly six miles away, on the sixth floor of a nursing home in Brooklyn, the frail, white-haired woman in beige pajamas and brown slippers in Room 609 sat motionless at the edge of her bed, staring out her window.

...And many of those who marched down Fifth Avenue on Sunday would be hard pressed to realize that this little old lady -- once the cross-dressing M.C. of a group of drag-queen performers, once a fiercely protective (and pistol-packing) bouncer in the city's lesbian bars -- was one of the reasons they were marching.

In 2009, a social services group, the Jewish Association for Services for the Aged (JASA), was appointed her legal guardian by a judge. In March, she was hospitalized after she was found disoriented and dehydrated at the Chelsea Hotel, her home for decades. No one occupies her room on the seventh floor of the hotel, but it remains unclear if she will ever return.

A small group of friends, including some of her neighbors at the Chelsea Hotel, visit her regularly. A social worker with the nonprofit group SAGE, which provides services to lesbian, gay, bisexual and transgender older people, has been assisting Ms. DeLarverie since 1999, when she was at risk of eviction from the hotel.

One of her neighbors, photographer and documentarian Sam Bassett, asked to speak with me recently about Storme. As a gay man, I was shocked to learn that the woman who had committed her life so that one day I might marry my partner had completely lost her ability to care for herself.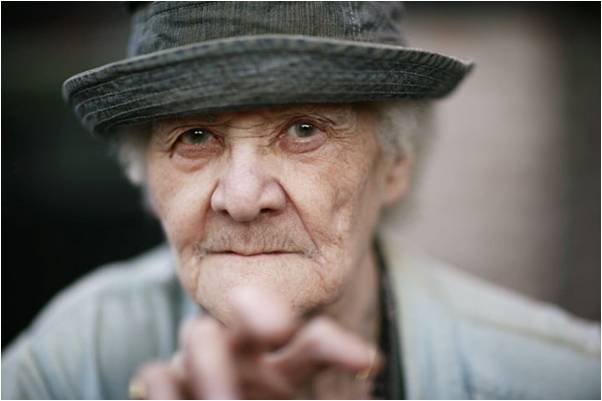 Storme DeLarverie. Photo by Sam Bassett.
With no family and insufficient support from the LGBT community, the court granted her guardianship to the Jewish Association for Services for the Aged (JASA). I spoke at length with JASA's Director of Adult Protective and Guardian Programs, Cecille Hershkovitz, and one of their outside attorneys, Susan Robbins of Miller Canfield.
It is a challenge for any senior to grow older in New York City. When there is no family, no money, and few friends, it becomes more difficult for any elderly person. When dementia is added, the situation becomes critical, and the City intervenes, hopefully for the best of the person.
Through appointment by the New York City courts, JASA was appointed the guardian for Storme - providing her with crisis intervention, financial management, intensive case management, and oversight of daily activities. This program is funded by the New York City Human Resources Administration.
Attorney Susan Robbins who works with JASA focuses primarily on guardianship work and knows her stuff. She represents all three not-for-profit community guardian programs in New York City which are funded by the city to provide guardianship services to elderly and incapacitated persons.
Susan was court-appointed counsel for prominent New York City philanthropist Brooke Astor. "My clients say that my background as a social worker allows me to understand the unique challenges of acting as a guardian." What Susan cannot do is wave a wand to produce additional funds to give Storme more support.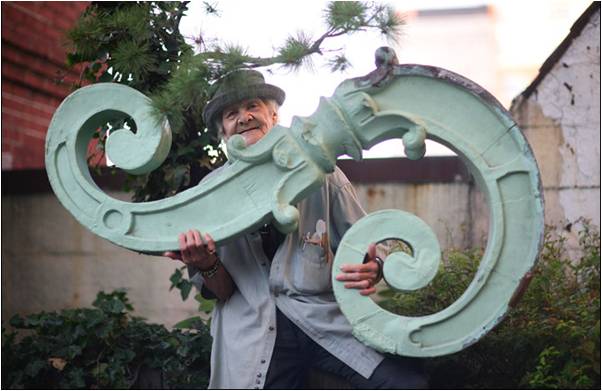 Storme needs more support, I believe. Where can it come from? SAGE?
Incorporated by lesbian and gay activists and aging service professionals in 1978 as Senior Action in a Gay Environment, SAGE (now Services & Advocacy for GLBT Elders) is the world's oldest and largest non-profit agency addressing the needs of lesbian, gay, bisexual, and transgender elders.
Programs like Services and Advocacy for GLBT Elders are an important safety net for LGBT elders. SAGE works with LGBT elders to address and overcome the challenges of discrimination in senior service settings, while also being an essential component in the creation of informal care-giving support, and development of new "family" networks.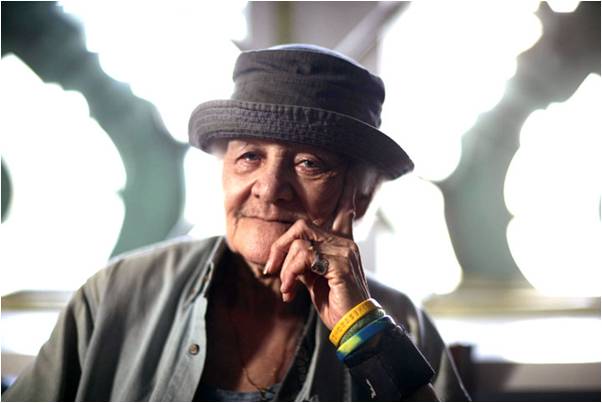 Storme DeLarverie is now in a nursing home in Brooklyn. Photo by Sam Bassett.
I reached out to SAGE's very capable executive director Michael Adams, in Chicago for a SAGE event. Mike told me what SAGE was doing in regard to Storme DeLarverie.
Storme's story is a powerful reminder of the difficulties of getting old in a county that too often fails to provide for our elders and in a system that, until recently, has consistently ignored the particular needs of LGBT older people.

As in the cases of so many other LGBT elders, SAGE has been there for Storme when there was nobody else. We have worked closely with Storme for many years, starting 11 years ago when we worked to ensure that she was not evicted from her home in the Chelsea Hotel.

In the decade since, a SAGE social worker has provided many different forms of assistance to ensure that Storme could live at home for as long as possible. Unfortunately, that is no longer possible.

While we have faith in the nursing care provided by our partners at JASA, we know from our work with thousands of LGBT elders over 32 years that the supports available for our community's pioneers are woefully inadequate.

SAGE does the best that it can with limited resources and has made a huge difference in Storme's quality of life over the past decade. But the real solution lies in a dramatic increase in the resources available to LGBT elders from our own community and from government. Only then will heroes like Storme get the heroic treatment they deserve.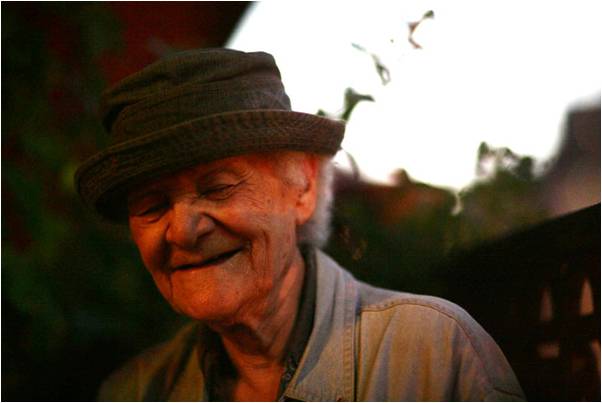 Storme DeLarverie. Photo by Sam Bassett.
I called my old friend Danny Dromm, New York City Council representative from Queens, to get his thoughts on the situation. Danny told me:
Storme's plight is so sad. It highlights the reason why LGBT seniors have special needs. Having met Storme on a number of occasions, I know how special she is. Her contributions to the movement are monumental. I worry that someday I might be in the same position. I'm sure however, that JASA will help her get through this difficult time.
Then I reached out to an old acquaintance, Gay City News columnist David Noh. David said:
The impassioned efforts of people like Storme to effect lasting change stand in marked contrast to this country's current attitude of passivity and unquestioning acceptance in the face of blatant government mendacity (the Bush era), corporate greed, and senseless war.

The plight of a true hero like Storme is everyone's worst nightmare come true, something that crosses the minds of many in our community, especially those who may be living outside the conventional framework of family (although the acquisition of children is no 100% guarantee, either, of loving care in one's advanced years, as certain examples have shown me).

It's a horrendous scandal that this should happen to Storme and an indictment of this ever more age-ist and elitist country's attitude towards the elderly and disenfranchised. The idea of deeming people "National Treasures"" is a laudable one, and something that has gone in, say, Japan, for years.
I e-mailed my friends at the Lesbian, Gay, Bisexual and Transgender Law Association of Greater New York (LeGaL) is an association of the lesbian, gay, bisexual, and transgendered (LGBT) legal community in the New York metropolitan area. LeGaL Interim Executive Director Brad Snyder responded:
As an association of LGBT lawyers, we are always concerned when we hear about the challenges facing members of our community, especially the senior community and those who have given so much to the cause of equality. That is one of the reasons while we are currently working with our community partners to develop legal assistance projects specifically aimed at assisting LGBT seniors.
Of course, the man better connected than anyone in the gay and lesbian community is my friend Dirk McCall, who I met as a poll watcher for Jessica Lappin ions ago. He now heads the Bronx Community Pride Center. Dirk told me:
I am saddened to hear this sad news about Storme, who has been a friend and inspiration for years. We must stand up for the pioneers of our movement and something must be done to ensure she is being treated with dignity and respect.

Social isolation of LGBT seniors highlights why we need an LGBT retirement/assisted living facility in NYC and the need for intergenerational programs to make sure we are not left alone in our times of need.

We need to organize now both for Storme as well as for our own sakes. This should certainly be a call to arms.
Last weekend the 2008 documentary by Sam Bassett on the life of Storme DeLarverie was screened for the first time, here in New York City. Read about it in my piece written for The Daily Kos.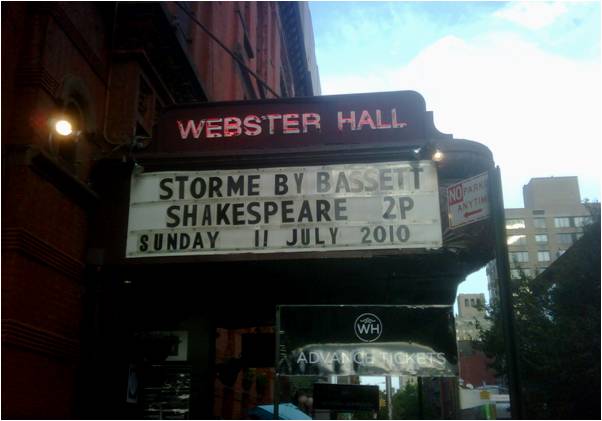 JASA's Cecille Hershkovitz told me that she hoped as many friends from the GLBT as possible would visit Storme because human interaction is vital to mental and physical well being.
Attorney Susan Robbins suggested the possibility of the GLBT community creating a fund specifically to cover additional health aides for GLBT leaders so that they could get out of their facilities more frequently. Perhaps SAGE would be the best vehicle for such a fund. I understand as little as $10,000 per year could make a significant impact in the life of someone such as Storme.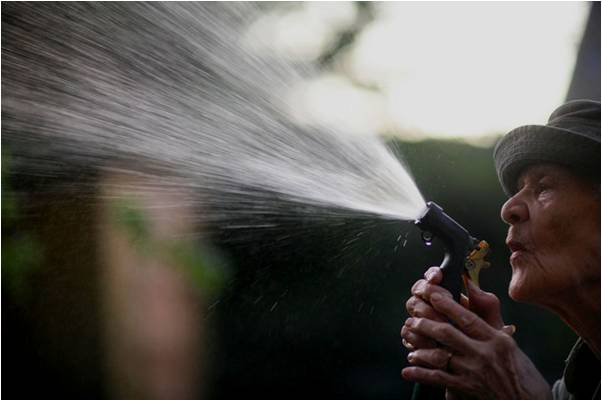 Storme DeLarverie. Photo by Sam Bassett.
I acknowledge the assistance SAGE has given, but I find it an outrage that our community cannot do more to support our leaders. We need to make sure that our living cultural and historic treasures are not warehoused until they die. Alone and forgotten.
Related
Popular in the Community