In case you needed a reminder, love between lesbian, gay, bisexual and transgender people exists everywhere.
While stories surrounding the struggle for LGBT visibility and rights tends to focus on more urban areas or metropolises, gay people are everywhere. This stunning photo series from photographer Brian Powers is a reminder of that, elevating the lives and love of a gay couple named Benjamin and Brandon.
"Love is a big part of who I am," Powers told The Huffington Post. "It is what drives me, inspires me and keeps me up at night. I knew that the best way to share their love with the world, was to strip down their relationship to the truest form. Two individuals being united by something we all desire, LOVE."
The Huffington Post chatted with Benjamin and Brandon this week about the photo series, their relationship and what life is like being gay when you're in Montana.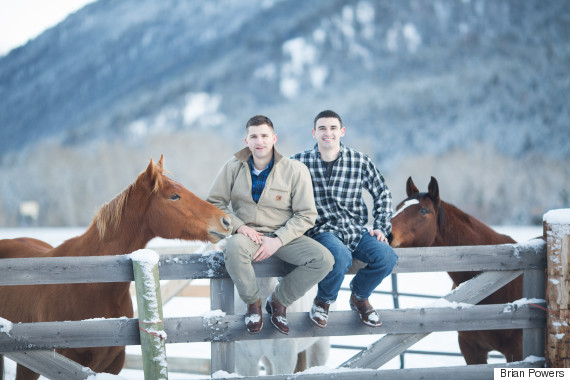 The Huffington Post: How did the photo shoot come about?
Bejamin and Brandon: Ben serves in the military and spends a great deal of time away from our place outside Seattle -- not to mention that both of our careers have taken us far from Montana, where we really feel our allegiance is. We loved representing our relationship and our background, and thought that an awesome set of photos would be the perfect way to keep ourselves grounded and always remember being back home. Montana has a way of really clearing your head. I think its the big skies and fresh air.
What was the most memorable moment from the shoot?
The first thing Brian said to us before the shoot was, "I am excited because most guys don't like getting photographed." This made us both laugh because Ben really hates the camera and being photographed. To encourage a natural feel Brian told us to carry on normal conversations while he was shooting, most of which were conversations about how awkward it was making up conversation and having someone take your pictures, but that turned out to be perfect, and he captured the most amazing snippets of us enjoying the awesome afternoon in the mountains outside town. We also had a good friend along to help out.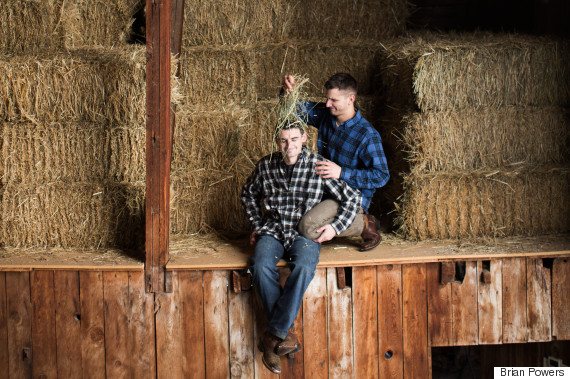 How did you meet? How would you describe your relationship?
Our relationship is very private, very committed, very balanced and very communicative. We believe these to be cornerstones in every relationship and do not settle for any less. To answer your question I will recount an analogy we came up with together to sum up our relationship:
When we were kids, building forts out of blankets and chairs-you try to make the most awesome fort, the biggest fort, the best looking most complex fort, and it was always a ton of fun. Adults don't get a lot of time to crawl around and build blanket forts (but that's not to say we haven't). Then you find a best friend, who also loves building blanket forts, and you decide that you want to build blanket forts together -- or build a life together. Our blankets and chairs have just transformed into an awesome apartment that is essentially just one big man-cave.
What is it like to be gay in Montana?
I grew up in Montana. My family still lives there and I return as often as possible. However, for college I moved about seven hours away to Seattle. So, while I can't entirely speak to living in Montana while being openly gay I can comment on my experience of coming out to that community. It's been a mixed bag somewhat, melding the rugged cowboy Montana standard with being gay. The notion that orientation does not affect personality. That you can indeed be gay and still enjoy country music, drive a truck, and that is okay. I feel incredibly fortunate and privileged to have a supportive family which really helps. My dad comes from a tiny town and is somewhat of a self-proclaimed redneck. However, coming out to him was the person I was the most nervous to tell but wound up being the easiest. His response was "I don't give a shit, you're the same person right? Just try and find someone who likes to hunt," and Ben loves hunting so that is the best I could have asked for.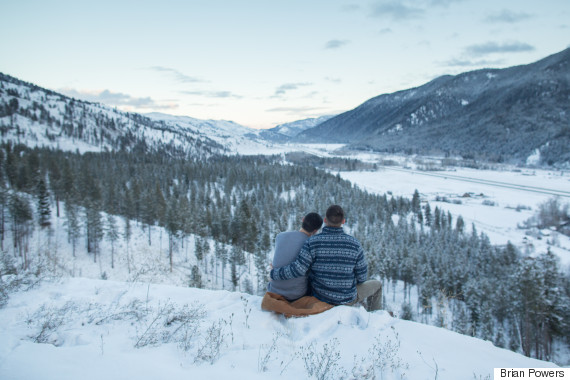 What is your relationship with the broader queer community?
We do not necessarily have a relationship with the larger queer community, putting our photos out there has been the most public place our relationship has ever been before. We think it is important to go out into the world and find whatever community they feel makes someone feel comfortable, supported and accepted -- and more power to them. We appreciate the support and encouragement that everyone has provided, regardless of their sexual orientation.
What do you hope viewers take away from the photo series?
There is one thing I hoped would be recognized through releasing our photos and was strong enough to overrule the importance of privacy that we value: it is difficult to grow up feeling different, without a role model you can identify with. Over the past ten years there has been a revolutionary change in the acceptance and acknowledgement of the gay community in the media, and more recently in our political system. However, that image still often supports stereotypes that a large number of young people don't identify with. We want to break that stereotype. The flashy, ostentatious, flamboyant community is alive and well, but there is also another community, one that is rarely in the news, and seldom makes it onto television. These stories do not make headlines because, to put it simply, they are somewhat boring and normal; we are two people, committed to each other and our life together. If you asked us to talk about ourselves or what defines us, we would say that we like to camp, hike, hunt and we crave the open sky and solitude that places like Montana, Yellowstone and Utah offer. We wouldn't talk about being gay, because that doesn't define us. It's my opinion that the next generation needs a more diverse array of role models, and I eagerly await the day that all states in this country give us rights, and then give us some privacy-and if the need us you will need 4WD and snow tires, and a map that is made of paper.
Brandon adds: As I came about accepting myself, I feel fortunate to have found stories from role models like Chely Wright, and Shane Bitney-Crone who really helped me develop a broader understanding of what being gay was and is, and that being honest and living a genuine life is crucial to maintaining and developing relationships with those that matter most to you, and remaining healthy, successful and happy. I feel thankful to have had their stories to read, watch and learn from and it is my hope that their messages continue to inspire all people. A quote from "Bridegroom" describes it best, "It's not a gay thing, it's not a straight thing, it's a human thing.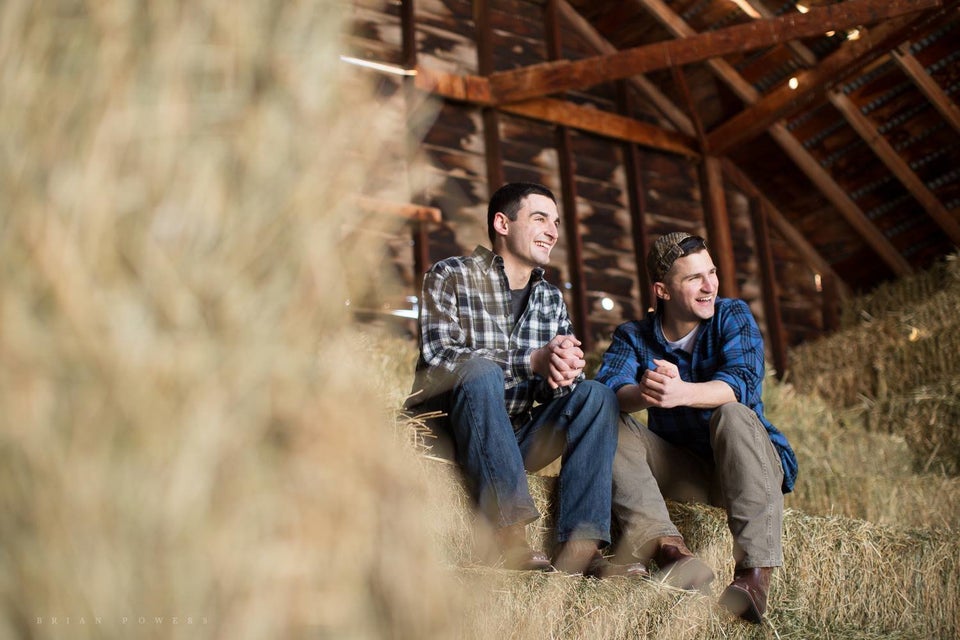 Benjamin and Brandon
Popular in the Community