A male same-sex couple is suing the U.S. State Department after one of their twins, born in Canada, was denied American citizenship, even though his birth certificate lists one citizen parent.
At just 16 months old, Ethan Dvash-Banks had been living in the U.S. legally on a tourist visa until it expired last month. His twin brother, Aiden, has a U.S. passport.
The boys were born via a surrogate in 2016. Ethan's biological father is Elad Dvash-Banks, an Israeli citizen living in the U.S. legally on a green card, and Aiden's is Andrew Dvash-Banks, a U.S. citizen. The State Department determined that Ethan possessed no grounds for citizenship without a biological connection to a U.S. citizen.
Immigration Equality, an LGBTQ advocacy nonprofit, filed suit on behalf of Ethan on Monday, accusing the State Department of discriminating against same-sex binational couples. The group argues that because both parents are listed on the children's birth certificates, both boys are eligible for U.S. citizenship.
"He should be treated just like any other child born to a U.S. citizen abroad," Andrew Dvash-Banks said of Ethan.
The organization filed a second lawsuit involving two women, one from the U.S. and one from Italy, who were married in the U.K. and each gave birth to a child. The child born to the Italian woman was also denied citizenship.
"If a mother and father walk into a consulate and have a marriage certificate and birth certificate, they're never asked any questions about the biology of the child," Aaron Morris, executive director of Immigration Equality, told The Associated Press. "But the converse is also true and every same-sex couple will be asked that."
Elad and Andrew Dvash-Banks said they met in Tel Aviv and moved to Toronto so that they could wed legally in 2010, back when same-sex marriage wasn't yet legal in the U.S. When the American Defense of Marriage Act was struck down three years later, they planned to relocate to the U.S., since their Canadian marriage certificate would be recognized by the U.S. government. They settled in Los Angeles after the twins were born in 2016, and Andrew sponsored Elad for a green card.
When they went to the U.S. consulate in Toronto, they found out they had to go through DNA testing to confirm which child was genetically related to whom.
"It was an awful moment for our whole family," Andrew Dvash-Banks said.
The couple is hopeful that legal action will help other families confronting similar issues.
"I think what we're doing right now fixes something that is not fair and fighting for what's right," Elad Dvash-Banks said.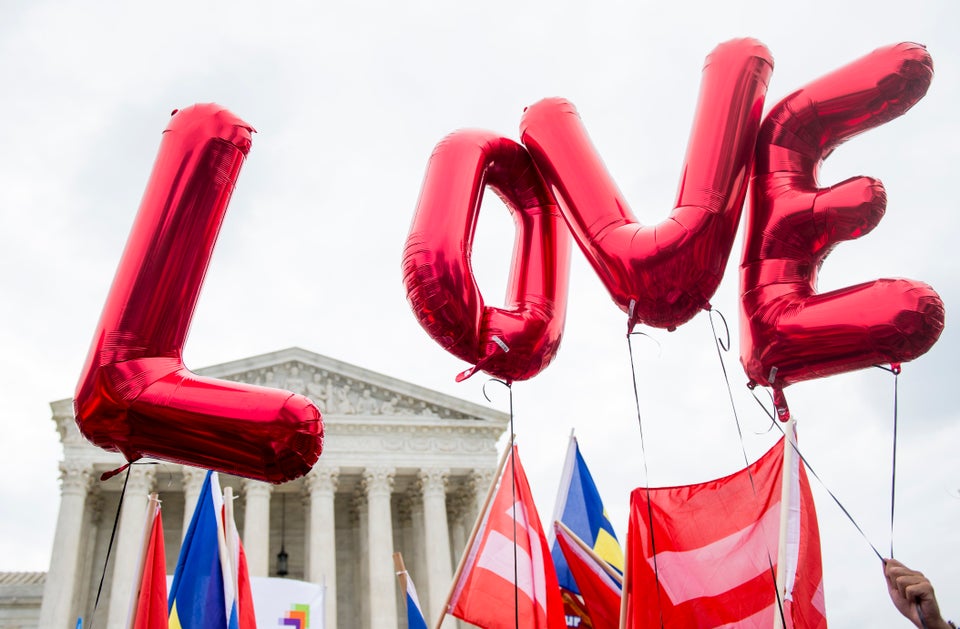 Celebrations Of Same-Sex Marriage
Popular in the Community