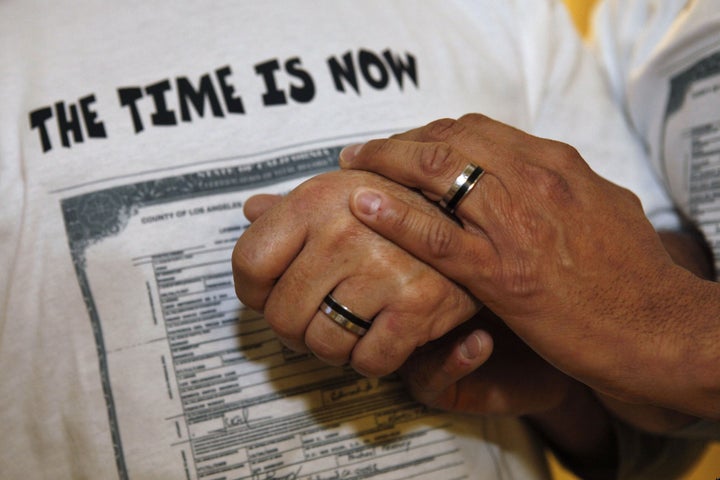 Last month, Governor Pat Quinn signed a historic bill into law legalizing civil unions for gay and lesbian couples, making Illinois one of about a dozen states that extend significant legal protections to same-sex couples. Unfortunately, one gay couple is discovering that the law will not end discrimination.
Todd Wathen of Mattoon and his partner have been together for eight years, according to the Chicago Sun-Times. The couple began planning a civil union ceremony for June, when the law will go into effect. Then, they hit a roadblock.
The Sun-Times reports that Wathen contacted the Beall Manison in Alton and the TimberCreek B&B in Paxton, where he wanted to book a space for the ceremony and reception.
Paxton is about 113 miles south of Chicago, and Alton is just outside of St. Louis. The men said those towns would be more accessible to their out-of-town families than Chicago would be.
An employee from the Beall Mansion told Wathen via email that Beall "will just be doing traditional weddings," even though their website says otherwise.
He faced more blatant discrimination from TimberCreek. From the Sun-Times:
In an e-mail reply to Wathen, Jim A. Walder of the TimberCreek Bed & Breakfast wrote: "We will never host same-sex civil unions. We will never host same-sex weddings even if they become legal in Illinois.

"We believe homosexuality is wrong and unnatural based on what the Bible says about it. If that is discrimination, I guess we unfortunately discriminate," Walder wrote.

Wathen and his partner filed complaints with the Illinois Attorney General and the Illinois Department of Human Rights, according to Gay Chicago Magazine. The conduct of both businesses violates the Illinois Human Rights Act, which prohibits discrimination on the basis of sexual orientation by businesses open to the public.
"Not only do we ask this for ourselves, but we ask this for every gay and lesbian person in Illinois," Wathen said. "We want these businesses to be held to the standard of the law. I mean what will be next, if we let them discriminate against us. Are these businesses going to go backwards and start discriminating [based on a person's] race, color, sex, national origin, or what if they don't like your religion, [will they] discriminate because of that?"
Related
Popular in the Community