A 155-year-old Baptist church in Washington DC recently named a married, gay couple to be its senior ministers with unanimous approval from its congregation. 
Calvary Baptist Church announced the hiring of Sally Sarratt and Maria Swearingen as the new senior ministers during a service on Sunday. Sarratt and Swearingen, who were legally married in 2014 and ordained in 2015, will begin their new roles on Feb. 26.
"Calvary sits in a unique position to be both a progressive and multiracial congregation, Baptist in heritage and ecumenical in expression, offering vibrant space for people across racial and ethnic lines who hold theologically progressive views to share in Christian community together," Swearingen told The Huffington Post. "Imagining such a place excites us!"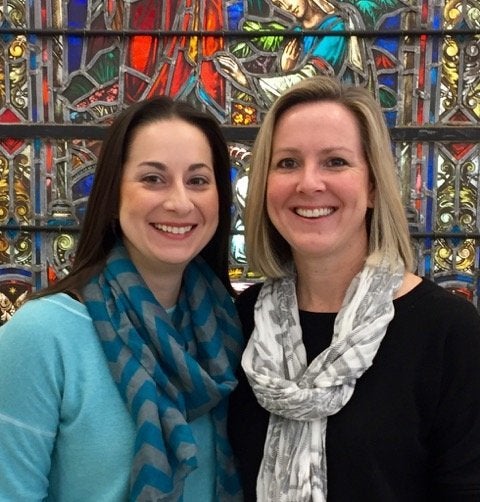 Sarratt and Swearingen will not be the first openly LGBT people to hold leadership positions in the church, said Calvary spokesperson Carol Blythe. The church previously installed transitional pastor Rev. Allyson Robinson, a transgender woman, after the former senior minister, Rev. Amy Butler, accepted a position at New York City's Riverside Church in 2014.
But they will be the church's first openly gay senior ministers and the first to jointly hold the top leadership position.
"In our search process, our focus was on listening to the voice of the Holy in our discernment as we chose the best person (or as it happened, best people) to serve as our Senior Minister," Blythe said in an email to HuffPost.
Calvary is situated less than a mile from the White House, and Sarratt and Swearingen will start their roles just a month after a new administration ― with an already shaky track record on LGBT rights ― is sworn in.
But the pastors aren't daunted. "Our role will be what it's always been and always will be as pastors: to sit at bedsides, to march for justice, to proclaim 'belovedness' when the world (sometimes even the religious world) proclaims 'otherness,' and to set the table of hospitality for those who need it most," Sarratt said in an email to HuffPost.
Both women have dedicated themselves to pastoring to marginalized communities. Swearingen grew up the child of a minister in a bilingual household and addresses issues of racism and white supremacy from the pulpit. Sarratt, who currently serves as chaplain for behavioral health in the Greenville Health System, frequently pastors to people who are suffering from grief and/or illness.
The pair has faced discrimination from other Christians in the past over their sexual orientation, Sarratt said. What's helped them overcome this backlash, she said, is finding communities of faithful people who take the religion's call of inclusivity to heart.
Swearingen talked about her journey of sexuality and faith in a video produced by Upworthy last year:
"What we've discovered already in the members at Calvary is a deep commitment to meet one another across lines of difference and engage in spiritual disciplines that the world is desperate for these days," Swearingen told HuffPost. These values include "empathy, humility, recognition of blind spots, and acknowledgement of historical wounds," she said.
"Spaces like Calvary have the potential to heal the world, if we'll choose to enter them gently and bravely together."
Calling all HuffPost superfans!
Sign up for membership to become a founding member and help shape HuffPost's next chapter
BEFORE YOU GO
PHOTO GALLERY
#FaithfullyLGBT Photo Series