Although he doesn't quite remember, Mark Gallegos' friends will tell you that all he talked about was becoming a dad. Contributing writer Beth Hallstrom talked to Mark about the family he and his partner created but never expected, in this installment of the Huffington Post Queer Voices RaiseAChild.US "Let Love Define Family" series.
Mark Gallegos and Mark Bushgens never set out to adopt a 7-year-old, but there was something special in the little boy's eyes that convinced the domestic partners from Reno, Nevada that he was the child meant for them.
Gallegos, who is 44 and a transportation planner specializing in public outreach, and 47-year-old Bushgens, who works in the accounting department at a Reno hospital, have been together for 16 years. They are currently registered domestic partners in Nevada and the fathers of two boys, Nick, who is 13, and four-year old Ja'ziah.
It was 10 years into their relationship when Gallegos broached the subject of parenthood to his partner, who was excited by the idea. At the same time, they were hesitant because both of their elderly mothers resided with them.
"It's funny, I don't remember talking about being a father all that much when I was younger, but if you ask my friends, they will tell you that's all I talked about. I was going to make it happen and be a dad," he noted.
Gallegos said his partner was open to the idea of parenthood, "but also thought I was insane because our mothers were not in good health. I said I wanted to pursue it because I wanted my life to mean something. I didn't want to just be the successful gay guy with the most toys and nothing real to show for my life."
They began the foster parent certification process six years ago with the goal of fostering children or, as Gallegos described with a chuckle, "Dipping our toes in the pool to see if we were crazy enough to take the plunge."
They quickly concluded their hearts were in it for the long haul and couldn't withstand any temporary situations. They asked to be placed on the adoption waiting list, and hoped for an infant or toddler.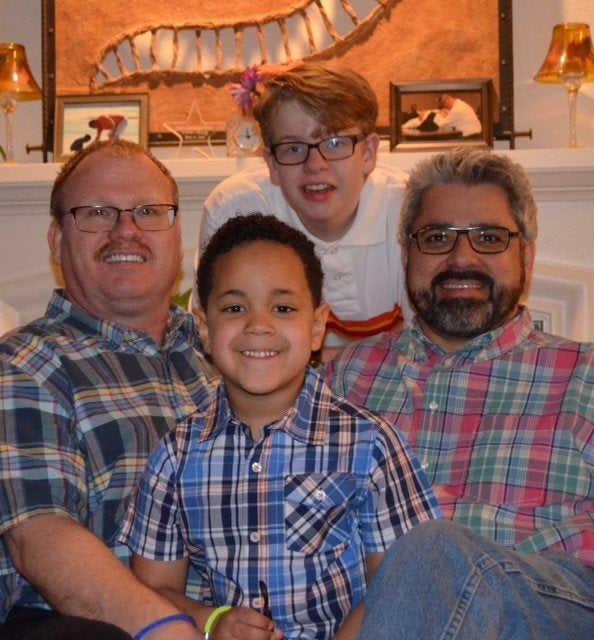 But fate had different plans for them that included a 7-year-old named Nicholas.
"Washoe County Social Services posts photos of children available for adoption on its website. I kept seeing this cute, pudgy face who, surprisingly enough, looks a lot like my partner. His name was Nicholas and there was just something in his eyes and his little crooked smile. I kept coming back to him," Gallegos said.
Then, he saw a public service spot promoting adoption on a local television station. Once again, there was Nicholas with his charming smile and captivating eyes.
"We were convinced there was much more to this kid and that he deserved more. He needed someone to give him a chance."
"We contacted the agency and asked to sit down with his foster parents, social workers, and therapists to find out if we were the right fit because, once Nick came through our door, that would be it. He would be our son and there would be no going back so far as we were concerned," he continued.
"We did not start out wanting a 7-year-old child. That was the furthest thing from our minds. But we were so taken with him. After the meeting, we both said, 'I think we can do this.' We didn't pretend to have the professional skills to deal with Nick's issues, but both of us had the life experience to understand what he had been through and the challenges that would lie ahead."
So Nick came home in 2010 when he was 8 and a half years old. He was an easily frustrated child and quick to anger. There was no honeymoon period for the new family.
"One morning he has a meltdown, flailing, screaming and I was alone with him and our elderly mothers. I was in tears, thinking in the back of my mind that I can't do this," the parents shared.
"Once he calmed down, I realized I could not send him away. Come hell or high water, he was not going anywhere. We were just going to have to work through it and he was going to know he was home, he was our son and we loved him. It was a defining moment."
The unwavering love and dedication of his fathers, and the academic and therapeutic support Nick receives at the Newton Learning Center, a private school for children on the Autism Spectrum, helped Nick grow and mature into, according to Gallegos, "a pretty typical teenager."
"He's grown out of the majority of his problems. Once we enrolled him at Newton, he started making a lot of progress. This school focuses on academics as well as treating other issues. For example, they have a class called Social Thinking that helps the kids learn to read body language, the nuances of conversation and how to deal with emotions," Gallegos said.
The school's goal is for its students to graduate from the public school system and, Gallegos said, Nick is telling his dads he is ready for regular high school.
"In some ways, he is lucky he fell into the foster system. Otherwise, he might never have been properly diagnosed," he said.
Ja'ziah came to the family when he was two years old. His adoption was finalized in 2014 on Gallegos' birthday, Aug. 1. Now almost 5 years old, Ja'ziah attends the preschool and daycare offered by the hospital where Bushgens works.
"They get along just as you would expect: the five-year old annoys the heck out of the 14-year-old, and the 14-year-old tries to boss the 5-year-old around. But, they love each other," Gallegos said, laughing.
While their family isn't much like the two dads envisioned a decade ago, Gallegos said the joy of having a family far outweighs the challenges they faced in the beginning.
"I don't think either one of us was looking for what we have, but if you're looking for perfection, you're never going to find it. You know what is perfect? One day, as Bushgens was taking Nick to school, a little girl asked him if he was his real father. Without missing a beat, Nick told her, "I have two real dads. The other one is at work."
Have you ever thought of building a family through fostering, adopting, or weekend hosting? RaiseAChild.US is the nationwide leader in the recruitment and support of LGBT and all prospective parents interested in building families through fostering and adoption to meet the needs of the 415,000 children in the foster care system of the United States. RaiseAChild.US recruits, educates and nurtures supportive relationships equally with all prospective foster and adoptive parents while partnering with agencies to improve the process of advancing foster children to safe, loving and permanent homes. Take the next step to parenthood at www.RaiseAChild.US or call us at (323) 417-1440.
Popular in the Community