Rainbow flags flew from many Davidson College dorm room windows last week in a show of support for an undergrad who was told he could not fly a gay pride flag from his window. While school officials claim there is a safety policy prohibiting the hanging of flags from dorm windows, the student insists that his flag was singled out.
He wrote that he took down his flag but later put it back up and, as a result, was called to meet with Director of Residence Life Dean Jason Shaffer, who revealed that the school's unwritten anti-flag policy wasn't motivated solely by safety concerns.
"The Director of Residence Life explained a bystander may mistaken a flag outside a window representative of the values of all the inhabitants of the dorm, and not just the individual who hangs the flag [all sic]," Feinstein wrote in his column. "However, the less visible option of hanging a flag inside a window was acceptable, as this would not confuse a bystander."
In an email to The Huffington Post, Feinstein noted that his column received much attention from the North Carolina school's 1,790-odd undergraduates. Indeed, multiple students protested Shaffer's rule by flying pride flags of their own after Feinstein's column ran.
(Story continues below.)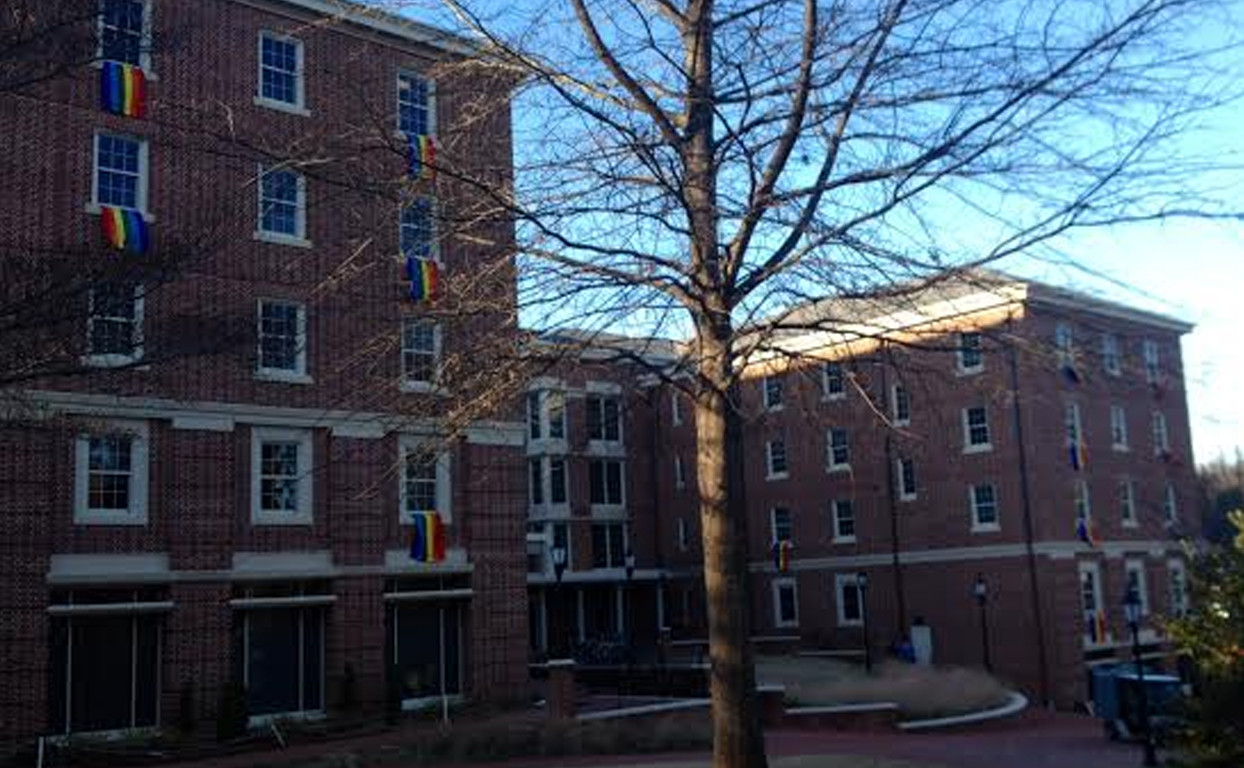 Davidson College students fly rainbow pride flags from the windows of the school's New Hall dorm in a show of support for gay student Max Feinstein. (Courtesy Photo)
"People ... began putting out flags, many rainbow flags," Feinstein told HuffPost. "I was so excited to see this, felt so welcomed. ... [P]eople just understood the frustration of the LGBTQ community. It was especially surprising to see people that I assumed didn't care start hanging flags!"
While he said he has never been harassed on campus, Feinstein told HuffPost that he feels Davidson has a "strong heteronormative culture" and is lacking in lesbian, gay, bisexual, transgender and queer (LGBTQ) visibility.
While the response from students has been largely positive, Feinstein noted that someone had flown a Confederate flag from the window of a dormitory otherwise covered in rainbow banners. Feinstein said he was worried school officials would use this incident as proof that flag-flying can lead to conflict.
"However, I see this as the administration passively allowing homophobic and racist students to anonymously bully minorities on campus," Feinstein said. "The individual who anonymously hung the Confederate flag obviously wants all the LGBT flags on campus down, as it was hung deliberately on the side of a building with about 10 LGBT flags. If the school sides to remove all flags on campus, then the person who hung the Confederate flag gets exactly what he/she wanted, while the LGBTQ community is relegated again to the shadows of campus culture."
On Dec. 13, Feinstein met with Vice President for Student Life and Dean of Students Thomas Shandley, who reiterated his support for Shaffer's policy. Though Shaffer did not respond to a request for comment from The Huffington Post, Shandley did provide a written statement.
"We encourage students to decorate the interior of their on-campus living space in a way that conveys their values and spirit. We also uphold a long-standing practice of no display of banners, flags, or signs on the exterior of the residence halls," Shandley wrote, in part. "Of late, our student body has been actively engaged in conversations around this policy, and we recognize that there are differences of opinion on what is acceptable. To this end, we will ask our Committee on Campus and Religious Life -- a group comprising students, faculty, and staff -- to assemble and discuss the extent of the considerations that should be made on this issue at the beginning of the spring semester."
Popular in the Community