Andrew Rodriguez-Triana is stuck in a love-hate relationship with the House of Mouse.
He loves Disney movies and characters, of course, but what he loves most is the parks. Growing up, his family spent every vacation at the parks, and he's been a passholder at Walt Disney World in Florida for 10 years.
"Disney as a place has always felt like home, and what place is safer than your own home?" the theater performer told HuffPost.
He loves the friendly Cast Members ― the employees who make magic happen at both Disney World and the Disneyland Resort in Anaheim, California.
What Rodriguez-Triana doesn't love is what he sees as the company's spotty record on supporting LGBTQ+ rights. He was reminded of that last week when Disney botched its response to the Florida Legislature passing the "Don't Say Gay" bill, a piece of legislation that bars classroom conversations on gender identity and sexual orientation from kindergarten to third grade. (The company is a huge Florida employer, with tens of thousands of workers at the Walt Disney World theme park.)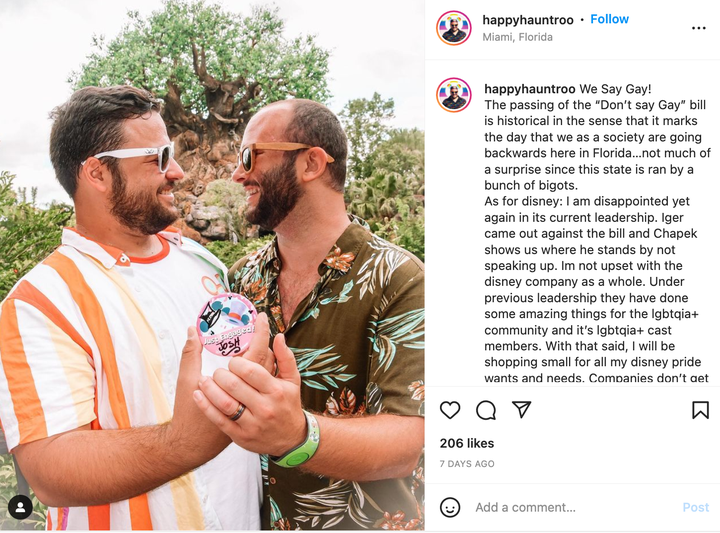 Last Monday, Bob Chapek, the CEO of the Walt Disney Co., issued a memo to staff members stating that the corporation "unequivocally" supports LGBTQ+ rights but wouldn't openly denounce the "Don't Say Gay" bill. At the same time, it came to light that Disney had made prior political donations to lawmakers supporting the bill. (To make matters worse for Chapek, Disney's former CEO, Bob Iger, had already tweeted criticism of the bill a month before.)
Many employees weren't having it. In an internal company letter, "the LGBTQIA+ employees of Pixar and their allies" upbraided Chapek over the "hollow" display of support and the company's lack of action on LGBTQ rights now and in the past. They also claimed Disney nixed "nearly every moment of overtly gay affection" in Pixar's films.
By Wednesday, Chapek had reversed course, saying Disney had been "opposed to the bill from the outset" and pledged a $5 million donation to LGBTQ rights groups, including the Human Rights Campaign. The nonprofit, though, wasn't interested, announcing that it would reject Disney's donation until the company took more "meaningful action" toward combating the "Don't Say Gay" bill.
"If someone — or in this case, a company — is going to preach allyship and sell Pride merch, then they need to do so wholeheartedly."
On Friday, Chapek issued another memo that spoke directly to the company's employees, this time with an apology: "You needed me to be a stronger ally in the fight for equal rights and I let you down. I am sorry."
Self-proclaimed "Disney gays" like Rodriguez-Triana say they've been let down, too, and are tired of the half measures: Yes, it was nice that the company recently donated proceeds from a Pride collection to GLSEN, a leading education organization working to create safe and inclusive schools for LGBTQ+ youth ― but then they reportedly give money to lawmakers who want to repeal protections for LGBTQ workers and legalize so-called gay conversion therapy.
Rodriguez-Triana and his partner are now considering not renewing their passes, though it's not just the Chapek controversy that has them mulling saving their money; rising costs of tickets, pandemic-era cost-cutting at the parks and overcrowded conditions are also of concern to the couple.
"If someone ― or in this case, a company ― is going to preach allyship and sell Pride merch, then they need to do so wholeheartedly," he said. "And if Disney isn't donating to these politicians anymore, how about rehiring people they let go of during the pandemic and putting it towards the park and delayed projects there?"
Rodriguez-Triana and others in the community are waiting for the day Disney puts a queer character front and center. As the Pixar staff letter alluded to, Disney has yet to center the experience of a LGBTQ character or highlight a gay love story. (Fairytales and love stories are the bread and butter of the company's animated canon, and some believe a non-heteronormative love story would be a game-changer for queer representation.)
Disney has touted the introduction of its "first" queer characters in its films and TV shows many times over ― but some fans see it as watered down or oftentimes stereotyped portrayals of queer people. (Or else a character is simply "coded" as gay; Elsa in "Frozen" may be a queer icon, but you won't hear Disney saying that.)
"The LGBTQ experience is there in so many Disney stories if you really look for it," Rodriguez-Triana said. "I relate to the love the characters in 'Luca' feel for each other, and I feel for Elsa in 'Frozen' when she feels different and is learning to let go of those feelings to accepts who she is ― but this current controversy proves that Disney is still in the closet in many ways."
For the LGBTQ community, Disney parks can feel like the ultimate "safe space"
Jasmine Plows, a data scientist in biotech who lives in Los Angeles, was so unnerved by Disney's actions that she started an online petition demanding Disney publicly "denounce the 'Don't Say Gay' bill and vow not to fund the sponsors again. (The petition garnered 4,450 signatures.)
But Plows thinks Disney should never have funded the bill's sponsors in the first place.
"They've very much marketed themselves to queer people and tried to pretend they were allies," Plows told HuffPost. "When we found out that they were directly sponsoring people who think homosexuality is an abomination last week, we spoke up."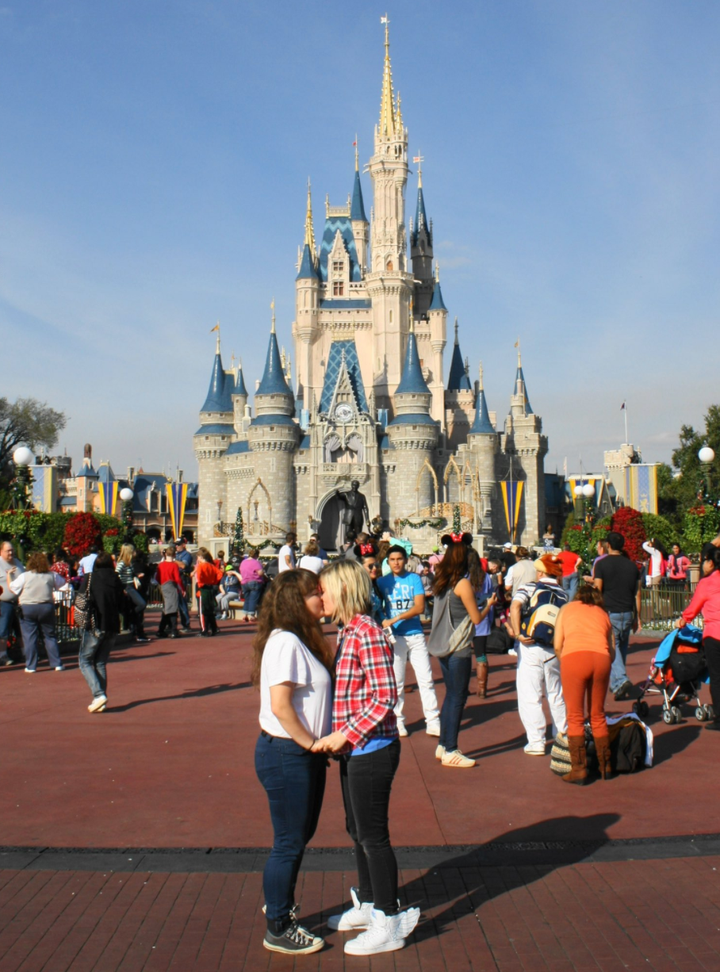 Plows, who's originally from New Zealand, cares so much because Disney is a huge part of her life; she and her wife held an "Up"-themed wedding and named their dog Loki after the character from Disney's Marvel franchise.
It took only one trip to the park at age 7 to convince her that one day she'd be "the manager of Disneyland." As an adult, she chose to move to Los Angeles in no small part because of its proximity to Disneyland.
When she was struggling to adjust to life in L.A., Plows' therapist recommended getting an annual pass; every time Plows would go to a session after a weekend at the park, the therapist noticed she seemed more at ease, almost buoyed by the experience until the next visit to Anaheim.
"I think going to the park resets my nervous system. It's a safe space," Plows said. "You go there and you can hold hands with your partner. I'm someone who's kind of afraid to do that in the real world because I never know what people are thinking."
"You never know if you're going to be judged or a victim of a hate crime in some way," Plows said. "At Disneyland, you feel like everyone who's there is in a safe environment and everyone is loving toward their neighbor."
When Plows found out about Disney's donation to "Don't Say Gay" bill proponents, she was so disappointed she unsubscribed from Disney+, the company's streaming service, and canceled her subscription to ESPN, which the company owns.
She and her wife were waiting until the COVID-19 situation improved before getting passes again, but she also put those plans on hold; divesting in Disney even on a personal level could pack a punch, she thought.
"Gay people are everywhere at Disneyland ― and not just on Gay Days," Plows said, referring to the multi-day unofficial "holiday" at the parks when LGBTQ+ Disney fans meet up.
"And these are gay people with, quite frankly, a lot of disposable income that we spend at Disney," she said. "We're one of the most loyal customer fan bases, so this recent controversy was a big misstep."
A week later, Plows said she was relieved by Chapek's change of course and announcement that the company would stop donations to political campaigns in the state of Florida. Moving forward, she'd prefer they stop contributing to either Republican or Democratic legislators if could avoid controversies like this again.
Benny Madsen, a gay actor in Los Angeles who used to work at the Disney Store and Disney's El Capitan Theater, also considers himself a "Disney adult."
But this recent political debacle ― along with less-than-satisfactory conditions at the park since the pandemic ― has him debating renewing his Magic Key this year. (The Magic Key is Disneyland's new reservation-based annual pass program in Anaheim. Since the program was introduced in August 2021, many Magic Key holders have complained that they've been blocked out in favor of daily-pass buyers.)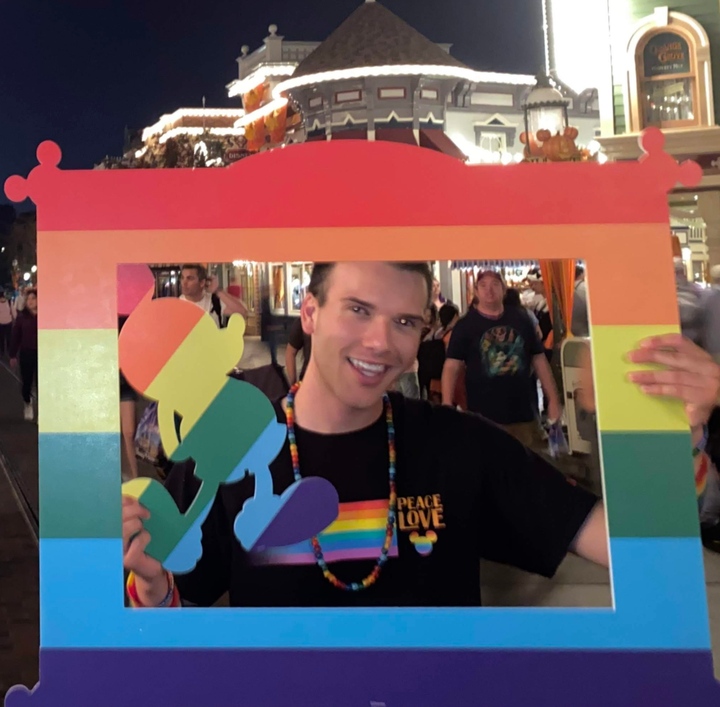 "What happened with Florida felt like a slap in the face to all of the many hardworking Cast Members who are part of the LGBTQIA+ community," he said. "The fact that they donated to the pushers of the bill says a lot about how little they care about their Cast Members in Florida."
Madsen also thinks it's a bit hypocritical that Disney won't offer more vocal support for the LGBTQ community or center queer stories, considering that they owe so much of their success to LGBTQ-identifying storytellers. (One viral Twitter thread posted last week laid out just how instrumental LGBTQ creators have been to the company, including Elton John, who co-wrote the "Lion King" soundtrack, and the late Howard Ashman, the brilliant lyricist behind "Beauty and the Beast" and "The Little Mermaid," who died of complications from AIDS in 1991.)
"Disney loves to rake in the cash from their queer creators, from Pride products in the parks and 'coded' queer characters in TV shows and movies, but when it comes to actually helping queer students growing up, they keep their mouth shut," Madsen said.
Others fans we spoke to said they weren't considering walking away from the parks, but they do plan to be more cognizant of Disney's political moves ― or the company's neutrality on issues they view as matters of human rights and equality, like the bill in Florida.
"I'm willing to assume Disney provided financial support to politicians behind the 'Don't Say Gay' bill before the bill existed, but if Disney knew those politicians were supporting the bill when they provided support, I'll be speaking up much louder than I have," said Tim Steele, a professional dog trainer in Orlando and an annual passholder at Walt Disney World.
As for his annual pass and general fandom, Steele told HuffPost he won't simply "quit Disney."
"I feel I have just as much right to the company as their current CEO, and I'll likely still be a fan long after he's gone. But as a lifelong fan, I'll absolutely press for them to do better than they've done lately."
Before You Go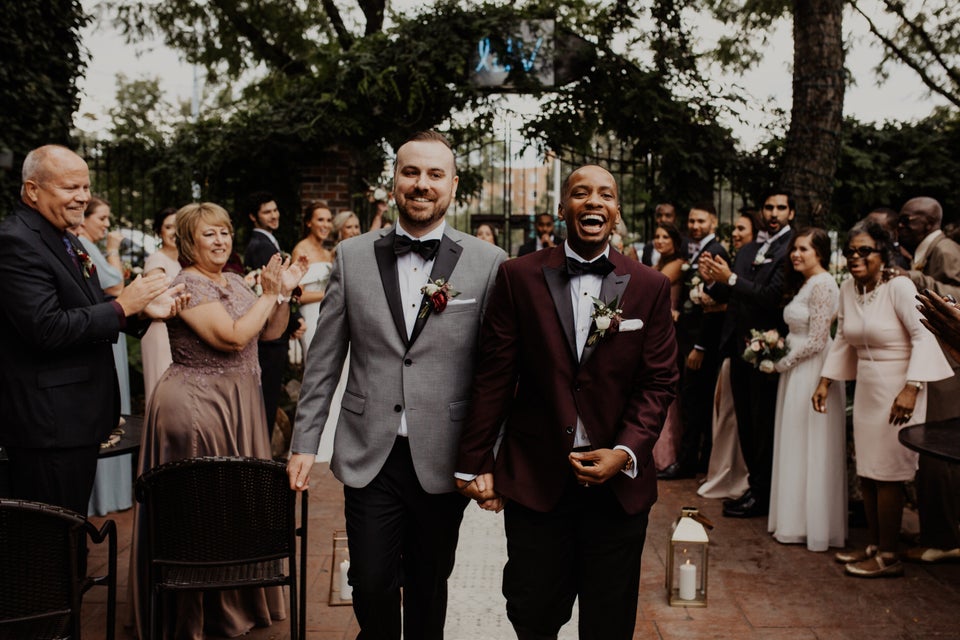 Emotional LGBTQ+ Wedding Photos