When Gregory Anderson decided to propose to his longtime boyfriend, Craig Moss, he knew he wanted the moment to be, in a word, enchanting. With that in mind, he said there was only one location that made absolutely perfect sense: Walt Disney World.
Shortly after they began dating, Anderson, 28, was thrilled to find out that Moss, 26, was just as "Disney obsessed" as him. The guys visited Walt Disney World for the first time as a couple in 2016 and had an "amazing" time, which inspired Anderson to brainstorm ways to pop the question when they returned to the Florida theme park last month.
Anderson's dream came true, and in a scene that could easily have been lifted from a Disney classic, he dropped to one knee before Moss in front of Cinderella Castle during the couple's Jan. 31 visit to the Magic Kingdom. With the help of a Disney cast member, Anderson live-streamed the proposal on Facebook so that friends and family could watch the moment back home. (Watch that video of the proposal above.)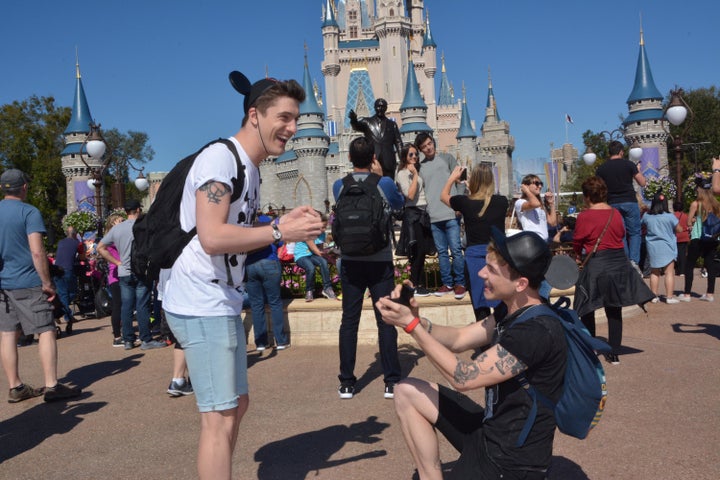 "Trying to decide where in Disney World I wanted to do it was difficult because I didn't want to be obvious and I kept changing my mind," Anderson told The Huffington Post. "His mum had known for ages, too, and she kept messaging throughout the holiday asking when I was going to do it ― so I had to lie to Craig about who I was on the phone to. It was all magically stressful!"
Disney-themed proposals, of course, are nothing new. Still, it's particularly heartwarming to see a same-sex couple reaffirm their love with the Magic Kingdom as their backdrop. With that in mind, Anderson hopes his proposal video, which currently has over 27,000 views after being posted on Gay Star News, Instinct Magazine and other media outlets, and photos inspire other LGBTQ people to pursue their own "happily ever after."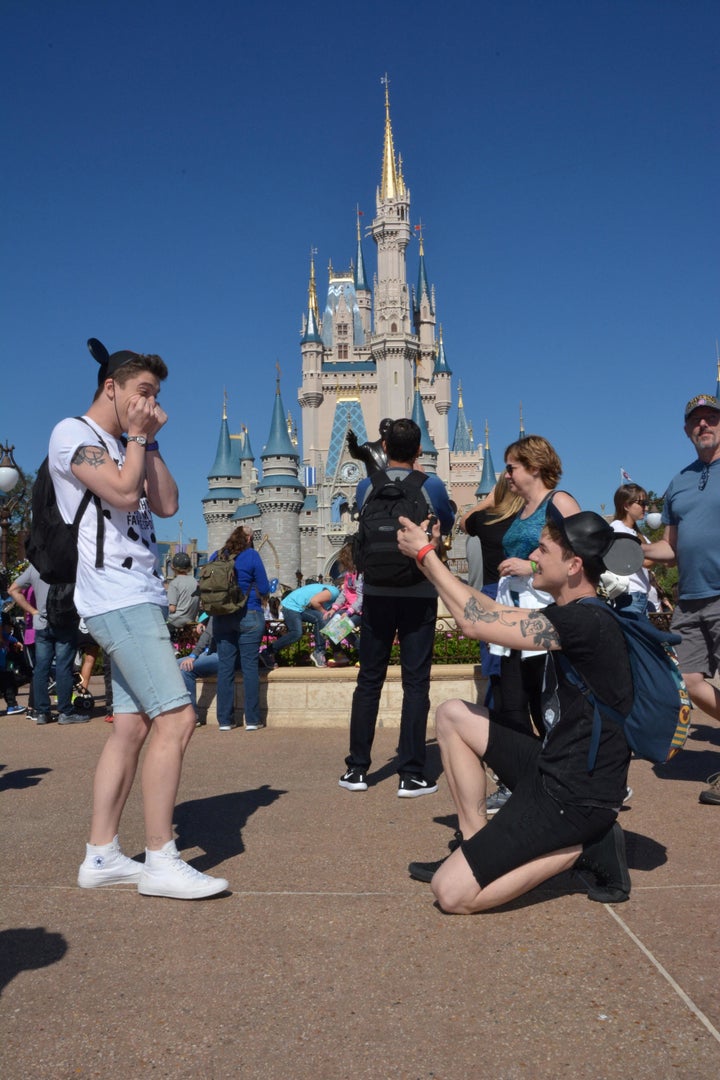 "I used to believe that every relationship had arguments and fights, that if you had a passion for something you should tone it down in order to be accepted by your LGBTQ peers," he said. "I was so unhappy trying to fit into the gay scene, that it took me a while to discover a whole new world of self-appreciation. If you're a Disney geek, embrace it! Someday you'll find someone just like you who you'll never fight or argue with and don't ever settle for less!"
The couple are planning a 2018 wedding. Naturally, the ceremony will include a few nods to Disney. "I have it in my head that it'll be set up just like the ballroom scene in 'Beauty and the Beast,' but that'll probably be a little over budget," Anderson quipped.