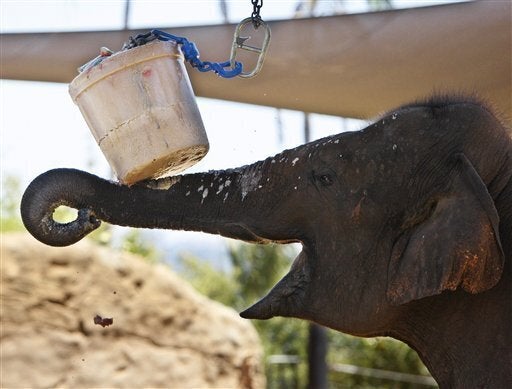 Ninio, a male elephant acquired by a Poland's Poznan Zoo who has demonstrated a total lack of interest in the ladies, is now drawing fire from Michal Grzes, a conservative politician angered over what he sees as a wasted investment. Here are Grzes' statements, from the Telegraph:
"We didn't pay 37 million zlotys (7.6 million pounds) for the largest elephant house in Europe to have a gay elephant live there," said Mr Grzes, who is from the right-wing opposition Law and Justice party.

"We were supposed to have a herd, but as Ninio prefers male friends over females how will he produce offspring?" said.
However, the zoo's director is defending Ninio from Grzes' haranguing by arguing that the recalcitrant elephant may be too young to decide his sexual orientation just yet. Ninio, being ten years-old, is four years short of elephant-sexual-maturity, according to the Telegraph.
Popular in the Community