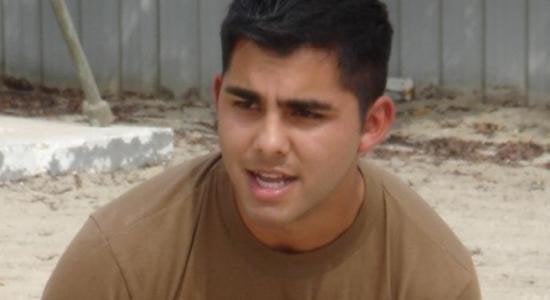 Last week, the Associated Press published a misleading story about anti-gay abuse I experienced while a sailor in the U.S. Navy in Bahrain. The abuse included an incident in which I was hog-tied to a chair and thrown into a kennel full of dog feces, and another in which I was forced to simulate oral sex with members of my unit while being videotaped. The pattern of abuse took place over a 28-month period and started when I was 18-years-old.
According to AP's story, the Navy admitted that it erred in accusing my unit commander, Michael Toussaint of abusing me on a systematic basis. AP reporter Kimberly Dozier wrote that, "The Navy has admitted that it was wrong when it accused dog handler Michael Toussaint of vicious hazing that singled out a gay sailor under his command at kennels in Bahrain."
But AP's conclusion is wrong. After an official Navy investigation found 93 instances of abuse and misconduct under Toussaint's command, many of which entailed violations of military law, a second investigation found flaws in the first investigation. There were indeed flaws in the first investigation. But that is not the same as concluding that Toussaint is innocent or that the Navy believes that it was wrong in accusing him.
To the contrary, the Navy has concluded that the evidence, including testimony from multiple members of my unit, shows that Toussaint is guilty of creating a highly intimidating climate of fear that involved systematic abuse. This is why, of course, it is forcing him to retire, and why The Honorable Juan Garcia, assistant Navy secretary for manpower and reserve affairs, issued a statement last week that Toussaint "did not meet the standards expected of senior enlisted leadership in our Navy."
Toussaint's new letter of censure from the Navy reads: "As the leading chief petty officer, you set a poor example by engaging in conduct that clearly violates the Navy's prohibitions against hazing and fraternization... As a result of your poor example, your subordinates emulated this behavior by taking part in their own hazing activities..."
AP's story included five factual errors:
AP reports that I claimed that my dog and I were soaked by a fire hose but that my base only had garden hoses. But I never claimed I was soaked by a fire hose, and did not have a dog at the time of this incident;
AP reports that it was tradition for all new dog handlers to be hosed down with a garden hose when they certified with their first dog. But this was not a tradition at my base, and I was not a dog handler when I was hosed down;
AP reports that it is not clear what prompted the investigation of Toussaint. But the record is clear that the investigation was prompted when one of Toussaint's subordinates (not me) complained to authorities about the climate of abuse;
AP reports that I confessed that Toussaint was not actually present during the videotaping of a forced act of sexual conduct. But I testified that Toussaint was there and that he coached the scenario;
AP reports that I requested to be hazed so that I could "feel like one of the guys." But I never asked to be hazed or in any way volunteered for any abuse.
The notion that I asked to be hazed is particularly egregious and painful. The unit's deputy commander, Jennifer Valdivia, wrote a note in which she said that I had requested to be hazed, and AP reported this as if it were fact. What AP failed to mention, however, is the context. When the Navy first investigated Toussaint for abuse, it investigated Valdivia as well because of her leadership position in the unit. Valdivia was my best friend, and she was just as intimidated by Toussaint as I was. But when she learned that the Navy was going to hold her responsible, she wrote the note accusing me of requesting to be hazed to save her own skin. Tragically, she committed suicide several days later.
The AP story called my integrity into question, but I was not given a chance to respond to its numerous, incorrect claims. AP released a brief version of its story titled "Navy admits wrong call on accusing dog handler" without even contacting me. Several hours later, just before distributing the longer version of the story that maligned my integrity, the reporter called me and asked for a reaction to the Navy's decision to force Toussaint to retire. She did not tell me that her story would include allegations about me, and did not give me any chance to correct the record. Rather, she relied on anonymous and unofficial sources, and apparently did not have access to or did not consult the full written record, including corroborating documents which I could have provided to her had she given me the chance.
I do want to acknowledge that I made one mistake during the investigation that AP did report correctly. Several years after leaving Bahrain, I told the lawyers that my unit there had included 32 dogs, when in fact it included 16. I probably confused the number of dog handlers (approximately 32) with the number of dogs (16). Again, however, AP did not discuss this incident with me, and used it as evidence to suggest that I am a dishonest person.
The bottom line is this. My commander created a climate of fear in my unit which included a pattern of abuse, much of it directed at me. I did not complain about any of this, but an investigation was launched nonetheless when another unit member notified authorities. Multiple members of my unit testified about the abuse during the investigation. Although there were flaws in that investigation, there was more than enough evidence for the Navy to censure my commander for hazing, to force him to retire and to state, officially, that he does not meet the standards expected of a leader. The U.S. Navy did the right thing in this case. AP did not.
Joseph Christopher Rocha is a U.S. Navy Veteran who earned the Navy and Marine Corps. Achievement Medal for his service as an explosive detection handler in Bahrain and the U.A.E. He is now a senior at the University of San Diego and plans to return to military service when the repeal of Don't Ask Don't Tell is fully implemented.
Related
Popular in the Community