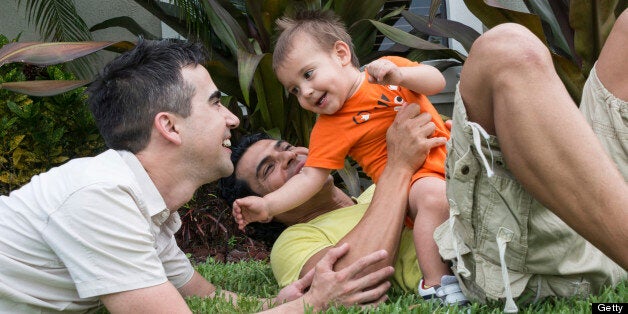 It's been a few weeks since the defeat of DOMA and since Prop 8 became history. The day those rulings came down, our household celebrated by dancing and attending a celebratory rally. That's right, the whole family— my partner, my 18- and 14-year-old daughters and myself. Now hold off on thinking that we forced them to go to the rally. In fact, this is what our family life is like. Two guys! Two teen girls! All out and proud and being a modern family! Yet, I would be remiss and dishonest if I said I knew this was how it was always going to be.
Back in September 2001, just four days after 9/11, if anyone had told me that some guy would sweep me off my feet, wrap my daughters in a warm embrace and that we would become a family, I would have spit out my extra-dirty Martini all over them. Yet that's exactly what happened (the family stuff, not the martini), and the kids (our daughters) are all right. Of course it took a lot of time and patience from my partner, my ex-wife and myself to make this party of five work.
Some media outlets will lead you to believe that children raised by gay parents will be defected in some way. On the contrary, kids raised in same-sex households are perfectly normal — however "normal" is defined for kids these days! With divorce rates skyrocketing and marriage success at an all-time low, I have to ask how a child raised in a same-sex household has any less of a chance of coming out on top than a kid raised by a heterosexual couple? As long as there are active, participating parents in their lives, they've got a great chance of turning out well. Can I get an "Amen"?
The truth is — at least from my experience with my daughters — that having two dads and a mom has been much better for them than some other possible scenarios, for example: a dead-beat dad or mom who says, "I can't deal with parenthood!" and leaves. Of course, not all heterosexual parents are losers who walk away from the responsibilities of child rearing, just as not all gay parents are irresponsible or set poor examples.
However, I don't know a parent who wouldn't say, if they were being totally honest, "This parenthood stuff is awful sometimes!" So how did I make it not awful as a parent, let alone as a newly-openly-gay parent, and ensure that my 9-month-old and 4.5-year-old turn out to be well-adjusted young ladies in society? I worked my butt off, respected my ex-wife and made room for my partner to become part of the parenthood trio. Of course, I also made sure that my daughters never felt undue pressure to support their gay dad unless they felt compelled to.
I know it may sound crazy to say, but I gave them the choice to love me as a gay dad even at that young age. In fact, I think I gave them more choices than most kids get who are the product of a heterosexual divorce. I don't believe I forced anything down their throats or brain-washed them. I was just honest and forthright in a manner that they could understand.
There were a few things I did to ensure my daughters' success, and only some of them were specific to being gay. Some of them are things that any parent should consider:
•I talked to teachers and daycare providers about my sexual orientation.
•I didn't make any part of my life a "gay agenda." I just lived as my authentic self.
•I hung out with the other kids' parents at school, not making a big deal about my sexual preference, but not hiding it either.
•I acted like a parent who had gone through a divorce because that's who I was. And I strove to make it more about my kids than about me.
Now, 12 years later, through numerous holidays, birthday parties, school events, and even in the midst of federal recognition of equal rights for same-sex couples, it's all paid off. My daughters are both academic wonders. They have cool friends. They have sleepovers. We are just like any other family; there are moments of drama, and moments of healing. And at the end of each and every day, we go to bed and we wake up to face new days, just being who we are. We are two gay dads and two open-minded, well-rounded, beautiful daughters who've had the unique opportunity to live outside the societal bubble of what a family is "supposed" to be.
No matter how you're raised, you'll still go through milestones like entering high school or college, just like my two beautiful daughters will at the end of this summer. They are happy, healthy, normal teens moving through life, enjoying the ins and outs of teen drama, and not the least bit affected by the fact that they have two dads and a mom. All that matters is that they're loved. After all, love is love!
Rick Clemons, The Coming Out Coach
Sign up for Rick's free video series, "Coming Out Without Coming Unglued!" Connect with Rick through his Coming Out & Life Coaching Newsletter. Want to chat with Rick? Schedule a complimentary session! Sessions are available via phone, Skype, and in person (in Los Angeles, California).
Follow Rick on Twitter at @ComingOutCoach.
More Stories On YourTango:
Expert Advice & Tips From Personal Development Coaches
Popular in the Community