As we celebrate Father's Day, it's interesting to compare three new films in which the father-son relationship is challenged by the revelation that either the father or his son is gay. Nothing strikes at the heart of machismo quite like finding out that the apple of your eye, the fruit of your loins, ain't quite the manly man you had always imagined.
The bottom line, however, is crystal clear. It's all about unconditional love. While a man may father many sons, he only has one biological father. Honoring your father isn't always easy, but it's an integral part of the father-son relationship.
In Hannah Hilliard's deliciously subversive short entitled Franswa Shari, Greg Logan (Callan McAuliffe) is a lanky 12-year-old Australian boy with an uncanny androgynous appeal. Although his father (John Batchelor) is an extremely competitive sports fan -- who is always betting his best friend, Mike Bishop (Steve Le Marquand), on the outcome of any contest -- the pressure Mal puts on his firstborn can be a bit overwhelming. The following trailer shows why.
When the Logan and Bishop families go on their annual vacation to Fiji, Greg doesn't feel any need to beat his younger brother in a swimming race. However, he's inherited his father's competitive streak. When he learns that the hotel is staging a special Miss Fiji contest for its vacationing children, he gets an idea about just how he can put an end to his father's constant pressure.
After making a prank call to the hotel's social director, he enters the contest as the mysterious Franswa Shari, a young beauty from Paris, France. After borrowing a sexy red bikini from his teenage friend, Cassie Bishop (Ivy Latimer), Greg makes a smashing debut, blows a kiss to his stunned and confused father, and easily wins the Miss Fiji contest.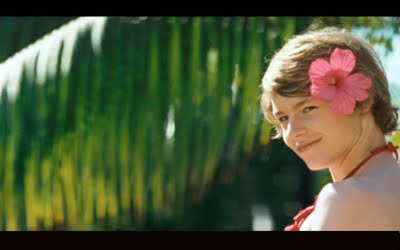 Callan McAuliffe as Franswa Shari

Directed by Katie Wolfe, Kawa is based on Witi Ihimaera's 1995 novel entitled Nights in the Gardens of Spain. While some might think the title references a piece of music written by Andalusian composer Manuel de Falla, it refers instead to the alibi an aging New Zealander used to give his mother whenever she asked where he was going at night. His mother may have thought that "The Gardens of Spain" was the name of a restaurant or nightclub but, in fact, it was her son's euphemism for a gay sauna.
Kawa (Calvin Tuteao) is a middle-aged man of Maori descent who has been living a lie for far too long. A successful businessman at an architectural firm headquartered in Auckland, he is married to a beautiful woman (Nathalie Bolt). Kawa is also the proud father of a hot-headed, athletic 16-year-old stud named Sebastian (Pana Hema-Taylor) and a sweet seven-year-old daughter named Miranda (Miriama-Jane Devantier) who has completely bought in to the magical mythology of Princesses.
While Kawa would seem to have it all (a beautiful home, the chance to inherit the family business), he is not a happy camper. Much to his confused wife's chagrin, he has been ducking out at night to spend time with his actor boyfriend, Chris (Dean O'Gorman), or cruise the steam room at a gay sauna in search of anonymous sex.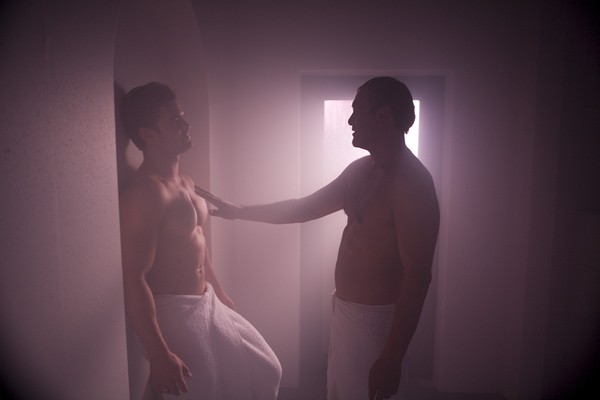 A handsome young man attracts the attention of Kawa (Calvin Tuteao) in a gay sauna

On the night that Kawa's father, Hamiora (George Henare), is being honored at a retirement party, Kawa (who moves easily within both the Maori and Pakeha worlds) is expected to take over the leadership of his community and his whanau (family). But he's been hiding a secret that he has told neither his parents nor his wife. No one at his office or in his family knows the real reason why Kawa has moved out of his house and taken an apartment in Auckland.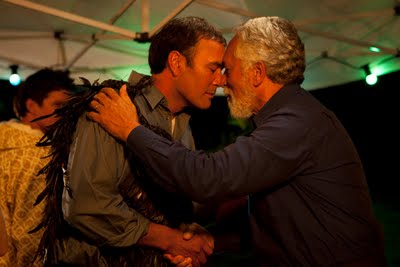 Kawa (Calvin Tuteao) and his father (George Henare) greet each other in the Maori tradition at Hamiora's retirement party

When Kawa's mother, Grace (Vicky Haughton), sees her son kissing Chris on the beach below her house, she tells him he is dead to her and insists that he leave her home. Unaware of what has just happened, Hamiora proudly bestows his Kahu huruhuru (a feathered cloak symbolic of leadership) on Kawa. Later that night, when Miranda hears her parents arguing, she flees to the beach and crawls out on a jetty made of rocks as the tide is rising.
One thing I loved about Kawa was the chance to hear a father and son conversing in the Maori language. The film also allows audiences to see Miranda practicing Maori chants and dances at school and the men at Hamiora's retirement party performing a Maori war chant to mark Kawa's ascension to a position of leadership in his community.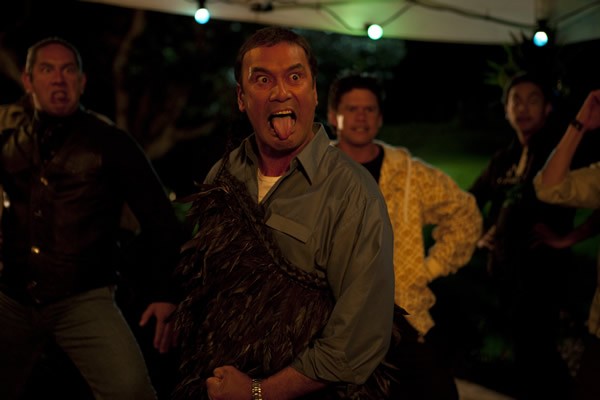 Kawa (Calvin Tuteao) joins in a Maori war chant

Kawa does an excellent job of depicting the anguish and sense of betrayal felt by Kawa's wife, Annabelle, upon learning that Kawa has not been cheating on her with another woman, but with a man. Fred Renata's spectacular cinematography captures some glorious New Zealand vistas. Here's the trailer:
Beginners is a story of lost loves, lost opportunities, and the struggle to get the most out of life while you can. It also features one of the most adorable Jack Russell terriers since Eddie stole the audience's heart on Frasier.
Writer/director Mike Mills takes great care to explain how he was inspired to make this film:
"Beginners started when my father came out of the closet. He was 75 years old and had been married to my mother for 45 years. His hunger to completely change his life was confusing, painful, very funny, and deeply inspiring. Change, honesty, and openness can happen when it seems least likely. Even as he passed away five years later to cancer, he was energized, reaching out; he wasn't in any way finished.

Having hidden from the gay world for his whole life he was, at 75, like a teenager: anxious and excited to join, naive about all the cues of gay culture, and very susceptible to the emotional upheavals of new love. While he was very shy as a young person, and he was deferring and self-sacrificing through his adult life, he exposed himself to risk over and over at the end -- he risked by coming out to me, my sisters and his friends; by trying to catch up with the contemporary gay social scene; and, most of all, by falling in love. While his illness came only five years later, he'd tire all of us out with all the things he wanted to do. I have tried to make a portrait of him that is filled with love but not sentimental or afraid to show his selfishness. I do not seek to create a replica of my father, but a version of his desires and problems that is real."
As the film careens between two love stories, the audience sees Oliver (Ewan McGregor) clumsily trying to start a relationship with an actress named Anna (Mélanie Laurent). Meanwhile, Oliver's father, Hal (Christopher Plummer), is trying to enjoy his last years as an openly gay senior who has acquired a handsome, young, and mildly neurotic boyfriend named Andy (Goran Višnjic). To no one's surprise, the glue between the two relationships is Arthur, the Jack Russell terrier whose adoring deep dark eyes seem to bring out Oliver's innermost thoughts. As Mills explains:
"The basic action is like a two-way street: Hal is teaching Oliver how to love Anna, and Oliver's love with Anna is showing him things he never understood about Hal. Hal's story is very modernist, the obstacles are big and external: 1950s conservatism, homophobia, old age, and cancer. Oliver and Anna are post-1960s children and their love story is truly contemporary. Their obstacles are internal; they are haunted by the contracts, compromises, and the hidden sadness of their parents. To Hal, hiding his real sexuality behind the mask of a traditional marriage was acceptable and necessary to combat the external obstacles of his historical moment. To Oliver, the negatives of this agreement -- its toll on love, and the abandoning of what's true for his parents -- are unbearable. Ultimately, Hal teaches Oliver how to undo the locks and lies that he himself created. The experience I'm most trying to communicate with Beginners is that of an adventure. The feeling of breaking something open."
Beginners doesn't hesitate to probe the vulnerabilities of its characters, particularly Oliver and Anna as they struggle to overcome their fears of intimacy and commitment. The portrayal of Andy as an emotionally wounded middle-aged gay man with obvious father issues is especially touching.
To no one's surprise, Christopher Plummer continues to shine as he heads into his eighties. His characterization of Hal is especially important for young gay men (who think their lives might be over at 30) to witness. Plummer's gay father seems to be soaking up oxygen with every breath of his new gay freedom to make sure he can compensate for the moment, much earlier in his life, in which he tells Oliver "Your mother took off her Jewish badge, and I took off my gay badge, and we got married." Here's the trailer:
Popular in the Community