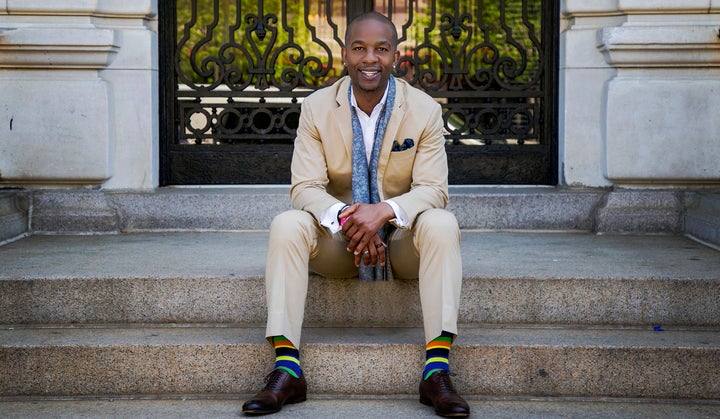 Wade Davis is not your typical retired professional football player.
The 40-year-old played in the NFL for three years, first as an undrafted free agent for the Tennessee Titans and later in the NFL's Europe League. After short stints in training camps for the Seattle Seahawks and Washington, D.C.'s, NFL team, Davis retired in 2003 due to a leg injury.
For his entire professional sports career, Davis carried around a heavy secret: He's gay.
"It was moments of heaven and then moments of hell, and those moments could flip-flop from one second to the other," Davis told HuffPost of his time as an NFL player. "I could be out on the football field at practice making a really beautiful play, and then I'd go watch myself on film and think how gay I look. It was tragic."
It wasn't until 2012 that he publicly came out, and his world began to change. Now, Davis is an outspoken advocate on LGBTQ issues and women's rights.
"The amount of privilege that being an NFL player gives you is in-fucking-measurable," Davis said.
Davis is definitely using that privilege. He's now the NFL's first inclusion consultant, dealing with issues like racism, sexism and homophobia in sports. He's also the Director of Professional Sports Outreach for You Can Play, an organization that promotes equality for LGBTQ athletes. In addition, Davis is a UN Women Champion for Innovation, as part of their Global Innovation Coalition for Change, and regularly advises Google and other Fortune 500 companies to create more inclusive work environments.
To celebrate LGBTQ Pride Month in June, HuffPost spoke with Davis about his journey from closeted gay athlete in America's most beloved sport to front-and-center social justice activist.
What inspired you to become an activist in the LGBTQ community?
Me being a gay man wasn't the spark. It was actually working at this LGBTQ youth center, which was my first job in the activist space. I had never met a 14-year-old trans woman who was living in her truth and going through a transition. I was blinded by that type of courage. Also, someone gave me my first feminist book, it was bell hooks' Feminist Theory: From Margin to Center. I had to read it multiple times in order to get it. Once I realized that the root of homophobia was sexism, everything else just made perfect sense.
Can you talk to me more about the notion that homophobia is rooted in sexism?
When people think about being LGBT, their first thought is gay white men because of the patriarchy and racism. When you talk to people about LGBTQ equality, what they really start thinking about is the act of sex that we engage in. It's almost always rooted in sexual acts. When you talk to heterosexual men, especially, that's all that they can think about. And when they use language like "faggot" or "bitch" or "pussy," what they're saying is: "You're doing things that men don't do. You're doing things that women do."
What they have located is that you may look like a man, but your actions are those that women do. Therefore, you are less than me as a man because you're acting like a woman.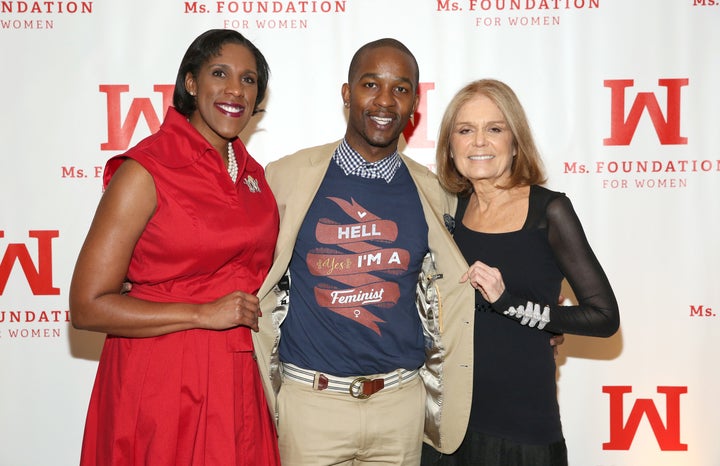 What was that like being a closeted gay man in the NFL?
It was one of the greatest times in my life and it was also one of the most traumatic. I was doing this thing that I had dreamed about doing my whole life and I was doing it decently well. I was living out a childhood dream. But at the same time I was also intentionally trying to kill and destroy a part of myself. It was like being schizophrenic.
The other aspect of my NFL experience I wish more people understood is that I wasn't not out because of the NFL. I wasn't not out because of college, I wasn't not out because of football. I was not out because of what the world had conditioned me to believe about gay people. I didn't really even understand like what it meant to be gay. I didn't understand that I could have a future.
I didn't have the skill set to deal with being gay when I was in high school, when I was in college, and when I was in the pros. So by that point in my life, I had made a decision that there was no way in hell I was going to risk my dream on something that I really didn't understand.
What advice would you give to either NFL players or other athletes who are currently closeted?
I have two pieces of advice. One is to develop a practice of self-love. We consistently tell young people they should love themselves, but we never give them the tools to do that. What is a practice that you do every single day to believe that you are worthy of being loved? Find out what your practice is. It could be reading books that tell stories of LGBTQ characters. It could be meditation. Whatever it is, you gotta have that practice that you do every day that counteracts all of the negative narratives that exist about LGBTQ folks. Because, regardless of what anyone says, we still don't put value on being LGBTQ.
The second thing is to find people or even just one person who you can be more of yourself with. Because there's nothing more dangerous than living inside of your own head, especially when all of the messaging is telling you that you ain't shit and you don't have any value.
Your identity exists at a lot of intersections. You're a gay black man who's also an elite athlete. Obviously, you're much more than just those things, but I'm curious: What's that been like for you?
Because I'm a male-identified person and my gender performance matches what society says is acceptable, I have way more privilege than you can imagine.
I know the power and the privilege that I have, and my responsibility is to give that shit up as often as I can. When someone says, "Wade, you're gay but you ain't no faggot." I have a responsibility to help a person unpack that.
I have a responsibility to talk to gay men, specifically, and tell them they need to identify as feminists and do the work of feminism. Because what we're actually fighting against as far as homophobia, is deeply rooted misogyny. I have a responsibility to engage men in conversation and make sure that they know that everything I have learned I read it in a book written by women.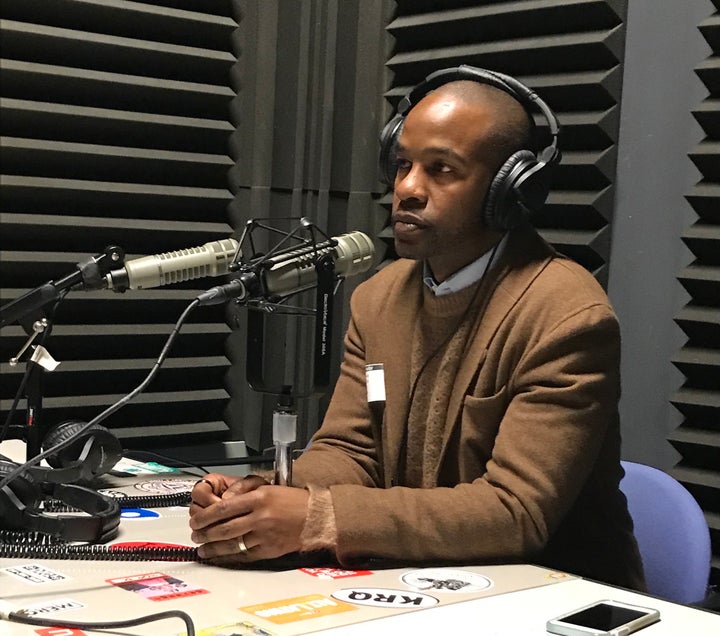 What does pride mean to you in 2018?
In this moment, pride means that we're in a space where I hope that the LGBTQ community is realizing that we must center those of us who are the most marginalized. And that means queer women of color.
HuffPost's theme for Pride this year is "The Future Is Queer." What does a queer future look like to you?
To me, a queer future looks like not having to come out to anyone. I take a lot of flights and there are times when I'm on an airplane and I'm sitting by someone and they're talking about their significant other and they're framing it in a heterosexual way. Then they ask me, do I have a partner, or actually do I have a wife is typically the words. In those moments, I have to reckon with how open or how visible do I want my queerness to be.
A queer future means that I don't feel any type of trepidation about whether I do or don't disclose, that the person who's sitting asking the question doesn't assume anything about me because of how I'm showing up in the moment.
What advice would you give to young queer people who may feel powerless under this current administration?
If they feel powerless during this current administration I would tell them to align themselves with the women's movement. Regardless of your gender identity, your sexual orientation ― the work of making the world a better space always starts with women. And if you align yourself with marginalized women, immigrant women, women of color, you will find a community that knows what solidarity looks like, feels like, smells like, tastes like, and you will find a place for yourself.
This interview has been edited and condensed.
For LGBTQ Pride 2018, HuffPost is highlighting 30 different cultural influencers who have shifted the narrative when it comes to queer issues and whose work has contributed to building a more inclusive and equitable future for us all.
#TheFutureIsQueer is HuffPost's monthlong celebration of queerness, not just as an identity but as action in the world. Find all of our Pride Month coverage here.
Support HuffPost
Every Voice Matters
Popular in the Community