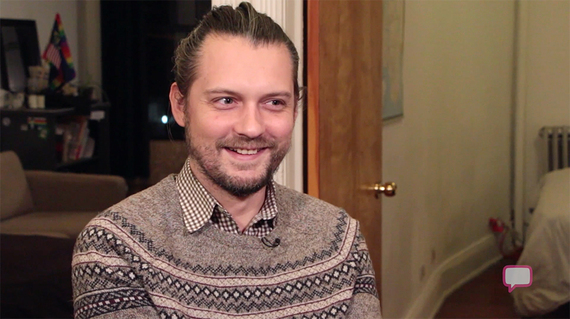 I'm From Driftwood is a 501(c)(3) nonprofit archive for lesbian, gay, bisexual, transgender and queer stories. New stories are posted on the site every Wednesday.
Troy Hallisey joined a fraternity in college and was immediately drawn to one of his frat brothers, Henry. Both were closeted and after Troy graduated, they lost touch. But on one fateful day years later, they reconnected at a random gay bar outside of town. Troy recalls:
I turned around to look at the staircase, and there he was just standing there and there was this spotlight lighting him up, lighting up the patio, but it was lighting him up. He saw me and looked at me and said, "Brother Troy."

His friend Tia said, "Are you gay?"

And he answered for me, "Yes, he's very, very gay."

I think I replied something to the extent of, "Oh, it takes one to know one."
Troy and Henry had their first date just a couple days later. Their relationship would soon encounter a significant challenge, though, as Henry struggled with a drug addiction:

Just one day I had enough, and I was like, 'You know what, Henry, we're done. This is it.'

And I broke up with him. He ended up in rehab after that, and it turned out to be a really positive thing, and I would go rehab and visit him once a week, and became an active part in his recovery.
Through the recovery and a commitment to create a "lasting lifelong friendship", Troy and Henry ended up getting married and have been together for more than 10 years.
Calling all HuffPost superfans!
Sign up for membership to become a founding member and help shape HuffPost's next chapter