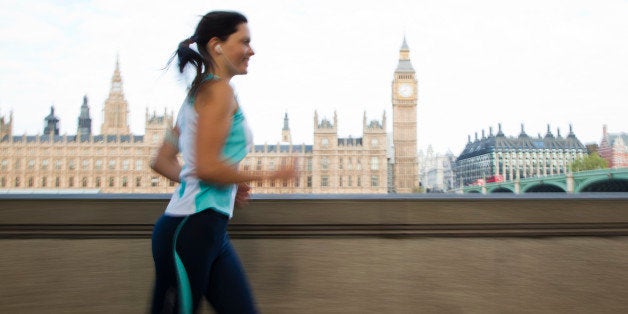 Last year, I was honoured to be invited to the White House to see President Obama receiving and thanking Team USA's athletes who had recently returned, triumphant, from the Olympic Games in London. As they spoke of their experiences, it was a remarkable moment when I felt the close relationship between the UK and the USA in my heart. I too had just returned from London, and I had rarely felt so proud of my hometown. The enthusiasm with which the diverse people of London embraced both the Olympic and Paralympic Games in 2012 was an inspiration. The city was sparkling with brilliant sports spirit, great achievements in infrastructure, beautiful new sports facilities to enable every athlete to perform their best, and above all, a fantastic welcoming embrace from Londoners for the athletes and spectators visiting from all over the world. Everyone was clutching tickets for the Games, and grinning. I loved being a part of it. Both in Britain and then in the U.S., everyone I spoke to had the same feeling: London 2012 was a triumph.
My personal pride for London reached an even greater high when our equal marriage legislation passed earlier this year, enabling Layla and me to soon convert our civil partnership to ordinary marriage. With equality high on the agenda, Britain is becoming a better and better place to be an LGBT person. And yet, I couldn't help noting it was disconcerting that only about 23 of the thousands of Olympic athletes in 2012 were publicly known to be gay. It's well documented that high profile sports is a difficult place to be publicly gay, and therefore to find LGBT role models. But these are role models are important. When U.S. basketball star Jason Collins came out as gay this year, it changed a lot of perceptions and gave people a new perspective on diversity and equality. We saw the same effect when the UK's Gareth Thomas came out in 2009, amazingly the first openly gay professional athlete in a team sport in the world. It feels like the world needs more Jasons and Gareths.
And this is one of the reasons the Gay Games is so important. It's an international sporting and cultural event, a celebration of diversity and achievement, and human rights. It is also a platform for creating and celebrating new sporting heroes who can become role models for us all. I have heard a lot about the Gay Games recently, because next year they are being hosted in the United States, in Cleveland, Ohio. I can't wait to attend.
Since their beginnings in 1982, the Gay Games has been the world's largest LGBT sporting event. Like the Olympics, the Gay Games takes place every four years, and so far has visited San Francisco, Vancouver, New York, Amsterdam, Sydney, Chicago and Cologne. At the last event, 70 countries were represented, including some with legislation that compromises the rights of the gay, lesbian, bisexual and transgender athletes competing for their countries. The Gay Games champions equality -- and anyone can participate. This is why I have a dream: the Gay Games, London, 2018. It's also my Government's dream.
This weekend in Cleveland, a decision is about to be made: which city will host the next Gay Games, in 2018. London is a contender, on the final shortlist.
At a country level, what could be more appropriate and more meaningful than picking up the baton from our close friends, the United States. And at a personal level, it would mean a great deal to me to see the Gay Games brought from the United States, my beloved current home, to London, my beloved hometown, a city that successfully embraces both equality and fantastic large scale global sporting and cultural events. London would be a wonderful choice for the Gay Games 2018, bringing fantastic benefits to participants, spectators, and to the people who live there.
London has never been so simultaneously ready and able to embrace and absolutely excel at hosting a huge, diverse sports and cultural event that showcases LGBT champions and creates new sporting heroes. With our landmark equal marriage legislation about to come into force, wonderful new sporting facilities, our extensive cultural facilities, our active support of LGBT rights as human rights around the world, and our recent legacy of hosting truly outstanding Olympic and Paralympic Games, London, is perfectly placed to host the most accessible, inclusive, and inspiring Gay Games yet.
Gay Games Committee, I hope you will choose London as the right choice for the Gay Games 2018. We will make you proud. And you will make us proud.
REAL LIFE. REAL NEWS. REAL VOICES.
Help us tell more of the stories that matter from voices that too often remain unheard.