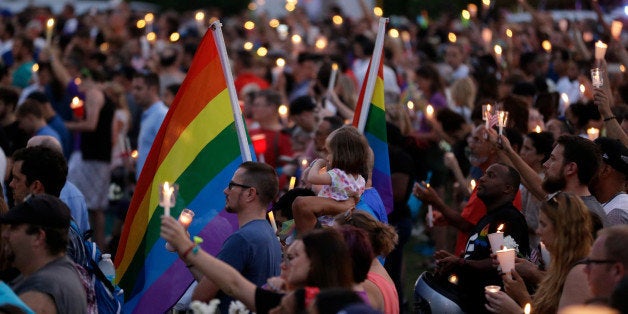 Unlike the gunman at Pulse, a gay nightclub in Orlando, the man who shot me didn't target me because of my sexual orientation. He was aiming for a woman who was pregnant with another man's baby. He shot her twice in the leg and kept shooting but missed her head. The stray bullet, however, hit me in the chest. I woke up from a coma four days later.
It pains me to think about the more than 50 people lucky enough to survive the massacre in Orlando that killed 49 people. I'm grateful they're alive, but I also know they have a long uphill battle ahead to recover physically, emotionally and financially. I have walked in their shoes.
Shortly after the hospital released me, I received a six-figure bill for my two-week stay. It took me seven months of physical therapy just to walk without pain. Three years later, only now do I feel emotionally stable enough to be on a crowded street without anxiety.
It hurts even more to think about the loved ones of the 49 victims who have fallen. Often, people think of a gun violence survivor as someone like myself who was directly hit by a bullet. But the grief of losing someone you love is often overlooked. I felt this personally when I discovered one of my first responders, a local barber, was shot and killed months after my own shooting. It was as if my scars had opened up again. When the shooter opened fire at Pulse, he shot at my LGBTQIA family. He was aiming for every one of us. I felt every bullet.
Fearing for her safety and the safety of her children, the pregnant woman who was shot with me decided not to testify against the gunman who injured us both. She was understandably afraid he would come after us again if she spoke out. As a result, the gunman took a plea bargain and my shooter is now out on parole, after serving a year and a half in jail.
My shooter may be out free, but at least as a convicted felon he won't be able to buy a gun legally. The same cannot be said about a suspected terrorist. Under current federal law, people on terror watch lists can legally buy guns. Think about that. People who are considered too dangerous to board a plane are legally allowed to buy a semi-automatic weapon. This is absurd and an insult to every American everywhere.
A strange thing happened after the events in Orlando. Gun violence prevention activists across America planned events around pride marches. LGBTQIA Americans donated their time, money and even their blood (those who were allowed to) in order to help the victims of this hateful crime. The two worlds I lived in coalesced. Both communities rose to the challenge and offered support to one another. But we can't continue to do it alone.
Gun violence survivors and the LGBTQIA community have always relied on the support of allies outside of our communities. Growing up as a gay teen, my high school's Gay/Straight Alliance helped shape me into the person I have become. Moms Demand Action for Gun Sense in America, a group created on Facebook after the Sandy Hook shooting, provided moral support during my recovery from my shooting.
Gun violence is a uniquely American problem, and can strike any of us at any time. It struck a black church in South Carolina almost a year ago. It struck a women's health clinic in Colorado last fall. It struck an LGBTQIA nightclub in Florida this week.
Even a single innocent victim, no matter their race, gender, religion or sexual orientation, is one too many. Gun violence kills more than 90 Americans and injures hundreds more each day. It means the world to an entire family -- nay, an entire community -- if that number is even reduced by one.
If you do pray, pray out loud. But also, please continue to demand our lawmakers act to keep guns out of dangerous hands. On Monday, a majority of U.S. Senators voted in lock step with the NRA against closing loopholes that allow dangerous people -- including suspected terrorists - to buy guns in this country. And now it's time to hold those Senators accountable at the ballot box by replacing them with elected officials who will stand with the American people. We need leaders, not gun lobby lapdogs. We, as a people united, must ally ourselves against this gun violence epidemic. It's the only way forward.
Popular in the Community