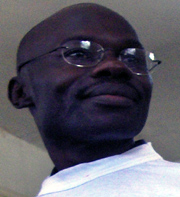 Yesterday, David Kato, a gay man in Uganda, was reportedly bludgeoned to death in his own home by a neighbor with a hammer.
David had spoken out for gay rights, was one of the high profile plaintiffs who successfully sued Uganda's Rolling Stone for publishing a list of 100 "homos" and calling for their death. He lost his life because he publicly stood up for equality. But no one in the government of Uganda has taken the same risk as David.
The U.S. government refuses to stand up for people like David too -- to take action forcing Uganda to protect human rights.
Just miles away from where David was murdered, Jerry P. Lanier, U.S. ambassador to Uganda, lives quietly. He might know, by now, about the violent death David faced, but he has not spoken out in David's defense, he has not acted in David's honor.
The time for negotiation and polite public statements is over.
The United States needs to force the Ugandan government to stand up for its LGBT citizens. It needs to demand that government officials publicly support LGBT rights, abandon their pursuit of the gay death penalty bill, fully investigate David's murder and arrest the culprit.
If the Ugandan government refuses, the U.S. needs to cut all foreign aid to Uganda.
The violent pursuit of minorities is a familiar theme in world history. Too many times, the international community fails to act effectively to prevent violence, hate and genocide. Today, we are given the chance to avoid making the same mistake again.
The horror of David's last minutes of life must be matched by the effectiveness of our response. Only direct action by the U.S. government can change the fate of the thousands of Ugandan citizens under threat every day.
We must accept nothing less.
* For those in Chicago - the chairman of Sexual Minorities Uganda is visiting the U.S. and will be speaking on January 31,st 2011Presented by the Ellen Stone Belic Institute for the Study of Women and Gender in the Arts and Media, January 31, 2011. 6:00pmFerguson Lecture Hall, 600 S. Michigan Avenue
Related
Popular in the Community