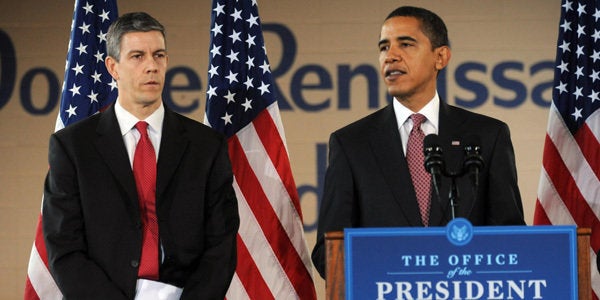 David Brody of CBNNews has a post up describing on possible point of contention between religious conservatives and President-elect Barack Obama's pick for the Department of Education, Arne Duncan: his support for Pride Campus, a proposal for a Chicago public school that would be "deliberately welcoming of lesbian, gay, bisexual and transgender (LGBT) teens." Pride Campus, which was a concept designed by the faculty of Chicago's Social Justice High School, was intended to address the shortfall in performance among LGBT teens by offering an environment that would not be...you know, hostile to their existence.
A 2005 [Chicago Public Schools] survey found that lesbian, gay and bisexual students were twice as likely as straight students to be threatened at school, two to four times more likely to report being treated for an injury resulting from a fight and two to four times more likely to be the victim of sexual assault. The survey also found that lesbian, gay and bisexual teens were three to four times more likely than straight students to report attempting suicide. The survey did not collect data on transgender youth.
The overarching concept of the initiative is something that Brody either doesn't care about or doesn't believe, because he's happy to gloss over it:
Look, I know how this will be spun. Some will say this isn't really a "gay high school". It's really more a safe place and an educational environment that will cater towards gay and lesbians. But folks, let's be real here. It's a high school for gay students. Plain and simple.
More to the point, Brody believes that the matter could prove to be something that "Republican Senators" might "raise a fuss about this during his confirmation hearing."
While the idea of a gay high school may be troubling for some, the problem for Obama is that a pick like this doesn't portray him in such a centrist way. It gives the impression that he's nominating wild liberals to his Cabinet. Arne Duncan may have the total package and be a great Education secretary but with pushing ideas like a gay high school will make social conservatives wonder what he will be pushing next.
Of course, Brody makes it seem as if the "gay high school" is an idea that Duncan is actively backing and might push for in the future. He very carefully avoids mention of the fact that the idea was watered-down considerably after a meeting between Duncan and evangelical ministers.
Popular in the Community