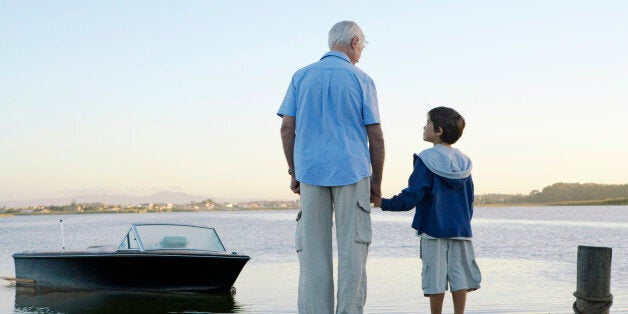 Simple living. Simple faith. Simple love. These are the life lessons my grandfather taught me about judgment, acceptance, and unconditional love.
Hi Grandpa. It's me Rick. Your eldest grandchild. Yeah, I'm still alive (50 now), raising your beautiful granddaughters (18 and 14), being an entrepreneur running my own business (just like you, even though that word didn't exist when you started farming), and yes, I'm still gay. Of course, why would that have changed? It's a part of my DNA. Even though you may have harbored some uncomfortable feelings about my sexuality, you never made bones about it. That's just not your nature. "To judge lest you be judged" was always one of your life philosophies, and I'm thankful for that. I'm thankful for how you treated me with love, acceptance and kindness.
It's now been five years since Mom, the hospice nurse, and I stood by your bed as your last breath quietly escaped from your weathered body. I'd never experienced someone's departure from this human experience until that day. As strange as this may sound, I feel so blessed to have experienced this tender moment of realness, of vulnerability, with one of the greatest teachers in my life — you. I still recall the first time I met you and Grandma. You had taken the Greyhound bus from Rifle, Colorado to St. Helena, California to see us, and what I remember most is your wrinkled face and big hands. The same exact memory, so very vivid, was etched in my mind as I held your left hand, looking into your face, as you departed us and this world.
There are times I wished I'd asked more questions, given that you lived through the Great Depression, World Wars I and II, an impressive string of presidents, the crazy '60s, '70s, Y2K, and the dawning of the age of technology. I always found it strange that you and Grandma never had a TV. Of course, that oddity was offset by the devotion you had to listening to Paul Harvey on the radio, every day at 12 pm sharp. I even remember the first time you flew on an airplane; I believe it was to my wedding. You sure loved my wife, and never stopped treating her like a granddaughter, even after we divorced because I was finally man enough to admit I was gay.
I know our divorce and my coming out caused you pain, yet, you never once uttered a harsh word or condemning opinion in regards to either event. Why would you? You were, in the truest senses of the words, a man of God and the salt of the earth. I only remember one time, in all your years, that I ever heard you utter a harsh word to anyone, and quite honestly, he deserved it. Your quiet observance of life, the wisdom to learn from everyone and everything around you, not only inspired you to become a patented inventor; it kept you firmly planted in your faith, knowing that God's hand was masterfully at work in every way, in everyday, in everyone's life.
You were tested many times by your children, grandchildren, farm, and admit it: even Grandma got you rankled more than a few times. Yet through out all those trials, your non-judgmental compassion, and "let the "Lord take the wheel" mentality never faltered. I know your humble, quiet, unconditional love for me and for everyone else in your life stood as the foundation of your being. You let God do the work that only he can do... judging each of us for the lives we live. You didn't merely say, "It's not my place to judge;" you lived it.
Now, let's be honest. I know my coming out and the fact that I'm gay wasn't in alignment with your beliefs. But I've got to say, Grandpa, you're one hell of a guy. Not once, not even that first time I brought George to meet you when we came to Gay Ski Week in Aspen, did you ever turn me away, pull out your bible to preach, or say, "I can't accept you and your lifestyle Rick." You always let people be people because, I believe, even though we never had a discussion about my sexual orientation, you believed everyone has the right to be their authentic self — to the best of their ability. I have adopted that mentality in my own life, and I have you to thank for it.
Throughout the years, I also know it bothered you that I smoked and drank alcohol. Not because it was against your faith, but because your own simple, healthy lifestyle was proof positive that there was no reason to numb yourself from life as long as you had faith. Simple living was a cornerstone of your life (and a concept I think Martha Stewart actually stole from you. You did it best). You may have lived simply, but you were not simplistic. We're all thankful you were a wise businessman. Your eldest granddaughter, thanks to you, just started her first of four years of college, secure in the fact that she will graduate without educational debt hanging over her head. She also bought a sensible first car with the money you left her. Another lesson you taught us all about simple living: be practical.
Through all of these beautiful memories "Pappy," (both of my girls still call you that) the thing that stands out most to me is that you truly understood what it meant to accept. Accept people as they are, for who they are, and to love them unconditionally. It's no secret to me — Mom has been forthright in sharing how you felt — that you prayed for me and wished I'd chosen a different path for my life. However, I know that had we ever sat down man-to-man, and had conversations about my being gay, we would have done so like we always did; listening and hearing each other — a rare thing between human beings in this day and age.
Grandpa, it's once again the holiday season. Can you believe 2013 is winding down and 2014 is just around the corner? In this time of reflection, I felt compelled to write this letter to you, but also for my community and friends and readers. I'm a blogger now (kind of like a freelance writer or reporter), and get published on a national basis regularly. I'm proud of this fact, and wanted to be able to share it with you. And I want to reach someone, somewhere, even if it's just one person who doesn't believe they can ever accept their gay child, grandchild, husband, wife, son, daughter, brother, or sister. I want to show them, by your example, what pure, unconditional love really means.
Through all of our face-to-face and weekly phone chats, both of which I miss so deeply, I always experienced your unconditional love, understanding, and wisdom. I know you also got something big from those chats too. It puts a smile on my face thinking about how fascinated you were when I talked about the Internet, computers, designing websites, marketing, and building my own business; all of which were somewhat foreign concepts to you (except the building your own business and marketing). Of course, marketing for you was simply about being neighborly, charging a fair price, and delivering a quality product. It's kind of the same concept today, except we use lots of big ideas and plans so people can make money doing what you did so simply. And as for building a business, you built yours with blood, sweat and tears on a beautiful farm nestled on the banks of the Colorado River. I'm building mine with email, Facebook, Twitter, and online teleconferences. We'll need to have to have a virtual chat soon so I can explain all that stuff to you. I know you'll find it fascinating.
Grandpa, more than anything, I want to tell you that I miss you. I miss the lessons I learned each time I heard your gentle voice, or witnessed you deep in thought. I miss the moments of stacking hay, picking apricots, harvesting potatoes, cutting wood for the heater, and riding in your truck listening to the Country & Western radio station that Grandma didn't want you tuning into because "that type of music is sacrilegious." I miss that sweet grin that spread across your face when you asked, "Can I have some ice cream with my pie?" which always really meant, "I want more ice cream than pie." Hope you still have ice cream wherever you are now, and as much as you want.
In all honesty, the thing I miss most is the pride that lit up your eyes every time you were with your family. Even though we have no blood ties, since Mom and her brother were adopted, it never stopped you from loving her, or any of us, as if we were your own. I don't know if you know this, but in the gay community, pride is a symbol of strength, acceptance, and unconditional love. For those of us who come out of the closet, pride stands as a badge of honor symbolizing our own ability to tap into our deepest strength, accepting, and unconditionally loving ourselves for who we are — no judgment. Ironically, as I think about where I am in my life, helping people from all walks of life come out and accept themselves for who they are — gay, straight, young, old, male, female, rich, or poor — I can't help but feel you lit the path that led me here. You inspired me, with your examples of quiet determination, to find my true calling, just as you found yours. Thanks to you Grandpa, and the generous funds you blessed me with, I took time to become a professionally certified life coach, which, in it's simplest terms, means that I help people find themselves, their purpose and their passion so they can live happier, healthier, simpler lives.
Funny, how even at 50 years old, I still keep the Book Of Life open to the chapter that teaches me how to be non-judgmental, accepting, and to love unconditionally. I know it was you who first shared that chapter with me. It was you who modeled those powerful characteristics daily. It's you, wherever you are, who is still sharing those lessons.
Have a happy holiday season Grandpa. I'd send you some of your favorite dried fruits, but something tells me you're being well taken care of because of the fruits of your labor and love here on earth. Thank you for loving me as your gay grandson and for never wavering in your faith in God — a faith that taught you that everyone deserves unconditional love, and to love others as you would like to be.
Love, Your Grandson Rickey
Rick Clemons is a life changer, motivator, guide, mentor, and inspiring life coach for gay men who are ready to be the man they want to be, not the man they think their supposed to be. He's on a mission; guiding gay men to find their own voice, love deeply, work passionately, and live powerfully without regrets.
Rick's a Certified Professional Coach (CPC) who's been featured on The Ricki Lake Show, Huffington Post, YourTango.com and is a highly sought after radio show guest, blogger, author, and Sex Coach U Faculty Member. He resides in Riverside, Calif. with his partner of 12 years (whoa dude), two teenage daughters (whoa again dude), cats Herman and Lilly (sorry no dogs).
More Stories On YourTango:
Popular in the Community