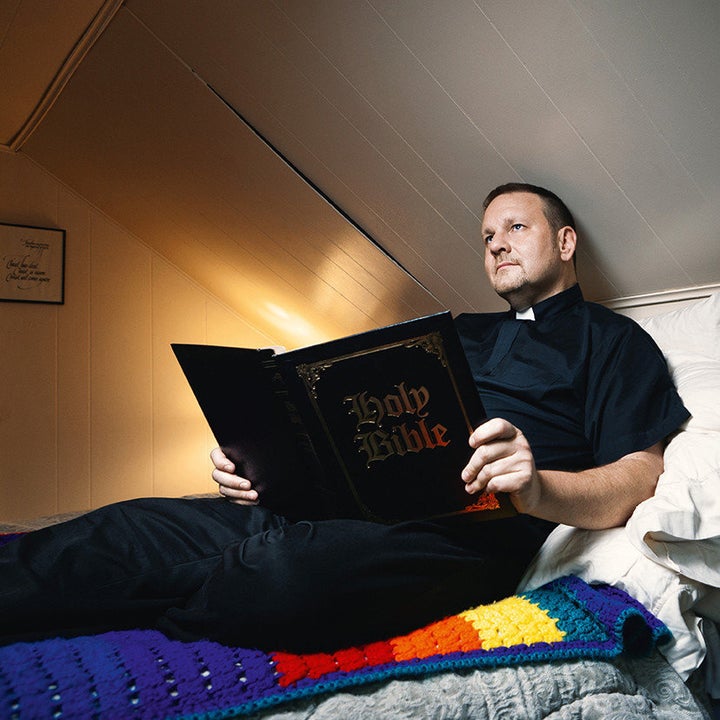 One night four years ago, I became obsessed by the idea that if I could meet a gay man, couple or family from every state, photograph them and tell their stories, I could make a book that would change hearts and minds.
There is a tendency to unjustly stereotype gay men, to buy into the discounted two-dimensional presentation of gay men in the media. I wanted to meet the real gay men of America: The fathers, brothers, sons and nice guys next door-who just happen to be gay. So, I went looking for "out" America men who are living their lives without second guessing, proud of who they are, happy with where they live and willing to talk about who they are, why and how they came out and how their sexuality does-and does not-define who they are.
I photographed men of every age, religion and race. Young men, seniors, Muslims, Jews, white and black, rich, poor, anonymous and familiar. I met men dealing with the universal issues of growing up, religion, violence, immigration, marriage, parenting, family, love-but as gay men. Varied, valiant and in many cases victorious, these beautiful men are bound together in Gay In America.
I photographed DADT repeal activist Dan Choi for the cover. He is an extraordinary gay soldier who helped right a wrong that was such a source for so much hatred, and in doing so, became a true hero. When I shot him in his uniform on that snow-covered street in Cambridge, I saw a man proud of all he is and all that he has accomplished. Like every other man in the book, he just happens to be gay. Period.
If I had realized growing up that there were so many options--that I didn't have to be this kind of gay or that kind of gay-had I been able to take comfort in knowing I was not alone in my feelings, it would have made a huge difference in how and when I accepted and learned to love myself.
With the current political and cultural climate in our country being what it is, every one of us needs to do what we can to make life better for our neighbors and, consequently, ourselves. I've become an unintentional activist with this project, as have the men in this book. If more people chose to take their love and do something good with it, we'd see real, positive and lasting change. I took my love for people, photography and travel and created a book that I hope will help America better understand what it means to be a gay man in America. I believe it is a book very much of our time and culture.
Today, the result of that epiphany four years ago, GAY IN AMERICA will be published by Welcome Books. Activist and Broadway producer Tom Kirdahy and his husband, the playwright Terrence McNally graciously wrote the brilliant introduction. 50 states. 140 gay men. 54,000 miles later. This is my story and most importantly, their stories. I love them all.
Reprinted with permission from Gay in America. Welcome Books. Copyright © 2011 Scott Pasfield
See below for images and stories from the book:
PHOTO GALLERY
Gay in America
Calling all HuffPost superfans!
Sign up for membership to become a founding member and help shape HuffPost's next chapter