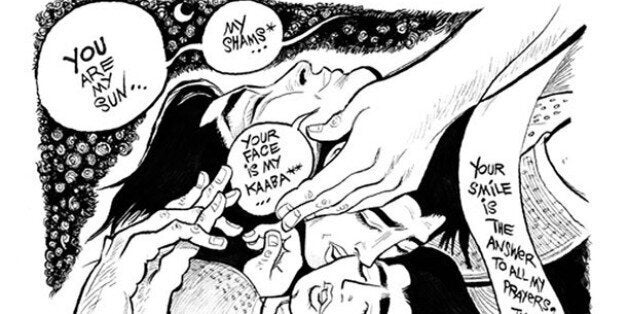 By Kevin Schumacher, OutRight's program coordinator for the Middle East and North Africa.
I will never forget the afternoon in June 2013 that I spent listening to Javad's* story in Toronto. As a human rights advocate, I have heard many horrific stories of persecution. As a gay man who was born in Iran, I am well aware that one's sexual orientation in Iran and elsewhere in the Middle East forces one to live under very precarious circumstances. Nothing prepared me for Javad's story, which haunts me still.
Javad, a gay man who fled his small town in Iran after his partner's father found out about their relationship, described an incident that occurred in March 2010. While shopping, he heard a loud bang. He rushed outside to witness a father shoot and kill his 22-year-old son on the busy street in broad daylight.
"I tried to figure out what happened but people pretended as if nothing happened, or that he (the father) did the right thing," Javad told me. "There was no regret, remorse or acknowledgement of this incident."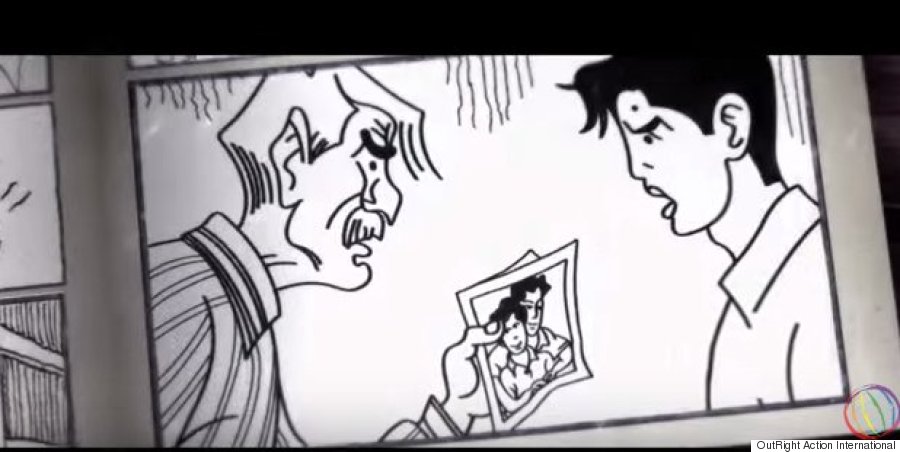 Comic from "Yousef and Farhad"
Javad, who would leave Iran three weeks after this incident, learned that the son had had an intimate relationship with another man that was captured on video and ended up in his father's hands.
"The main thing for families is to keep up appearance and protect their 'honor,' explains Javad. "So when they find out their child is queer, they disown them."
Sadly, Javad's account follows a familiar pattern. I've heard similar stories from the more than 100 gay men from Iran that I have interviewed in nearly a decade as an activist at OutRight Action International.
The stories they tell of persecution by family members -- banishment, violence, even imprisonment and torture in their own homes -- shock the conscience. Same-sex relations is a criminal offense in Iran. The penalties include jail, physical lashings, even the death penalty. Iranian attitudes are deeply homophobic.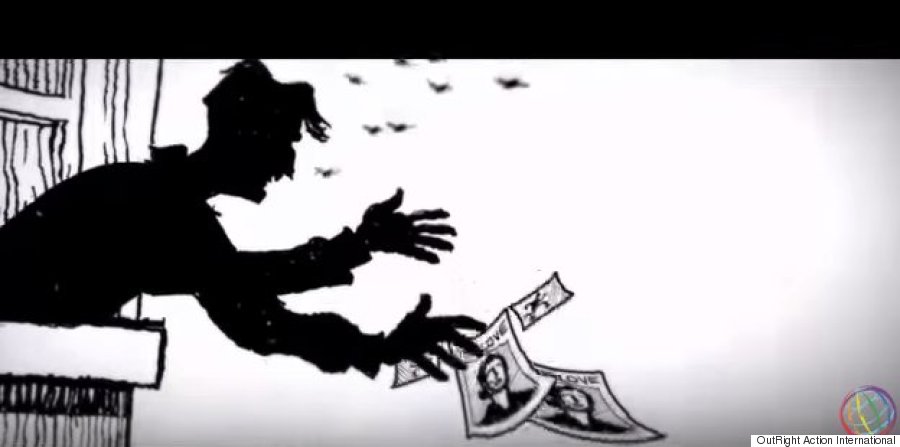 Comic from "Yousef and Farhad"
This situation has a tragic domino effect -- the loss of jobs and homelessness, for example, which impoverishes and diminishes people's lives despite their educational or professional attainment. Many flee, only to become destitute -- along with suffering emotional trauma from abuse -- in a foreign land.
I recall Bahman,* a gay man and an accountant by education, whom I interviewed in Turkey, in September 2012. After years of humiliation and abuse, Bahman was thrown out of his family's house after his father, whose business he worked for, discovered his involvement with another man. He moved to another city to try to start a new life, but because he lacked references, the only job he could find was delivering pizza. Even that menial job proved impossible. Customers complained about his "effeminate manner." He ended up as a dishwasher until he left for Turkey.
The situation for lesbians is equally as harsh within the family. If exposed, women have reported constant humiliation, physical abuse and forced marriages, leading to a life of sexual and economic servitude.
An OutRight forthcoming report describes the situation for 32-year-old Anna*, a lesbian whose parents forced her to marry a man who severely beat her. When she tried to run away, even her own family would not defend her. Ultimately, with help from friends, she managed to escape to Turkey.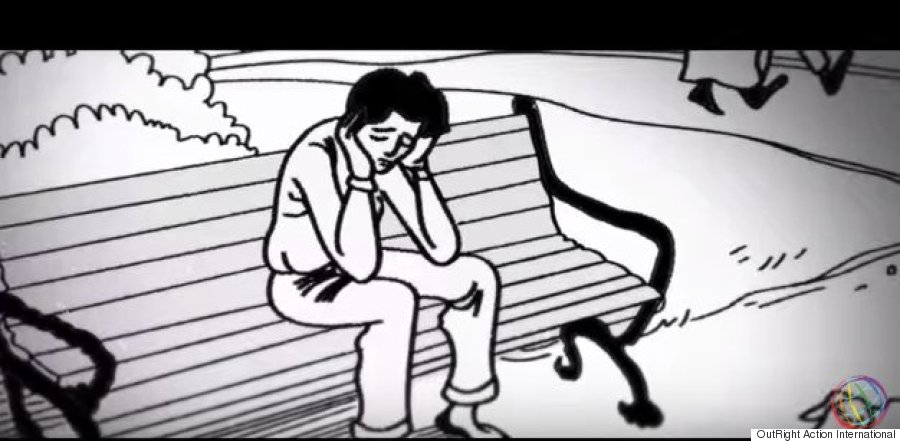 Comic from "Yousef and Farhad"
It is certainly not the case that every family in Iran disowns or abuses their gay, lesbian or transgender loved ones. I am also aware of stories of love and acceptance, but these are rather uncommon. We are trying to encourage wider acceptance and greater openness to discussion about sexual orientation and gender identity as part of basic human rights.
This is why we worked together with the writer Amir Soltani and the political cartoonist Khalil Bendib to create the graphic novel "Yousef and Farhad," about two men struggling for acceptance in Iran. We are distributing the story through our partners in Iran and to Iranians in the greater Iranian diaspora.
The government of Iran wants to keep homosexuality as a taboo subject. It even went so far as to fire a professor of sociology for opening classroom discussion about LGBT as a social issue.
We are seeing some evidence of changing attitudes, through our engagement with human rights partners in Iran. Last year, the former minister of culture admitted that despite the government's best efforts to keep this issue closed, Iranians are being exposed to new thinking and if asked now, some would view homosexuality as a "human rights issue."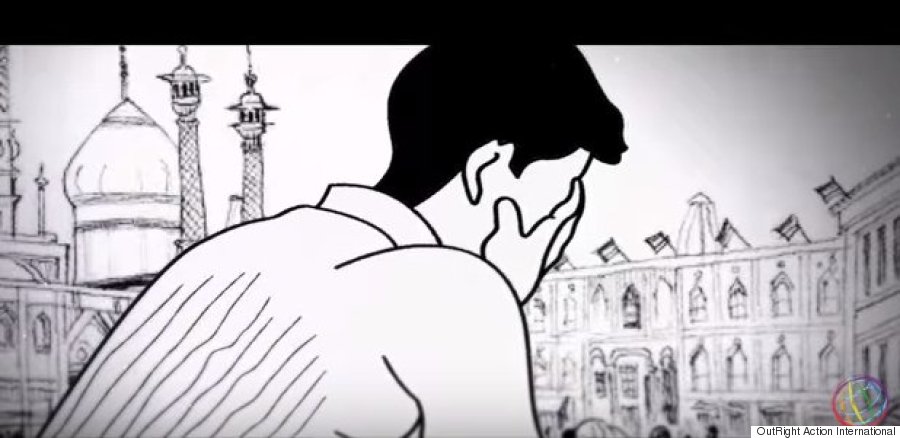 Comic from "Yousef and Farhad"
Because of this, we want to encourage greater open discussion of homosexuality, as a first step to changing hearts and minds.
It is why we speak out on Persian broadcasts from abroad that people in Iran listen to; why we serialized the "Yousef and Farhad" story in Farsi on Facebook, made the full novel available as a free download on our Farsi website and continue to bring people together for conversations about real conditions reflected in the novel.
But change is slow, despite the enormous courage of advocates who work at great risk to themselves.
It is our hope that a story like "Yousef and Farhad" has the capacity to open families to a new way of seeing their LGBT loved ones.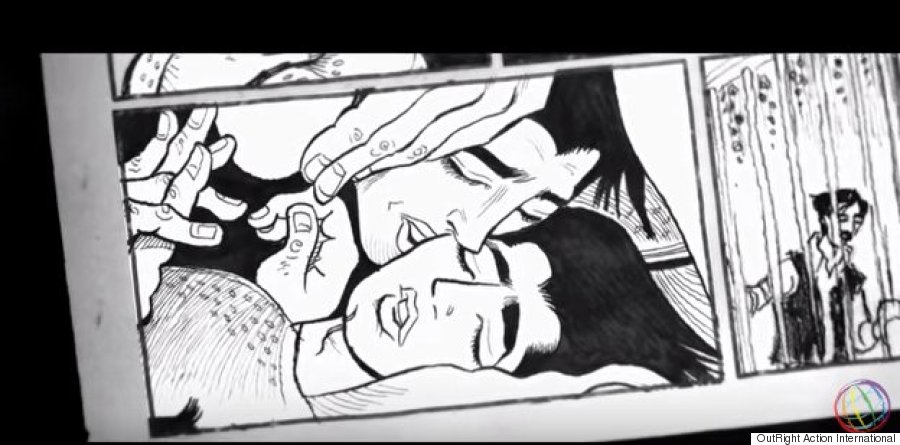 Comic from "Yousef and Farhad"
It breaks my heart that families -- brothers, fathers, uncles, cousins -- become the chief instrument of persecution of LGBT Iranians.
We hope this novel will be a breakthrough in our effort to reach the loved ones of LGBTIQ Iranians with a profound message of acceptance.
*The names in this piece have been altered for security reasons.
Related
Popular in the Community