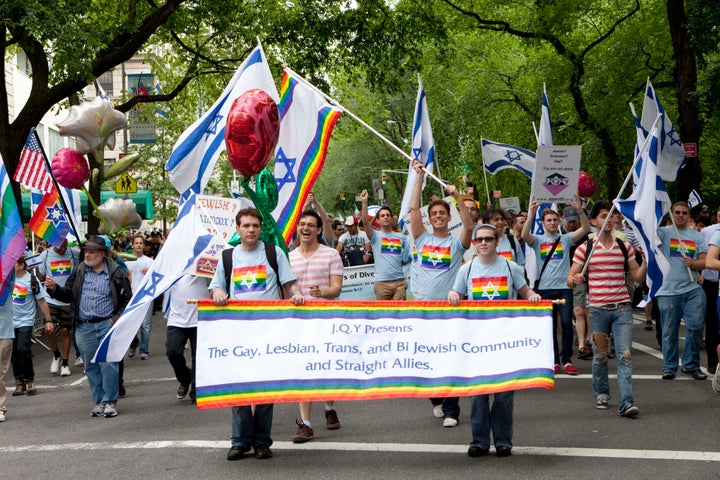 Sunday, the Celebrate Israel Parade in New York commemorated its 64th anniversary with purportedly the largest gathering in the world saluting Israel. Celebrate Israel transcends religious and political differences to represent the American Jewish community and celebrate our common history and solidarity with fellow Jews here and in Israel. This year, there was even more to celebrate.
For the first time since the parade was established in 1964, a queer Jewish group was allowed to march and explicitly represent lesbian, gay, bisexual and transgender Jews. This is a monumental and historic milestone in the effort for full LGBT inclusion in Jewish life. In 1993, LGBT Jews were excluded from the parade when the parade board uninvited the LGBT Synagogue Congregation Beth Simchat Torah. In subsequent years the parade has prevented visible LGBT inclusion one way or another. In 1999 CBST was allowed to march as part of a cluster of other synagogues if they agreed not to use words like "Gay, Lesbian, Bi or Trans" or anything "recognizably gay" on their banners.
Personally, I remember learning about this policy when I was in high school. The message to me was that gays were not welcome or wanted in the Jewish community. There was something so shameful, embarrassing and distracting about displaying the word "gay," that even in a secular Jewish event, it must be silenced and closeted. Closeted and confused myself, I would attend the parade yearly with my entire family and feel completely ostracized by my own people. I knew I was not alone in feeling this rejection. Thousands of other LGBT Jews endured this sadness for years. I vowed then that there would be a day when large rainbow flags, smiling LGBT faces and Jews of all orientations can celebrate Israel down 5th Avenue with the rest of the our community. This day has finally come.
Spearheaded by Orthodox yeshiva high school students, members of Jewish Queer Youth (JQY), a new non-profit organization for Orthodox LGBT Jewish Youth, appealed the Jewish Community Relations Council, which organizes the parade, for full LGBT participation at this year's parade. As Co-executive Director of JQY, I can attest to how important this effort has been to Jewish youth and how strong the love for Israel is among the LGBT Jewish community. One 17-year-old Orthodox 11th grader even came out to his grandmother, who had been a past parade director, in the effort to secure our inclusion in Israel's celebration. These heroics by such young brave Jews are nothing short of inspiring. Eventually, the parade informed JQY that we would be allowed to march.
The members of Jewish Queer Youth decided to open this opportunity up to the entire LGBT Jewish community and straight allies. Nearly all the major LGBT supportive Jewish organizations have united in participation. Co-sponsors of the LGBT marching group include Congregation Beth Simchat Torah, A Wider Bridge, Eshel, Keshet and the Schusterman Family Foundation. Together we marched as one family in celebration of our homeland.
While there has been some pushback, and a failed effort by some at JCRC to prevent us from using the words "Gay, Lesbian, Bi and Trans" in our banners, JQY remained resolute in our insistence to be treated like all other Jewish groups that are allowed to embrace their unique identities at the parade. We simply did not back down. I told the JCRC that asking a gay Jewish organization not to use the word gay in their banner is like asking people of color to wear light foundation as to not "distract" from the general theme. Celebrating what makes us unique and directing our energy and support toward Israel is the hallmark of this parade. Our backbone paid off and we were allowed to display our rainbow colors and the words "Gay, Lesbian, Bi and Transgender" proudly.
Check out photos and video of the parade, and continue reading below...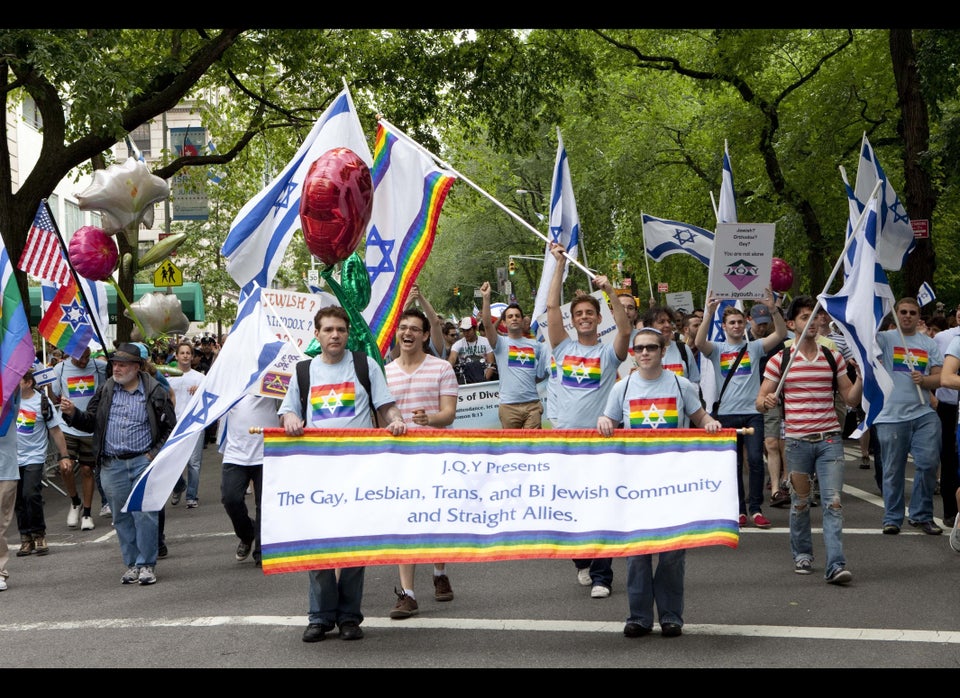 Gay Jews Celebrate Israel
At the parade itself we were met with overwhelming support. The teenagers watching burst into applause as our group passed. There were queer people on the sidelines that shouted that they too were gay and wanted to join us. Surprisingly, I saw many Orthodox women in wigs clapping and smiling, sending us love from the sidewalk. There were some folks negatively triggered by presence, but they were drowned out by outpouring of celebration. It was nice to see the tables turned, where those who are intolerant were in the minority. I was particularly struck by a father who covered the eyes of his young daughter as we passed. However, she grabbed her fathers hand and pushed it aside and began clapping.
Our inclusion in the march evoked strong responses from those who were protesting the parade that day, both on the right and the left. A small number of both the right wing anti-Zionist Hasidic groups and the left wing anti-Israel groups like Queers Against Apartheid were protesting the parade in close proximity. As our LGBT group marched by, some of the more right wing protestors began yelling prejudiced epithets against us. Disappointingly, instead of supporting our inclusion, the Anti-Israel Queer group joined in the booing. It seemed that they'd rather join in on LGBT hate than understand our right to celebrate our Jewish culture.
These left wing groups accuse any LGBT celebration of Israel as "Pink Washing" Israel in an attempt to divert attention from the suffering of the Palestinian people. I can only speak for myself in saying that loving Israel in no way impinges on my concern for human rights. It is exactly this love of Israel that makes me hope and pray for peace, prosperity and fairness for all people in the region. Celebrating a homeland says nothing about agreeing with specific foreign policies of the government. Certainly, I can celebrate July 4 without believing in every U.S. policy. We celebrate Israel as proud LGBT Jews without washing away the suffering of others. Celebration and concern often exist in dialectic, and it would be simplistic to say that we can't experience both. We take pride in that Israel has a thriving LGBT community and hope that one day its surrounding countries will similarly treat their LGBT citizens better. Opening doors of inclusion in every culture can only help in the long term struggle for universal human rights.
At the same time there are still too many on the right who continue to use their personal understanding of religion to exclude LGBT people and bully them into silence and invisibility. However, no one, no matter how religious, should have an exemption to make anyone suffer. With the Israel parade now fully including the LGBT community, the St. Patrick's Day parade is now one of the only major NY parades that still publicly rejects LGBT participation. I hope that they too evolve their policies to allow the entire Irish community to celebrate their culture. It is misguided to think that allowing religious exemptions for intolerance in any way protects religious organizations. Quite the opposite; it is the assumption that religious communities are intolerant that exemplifies real disrespect for religion. Those who love religion and believe in its vitality will fight against the notion that religious organizations need exemptions for intolerance, prejudice and ignorance.
This approach is the hallmark of JQY's success in helping Orthodox Jewish institutions (and Jewish programs heavily influenced by the Orthodox) be more welcoming toward their LGBT members. Instead of an outside rabbinic approach which tries unsuccessfully to suggest apologetic biblical reinterpretations and unfamiliar rituals, JQY members merely appeal to their Orthodox parents, siblings, schools and friends with a simple message: "Stop hurting us and start loving us because we exist, are part of you and will not stay silent." Much like Rosa Parks was heroic because she did not leave Alabama, LGBT Jews are most effective change agents when they do not abandon their religious communities. When we express this message, it is not as easy to say "no" to us. And when "no" is more of a headache than "yes," tectonic cultural change has taken place.
In the past five years, I have seen JQY create this kind of change. We have been able to open up institutions that until now have been hesitant to include gay Jews. JQY organized the historic gay panel in Yeshiva University's Orthodox undergrad. Besides having different monthly LGBT panels at Orthodox Hillel Campus communities across American universities, JQY has recently begun organizing gay panels at Orthodox Jewish high schools. We are the first organization to create LGBT panels in American Orthodox Jewish high schools. This month we spoke as part of a program at Riverdale's S.A.R and to the 12th grade class of Kushner's Orthodox high school of New Jersey. We even have developed a JQY Gay Straight Alliance for Yeshiva High School Students.
JQY's "It Gets Better" video for Orthodox Gay Youth received close to 100,000 hits and is now used in Orthodox teacher training programs. JQY members were included in this year's Nefesh conference for Orthodox mental health professionals. We are now working in partnership with the JBFCS to develop crisis resources in the Orthodox world for LGBT Jews at risk. Finally, together with supportive rabbis, therapists and family members, JQY has created a new group for Orthodox parents of LGBT Jews called Temicha. Some of our Orthodox parents and family members marched beside us on Sunday at the Israel Day Parade. It speaks worlds to know that our parents and families have moved from being our greatest fear to being our greatest allies.
It is this spirit of family that we embraced as we marched down 5th Avenue in the Celebrate Israel Parade. The impact of this one event could be invaluable for both the greater Jewish and LGBT communities. It is a chance for LGBT Jews to reconnect with both their Jewish and LGBT identities. It strengthens both worlds and sends a message of solidarity, inclusion and love. It is precisely this energy that should be harnessed to celebrate Israel.
Most importantly our inclusion breaks a glass ceiling forever. Diversity can only strengthen the Jewish people. When we take our unique energies and come together for a positive purpose, there is no obstacle or challenge that can not be overcome. There is only hope. Israel can be the manifestation of this hope. In the end, we did a good thing and now the world is better because of it. LGBT Jews are part of the Jewish community and were treated as such in the largest Jewish Event of the world. I give this to my 17-year-old self, who desperately needed it, who almost didn't believe that this was possible ... almost.
Related
Popular in the Community