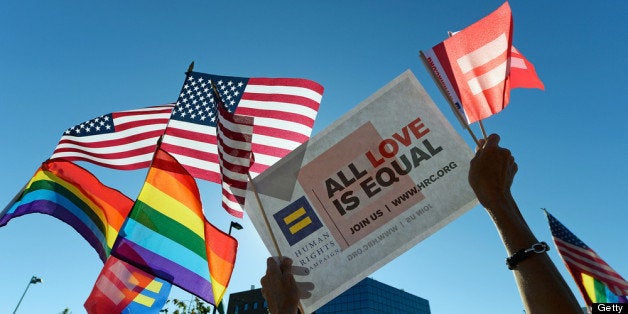 In wake of the Defense of Marriage Act's (DOMA) demise exactly one month ago, a gay couple in Kentucky has become the first to file a federal lawsuit against the state's ban on same-sex marriage.
The plaintiffs in the suit are Gregory Bourke and Michael Deleon who have been married 31 years. They've adopted children together and live in Louisville. The suit claims their exclusion of marriage undermines the couple's ability to achieve their life goals and dreams and it deprives them of numerous legal protections that are available to opposite-sex couples in Kentucky.
This lawsuit isn't the first major political gain for LGBT individuals following the Supreme Court ruling DOMA unconstitutional on June 26. D. Bruce Hanes, an official in Montgomery County, Penn., announced July 25 that he would defy a 1996 state law banning gay marriages.
"I decided to come down on the right side of history and the law," Hanes said, according to the Inquirer. Two weeks prior to Hanes' announcement, the American Civil Liberties Union brought a lawsuit against the same-sex marriage ban in Pennsylvania, prompting the state's Attorney General Kathleen Kane to say that she would not defend the same-sex marriage ban in face of the lawsuit.
With the end of DOMA only one month in the rearview mirror, a similar mentality seems to be pervasive throughout the country, evidenced by citizens continuing to step up and challenge state-based versions of this federal legislation in their home states. On Tuesday, New Mexico Attorney Journal Gary King filed documents this week urging the State Supreme Court to begin the process of legalizing same-sex marriage.
"New Mexico's guarantee of equal protection to its citizens demands that same-sex couples be permitted to enjoy the benefits of marriage in the same way and to the same extent as other New Mexico citizens," King said in the filing.
As for Kentucky, Bourke and Deleon's full filing against their home state is available here. With the defeat of DOMA still incredibly fresh, one can safely anticipate these challenges to state-based bans to be something extremely important in shaping the future trajectory of this country.
Calling all HuffPost superfans!
Sign up for membership to become a founding member and help shape HuffPost's next chapter
BEFORE YOU GO
PHOTO GALLERY
SCOTUS Decisions On Prop 8, Defense Of Marriage Act