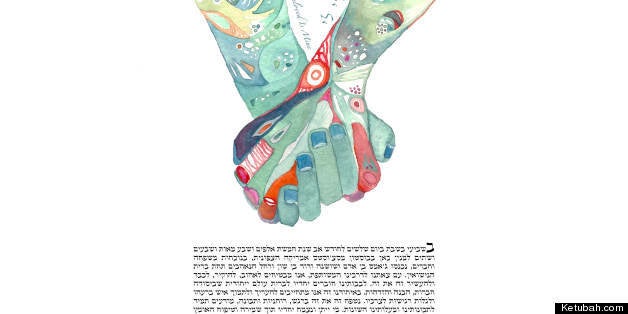 Mel Matulsky and Tad Berman, who are engaged to be married later this month in Palm Springs, Calif., have been hitting the refresh button on UPS's website for the last week. According to their tracking number, Monday was the day they were supposed to finally receive their ketubah.
The traditional marriage contract in Judaism is signed by two witnesses and often framed as an important keepsake for couples. But in order for this ketubah to be something Matulsky and Berman would actually want to hang on their wall for the rest of their lives, they had to make a few adjustments to the template.
"A lot of them said 'bride and groom,' but because this was gender-neutral text, it said 'beloved' and 'beloved,'" Berman told The Huffington Post. "We asked that they change it to 'groom' and 'groom' so that it would be more fitting for us."

Until a few years ago, ketubot usually made reference to a man and a woman, effectively precluding (or at least making it awkward) for same-sex couples to participate in the time-honored tradition.
These days though, couples can find not only a gender-neutral ketubah -- Matulsky and Berman chose artwork for theirs that features a pair of intertwined hands -- but same-sex ketubot and even politically progressive documents.
"What a great business that you can buy a ketubah that has the correct Hebrew and the correct English for a same-sex marriage, because you couldn't use the old ones," said Rabbi Sally Olins, who will be marrying Matulsky and Berman on Aug. 29. "You can't have 'bride and groom' when you don't have a bride and groom."
Olins, who will be performing five same-sex weddings this year, said she only became aware of the option for gay a ketubah within the last year, but she explained that the contracts have changed in a variety of ways over the centuries. In ancient times, women were considered possessions and men were the only ones who could ask for a divorce, so the contract had different implications. In more recent years, though, ketubah language has come to include a greater focus on two people dedicating their lives to each other.
Aliyah Guttmann, an assistant manager of customer service for Ketubah.com, said that her company has always had the ability to customize ketubot, but they've come to rethink using the words "Commitment Vows" for same-sex couples since the federal Defense of Marriage Act was overturned in June.
"Having worked in customer service, I had heard a few times that couples were not having a commitment ceremony but rather a wedding, so they didn't think Commitment Vows would be appropriate, whether they lived in a state where same-sex marriage was legal or since DOMA was overturned," Guttmann said via email. These couples "specifically wanted a ketubah that was a Same Sex text," she wrote.
"We promise to work to reform the laws of our country so that our marriage, and the marriages of others who come after us, will be recognized by law, not just by our community, friends, and families," one template reads.
Arielle Angel, who runs a business called Ketuv that makes custom ketubot, said she and her business partner have sold same-sex ketubot since their company launched in 2010. One of the first design options they offered featured artwork of two grooms being hoisted on a chair in the hora, another Jewish wedding tradition.
"We sort of started getting requests almost immediately. Certainly, as more states have legalized in the last year, we've definitely seen a huge uptick," Angel said.
By request, the company recently created a ketubah that has two women being hoisted on chairs.
"Interestingly enough, the artist on those ketubahs is an Orthodox woman wearing a wig in Maryland," Angel said. "I don't ask her what her personal position is, but I'd imagine she's conflicted." (The Orthodox faith doesn't approve of same-sex relationships.)
Angel said that she and her business partner wanted their company to appeal to people who might not otherwise have thought they wanted a ketubah.
"It's part of our larger mission of making Judaism comfortable for everybody," Angel said. "We're trying to keep this relevant so they keep this beautiful tradition alive."
Popular in the Community