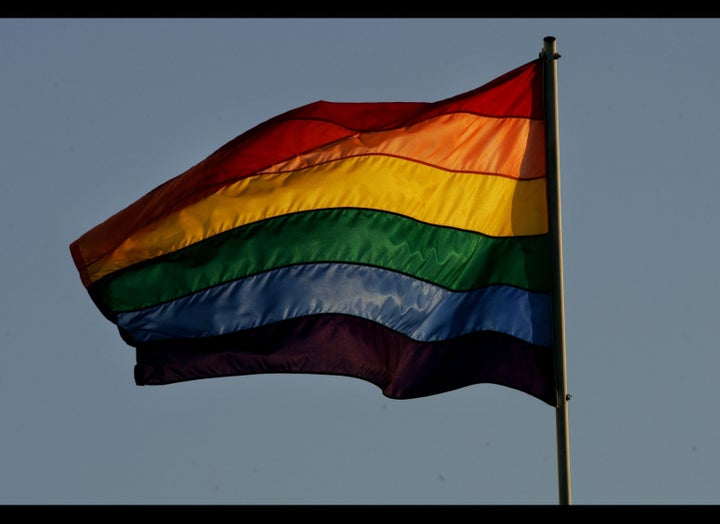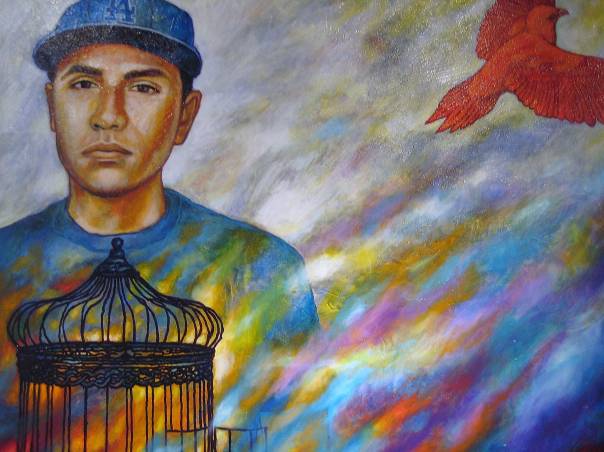 In El Vuelo, artist Juan Solis begins with a portrait of a solemn Latino man. Beneath the man is a cage, the door is open, and a bird has taken flight. This spirit of freedom is what it feels like to experience Out-and-Out at ChimMaya Gallery, a small space packed with work exploring gay and lesbian identity. According to Creative Director Steven Acevedo, "Overall, this exhibition seeks to educate the viewer by advancing their understanding and redefining their general perceptions of gay and lesbian life."
The "viewer" in this case is the large Latino population that inhabits East Los Angeles, where ChimMaya calls home.
There are seventeen artists from both coasts presenting work, from established artists, Miguel Angel Reyes and Joey Terrill, to emerging ones, Jenny Olvera and Raul Pizarro. The overall feeling of the work is celebratory and uplifting. With the exception of abstract artist Magda Audfred, the artists appear to be focusing on themselves. Not in a narcissistic or arrogant way, but one of wonder and curiosity. Most of the subjects in the painting appear to be pensive, caught in-between.
Hector Silva's fine illustrations of masculine, gay cholos bring back to mind the work of Tom of Finland. Transgender artist Violetta Antonia Sorcini's bright and emotional Warrior Goddess is simply inspiring. Ana Castillo's charming Xicana, a profile of a Latina against a multicolored rug, provides a folk art element to the show. Joey Terrill's playful Oscar/Ernesto brings back the folly and joy of gay youth. And Jenny Olvera's delightful Minnie W/ Diamond honors the dyke-with-dog tradition.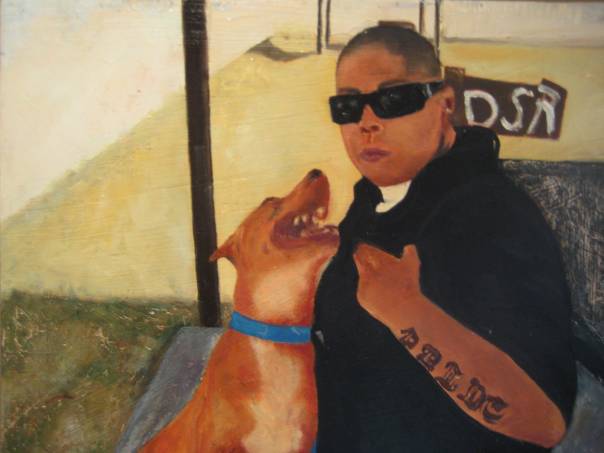 (Minnie W/ Diamon, Oil on Panel, 8 x 10)
There wasn't a lot of work addressing difficult content. Surprisingly, there was no mention of AIDS. Manuel A. Acevedo provided what appeared to be the sole piece of protest art with the impressive The Burn of the Red, White, and Blue, a large ink on paper drawing of a man with tape on his mouth.
The male form is well explored. Pieces by Miguel Angel Reyes, Tony de Carlo, Lalo Ugalde, and especially Raul Pizarro are exquisite.
"For the non-gay viewer, I hope that they leave better-informed and more open minded
of gays," says Steven. "For the gay and lesbian viewer, I hope that they, too, leave better-informed to the diversity of the gay community."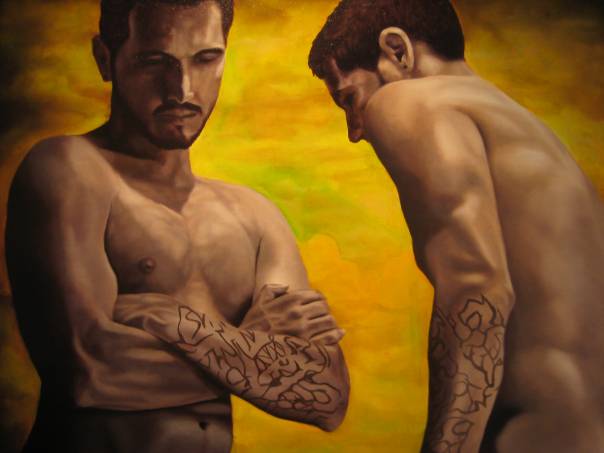 (Tomorrow's Harrowing Altar, Oil on Canvas, 33 X 33, Raul Pizarro)
Out-and-Out will be on view through July 24th. ChimMaya Gallery, 5283 East Beverly Blvd., LA CA, 90022 (Major Cross street is Atlantic).
Calling all HuffPost superfans!
Sign up for membership to become a founding member and help shape HuffPost's next chapter