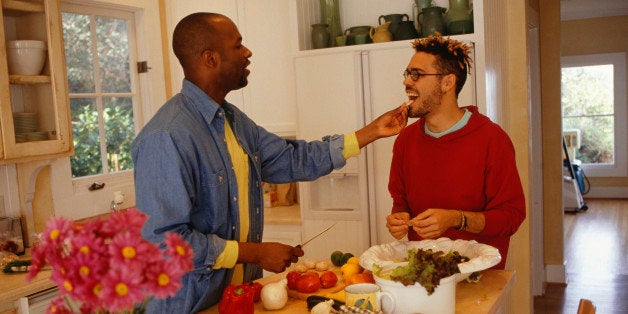 Back in 2007, openly gay chef Adam Roberts proposed the question, "Does cooking make you gay?" At the time, he took the tired stereotypes we've all grown up with in our own home kitchens head-on.
Why was it that women are praised for (even expected to) whip up toasty warm, homemade pies while the few men who are brave enough to try their hand at cooking are met with presumptions and raised eyebrows?
Accepting gay and lesbian chefs means rethinking our roles in the kitchen. Since the article sparked the conversation, there have been more and more openly gay voices speaking out in the food world. Here, we've rounded up some of the ones we hear loud and clear!
1. FoodGays
The tagline says it all: two Vancouver men who love food. Co-founders Jeremy and Adrian, the self-called "Food Gays" kicked off the blog back in the summer of 2012 with their recipe for "Big Gay Potato Salad". Since then, they've used it as a platform to teach others what they've learned in their culinary adventures about preparing and serving tasty meals. Plus, they dish on little-known but must-eat-at dining spots in their home city of Vancouver. Check out their easy-to-follow recipes for zucchini mushroom burgers, double chocolate coconut cookies or peanut butter cupcakes with blood orange frosting. So, is your mouth watering yet?
2. VanillaGarlic
To say that Garrett Michael McCord loves being in the kitchen would probably be an understatement. As a former assistant pastry chef-turned-food writer, he's written for New York Times' Best of the Blogs, The Kitchn, and Gourmet Live (just to name a few). He co-authored his first cookbook, Melt: The Art Of Macaroni And Cheese, set to release later this month. So it's amazing to think he has spare time to maintain his blog, Vanilla Garlic, where he shares his thoughts on the intersection of food and life. On one post, he writes about his love of Bourbon and the unfair stereotype of being gay and ordering his favorite "straight man" drink: "Bourbon is often seen as a man's drink. This, or a snifter of Cognac, is something to be enjoyed with the boys or after a day of duck hunting in the overcast and swamp," he writes cheekily. "However, being gay, I'm expected to drink something that comes in a martini glass and more than likely matches the color of my shirt. Stereotypically it is assumed that gays can't drink hard liquor straight." What we love about his blog is how he provides food for our hungry tummies and for thought.
3. Queer Vegan Food
The blogger behind this site, Sarah E. Brown, believes that anyone — despite sexual orientation — can benefit from adopting a healthy, vegan diet. And perusing her blog, it's easy to be converted with tastefully tempting ideas like lemony maca kabocha squash and hemp seeds and chocolate-covered kelp noodles. Can't get enough? You'll want to buy The Queer Vegan Food Cookbook, featuring more of these guilt-free recipes. And 100 percent of the proceeds go to Woodstock Farm Animal Sanctuary!
4. Hedonia
Sean Timberlake, a foodie writer, and DPaul Brown, a photographer, are two "partners in culinary crime." The couple (married back in 2008) live in San Francisco with their lovable pup Reese, and they use the blog to document their foodie adventures at mixing cocktails at cooking classes, bravely taste-testing worms and sharing recipes and their back-stories. Like, did you know about the history of Green Goddess dressing? I sure as hell didn't. And checking out Sean's older Eatsdropper posts is a must!
5. Food For The Thoughtless
Michael Procopio has done everything and anything related to food. But whatever you do, don't call him a "foodie" (he prefers terms like a "gourmand" or "gastronome"). He's waited tables, worked as a program chef for PBS cooking shows and an assistant food stylist for Williams-Sonoma, and trained under the tutelage of chefs like Michael Bauer and Maria Cianci. He also makes an award-winning mint ice cream, which we'd love to sample! From absinthe jellies to hortotiropita, his sometimes kooky, sometimes classic recipes are always accompanied with oddly appropriate anecdotes. A must-read is his heartfelt post on cooking faggot (a dish made from unwanted bits of animal flesh) and the irony of how "it takes guts" to be openly gay.
5. Eat The Love
Irvin Lin, a writer, recipe developer and award-winning baker who happens to be gay, believes that eating a dish prepared by someone else is "eating the love." As a friend once told him, "When you eat the food that someone makes for you, you are eating their love. You are eating the love." Too sweet, right? We couldn't agree (or love these rustic hummus and gay carrots) more!
6. Baking Butches
Admittedly, this Tumblr blog doesn't serve recipes, but that's not really what it's about. It's showcasing the women who love to get in the kitchen and get their hands dirty by baking sweet, yummy goods. Our favorite part about this blog? Many of the pictures come with aww-inducing captions like, "Fresh chocolate chip cookies for my girlfriend!" Baking truly is love. Bake on, ladies.
More Stories On YourTango:
Popular in the Community