When first asked to write on "what it means to write a gay love song," I thought I'd take a stroll to my neighbourhood café, where I do most of my writing and working, and by the time I'd arrived would have a definitive answer regarding the gay love song as one of the ultimates in queer defiance and political statement. But now that I'm here, I simply don't.
To me, as songwriter, every love song I write is a gay love song. Perhaps it's a weakness as a performer that I can't sing something unless I truly believe in it (otherwise, I'm just too embarrassed), so when I sing of love, I sing only of the kind of love that I know. And that, for me, is always a big gay one.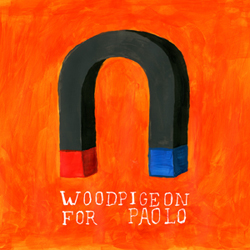 I'm releasing a new EP of music titled For Paolo, and the title track is a love song I wrote for my Viennese boyfriend. He calls me the colloquial "schatzi," so to his embarrassment I put it in the chorus. If there's something to do that he thinks is important, he tells me that I "better should," so that's in there, too. He'd like me to believe he's the shy type and that having his name in the title of a song (never mind as the title of a full EP's worth of music) is a struggle for him, but I can tell he's more than a little chuffed about it. "How dare he say anything about my song," he told me last night, when a friend who hates pet names said he liked the song except for what he considered an overuse of "schatzi."
So yes, indeed, "For Paolo" is a gay love song of the highest degree. It's got the gay gene. It was born this way.
And yet, despite what I need to believe in order to perform a song genuinely, I can also realize that my songs' genders and sexualities can vanish entirely once they leave my lips and hit the listener's ear. At some point, everyone has a "schatzi," and it really makes no difference if the one I'm singing to in my mind has a beard and the same private parts that I do. I've received letters from straight married couples telling me that their first straight wedding dance was to some gay song I wrote for some hot guy on the other side of the planet. In one case, a couple told me they'd danced to a song that I'd originally written for a straight (sure) construction worker I'd been hooking up with in Calgary a couple of summers ago.
I'd be lying if I didn't admit that I've put more straight love songs on mix tapes for gay crushes than I could ever possibly remember. It doesn't even matter if he (or she) is singing to a she (or he), because it's the sentiment that gets us through sides A and B to the end of the tape. I'd argue that love songs, once they come to mean something to you, don't really even have a sexuality anymore. ("The Man That I Am with My Man" by The Hidden Cameras might defeat this rule, but for the most part, for me it seems to stick.)
So, what does it mean to write a gay love song? Pretty much the same as it means to write any song. It means something particular and unique to everyone who listens to it, gay, straight, bi, transgender, or questioning. And personally I hope all those people like what I've done in tribute to my handsome, homo boyfriend, and would love every guy, girl, guy-girl and girl-guy to make out with their respective partners (or groups thereof) to it and let me know how it goes.
WATCH the "For Paolo" video:
For Paolo will be out Jan. 24 2012 via iTunes and Bandcamp.
Popular in the Community