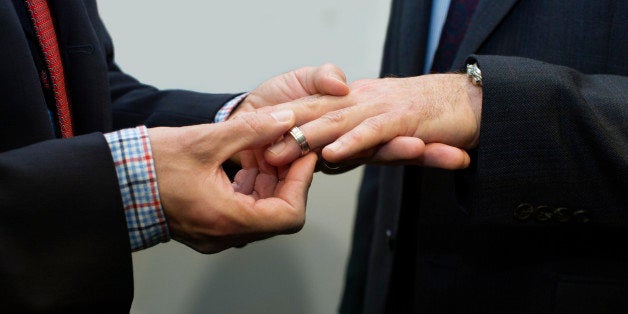 A circuit court reversed federal rulings legalizing gay marriage in Michigan, Ohio, Tennessee and Kentucky on Thursday.
Judge Jeffrey S. Sutton, who wrote the 6th Circuit Court of Appeals' majority opinion, said the court does not have "a sweeping grant of authority" that allows it to determine "whether gay marriage is a good idea" for the residents of those states.
"Is this a matter that the National Constitution commits to resolution by the federal courts or leaves to the less expedient, but usually reliable, work of the state democratic processes?" Sutton wrote.
It followed more than 20 court victories for supporters of same-sex marriage since the U.S. Supreme Court struck down part of the federal Defense of Marriage Act last year. A federal judge in Louisiana recently upheld that state's ban, but four U.S. appeals courts ruled against state bans.

The issue appears likely to return to the Supreme Court so the nation's highest court can settle whether states can ban gay marriage or that gay and lesbian couples have a fundamental right to marry under the U.S. Constitution. Thirty-two states recently asked the Supreme Court to settle the issue once and for all.
Sutton did acknowledge that the legalization of gay marriage is an issue that's not going away.
"From the vantage point of 2014, it would now seem, the question is not whether American law will allow gay couples to marry; it is when and how that will happen," the opinion said.
Senior Judge Martha Craig Daughtrey, who wrote the dissent, chastised her colleague for writing "what would make an engrossing TED Talk or, possibly, an introductory lecture in Political Philosophy," arguing that "the majority sets up a false premise—that the question before us is 'who should decide?'—and leads us through a largely irrelevant discourse on democracy and federalism."
"If we in the judiciary do not have the authority, and indeed the responsibility, to right fundamental wrongs left excused by a majority of the electorate, our whole intricate, constitutional system of checks and balances, as well as the oaths to which we swore, prove to be nothing but shams," Daughtrey wrote.
Read the court's ruling below:
Calling all HuffPost superfans!
Sign up for membership to become a founding member and help shape HuffPost's next chapter
BEFORE YOU GO
PHOTO GALLERY
10 Incredible Improvements For LGBT People Since The First State Legalized Gay Marriage