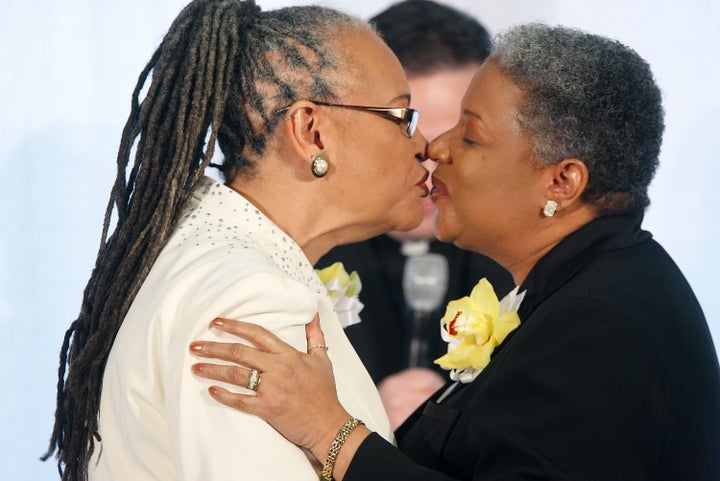 With some of our dearest friends and staffers deep in wedding planning, we at HuffPost Style have had bridal wear on the mind. We love poofy bridal gowns and traditional veils, but we had another topic nagging at us since last summer: how has the bridal market reacted to the growing prevalence of gay marriage? Is there a market for wedding wear that caters to same-sex couples?
Having married his longtime boyfriend after New York legalized gay marriage, we figured Mizrahi was a good person to ask about gay marriage and bridal wear. His take on the matter:
If you are a lesbian and you are looking for a big bridal dress, you would do exactly the same thing as a straight woman looking for a big bridal dress. There is no difference. If you're a gay man looking for a fabulous tuxedo, you would do the same thing that a straight man would. If you're transgender or a drag queen, that's a whole other story. That's when I'd say… there should be a whole bridal thing for them -- they would go about it the same way too, it would just be more fitting. I don't really see a difference.
After all, dresses are dresses and tuxes are tuxes. We've witnessed men marry in coordinating suits and female friends marry in run-of-the-mill wedding gowns. Yet anecdotal evidence suggests that while the clothes are the same, the shopping experience -- the actual act of going to a store, working with a salesperson and finding that perfect look -- can be different for same-sex couples.
Wedding planner Bernadette Coveney Smith told the New York Times that lesbian brides in search of dresses "need to screen the people they are working with" at bridal salons, ensuring that the salespeople are ready for the challenge of finding two different yet coordinating dresses. For lesbians in search of suits, finding a white tux built for a woman (particularly if you're getting married in the winter) is about as challenging as it sounds.
Then there is the problem of bridal salon chit-chat, in which a salesperson is bound to ask well-meaning questions about the bride's spouse and wedding plans. "The moment when the salesperson or seamstress asks about your groom," writes one lesbian bride-to-be, "can be awkward and anxiety inducing."
And it's possible that gay couples are not even approaching wedding preparations in the same way as straight couples. "I think [same-sex couples] maybe don't think of themselves in that traditional way yet," Mizrahi tells us, "because it is just becoming legal, it is just becoming a culture phenomenon. I don't think they think about bridal clothes and bridal parties and bridal things in the same way straight people do."
With that money on the line, we bet bridal salons will rush to even better cater to gay clientele.
Popular in the Community