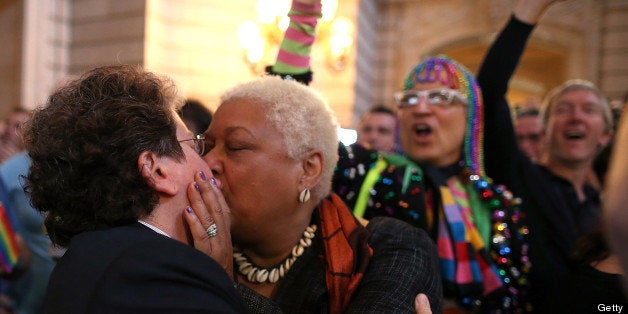 SAN FRANCISCO -- A crowd of hundreds at San Francisco City Hall erupted into cheers on Wednesday morning as the U.S. Supreme Court effectively dismissed Proposition 8, California's ban on gay marriage.
Arriving just two days before the city's annual Pride parade, the ruling couldn't have come at a better time. Same-sex marriage will soon be legal in California.
But for the hundreds of couples exchanging celebratory kisses on the steps of City Hall, there was one question still on the lips: when?
In a statement released just after the ruling, California Governor Jerry Brown's office explained the process:
In response, the Governor has directed the California Department of Public Health to advise county officials today that the district court's injunction against Proposition 8 applies statewide and that all county clerks and county registrar/recorders must comply with it. However, same-sex Californians will not be able to marry until the Ninth Circuit Court of Appeals confirms the stay of the injunction, which has been in place throughout the appeals process, is lifted.
The Huffington Post spoke with David Madden of the Ninth Circuit Court of Appeals for a timeline.
"The normal process for this court is that we must wait to receive a notice from the Supreme Court officially declaring the ruling," he explained. "That notice will come after a 25-day waiting period, during which requests to reconsider the case can be heard. Once that notice is received, the panel will take action, and I presume they will dismiss the case."
And how long will that process take?
"I would be speculating--and I hate to speculate--but considering there is a great deal of interest in this case, I would expect a very quick resolution," he said.
UPDATE: The Ninth Circuit says it will indeed take at least 25 days. More from the AP:
SAN FRANCISCO — A federal appeals court says it will wait at least 25 days before allowing gay marriages to resume in California.

The 9th U.S. Circuit Court of Appeals said Wednesday that it will take at least that long for the U.S. Supreme Court's ruling to become official.

The San Francisco-based court said it may continue to bar gay marriages even beyond that if proponents of Proposition 8, the state's gay marriage ban, ask for a rehearing.

The U.S. Supreme Court refused Wednesday to rule on Proposition 8.
PHOTO GALLERY
California Reactions To DOMA, Proposition 8 Rulings
Calling all HuffPost superfans!
Sign up for membership to become a founding member and help shape HuffPost's next chapter